x-change® dynamic AW I
More efficient and sustainable. The modulating x-change dynamic AW I air/water heat pump is bound to impress thanks to its extremely efficient and virtually silent operation.
This is made possible by a new and innovative EPP housing design along with the latest radial fan technology, which includes a whisper mode and a large modulation range for the compressor, fan, and charge pump. Together with the cooling circuit featuring multiple insulation and triple sound proofing, the high-quality lower housing section ensures very low sound emissions. By reversing the process, the "ac" variant can modulate to provide cooling output.
The x-change dynamic is equipped with the x-center x40 control.
Heat pump energy efficiency class A+++

Low operating costs thanks to a very high COP value

Maximum flow temperature of up to 63 °C

Modulation of the compressor, radial fan, and charge pump

Quiet operation thanks to an optimised radial fan design with whisper mode

Included: integrated x-center x40 controller with intuitive touch control and colour graphics display, weather-controlled operation

Remote servicing via x-center x40 (without accessories)
Condensate tray heating integrated as standard through the cooling circuit for efficient defrosting

Power to Heat: intelligent use of excess solar-generated electricity

Integrated electronic heat quantity recording including COP determination

Web-based remote control of the heat pump

Optionally available with active cooling function  "ac"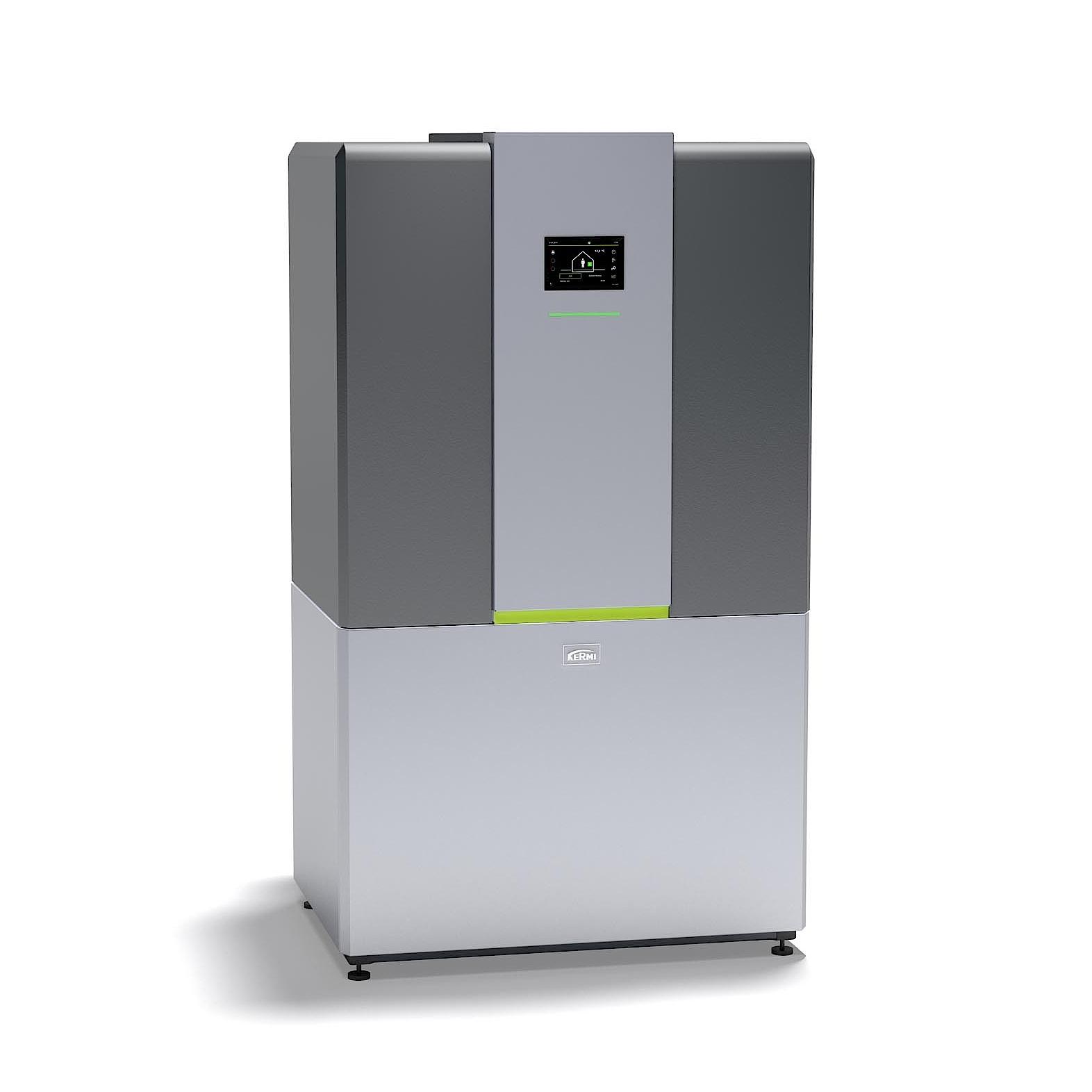 |   |   |
| --- | --- |
| Energy source | Air |
| Installation site | Inside |
| Function | Heating / optional active cooling |
| Heat output range (kW) | 4–16 (at A2/W35) |
| COP (tested in compliance with EN 14511:2011) | Up to 4.21 (A2/W35) |
| Cooling output range (kW) | 6.5–16.5 (A35/W18) |
| Dimensions W x D x H (mm) | 1045 x 770 x 1770 |
| SG ready | Yes |
| Energy efficiency class at 35 °C | A+++ |
x-change heat pump/x-center control
Quotation and planning service for x-change heat pump/x-center control
Are you looking for a Kermi specialist partner near you?
With our search, you can find a specialist partner near you that can assist you with consultation plus exhibition, with planning or with consultation and installation.