The power of a strong brand
For over 60 years now, Kermi has been developing and producing heating technology products at its headquarters in Lower Bavaria.
The power of a strong brand
Today, our company ranks among Europe's leading manufacturers in the heating technology sector. As a pioneer when it comes to economical and environmental approaches, we continually set standards in technology, design, and efficiency with input from around 1300 qualified employees in Plattling, Germany and around 700 in the Czech Republic town of Stribro.
You can rely on what we deliver
Achieving the very best quality is our top priority.
Reinforced by standards that far exceed the norm and are guaranteed by international quality standards. 
From product development to material selection, state-of-the-art production methods, tough test series, and exacting final inspections, our exceptional quality standards are applied consistently from start to finish.
Our management system, certified to ISO 9001/14001/50001, confirms both our comprehensive quality assurance and our responsible environmental management.
Practical, efficient product solutions and a good relationship with our customers are at the heart of our company philosophy. That's why we're delighted when our specialist partners in plumbing, heating, and air conditioning recognise and honour what we do through awards for our products. Thank you!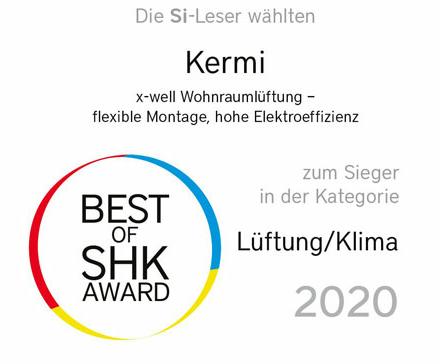 Best of SHK Award 2022. 
The x-flair heat pump radiator won the Best of SHK Award 2022 in the heating category. The winners of the award are chosen every year by the readers of the Si trade journal. With Kermi's product chosen from numerous applications in this coveted category, the accolade is testament to the performance and quality that it delivers and the esteem in which our specialist partners hold it.
Product of the year 2021. 
The efficiency, quality, and variety of our radiators have made them a popular choice among readers of the expert portal haustec.de . After just under 4200 specialist partners had cast their votes, our steel panel radiators were chosen as best product of the year 2021 in the heat utilisation, distribution, and control category.
Best of SHK Award 2020. 
x-well residential ventilation won the Best of SHK Award 2020 in the air conditioning/ventilation category. 
The winners are chosen every year by the readers of the Si trade journal – in other words, the specialist partners in plumbing, heating, and air conditioning who work with the products on a daily basis. With a circulation of over 50000 copies, Si is one of the most renowned trade journals on the German market.
Kermi x-optimised is a universal heating concept with intelligent solutions covering everything from heat generation and heat transfer to residential ventilation. 
A system is created if two or more products from our range marked with the Kermi x-optimised label are combined.
The more products you combine, the greater the benefits. The components in the system are so precisely coordinated with each other that their optimised interface management results in verifiable potential for creating energy savings.
The bottom line is significantly lower energy costs, lower carbon emissions, and all this combined with greater thermal comfort and maximum cosiness.