The right residential ventilation
Central or decentralised – the right solution for every requirement.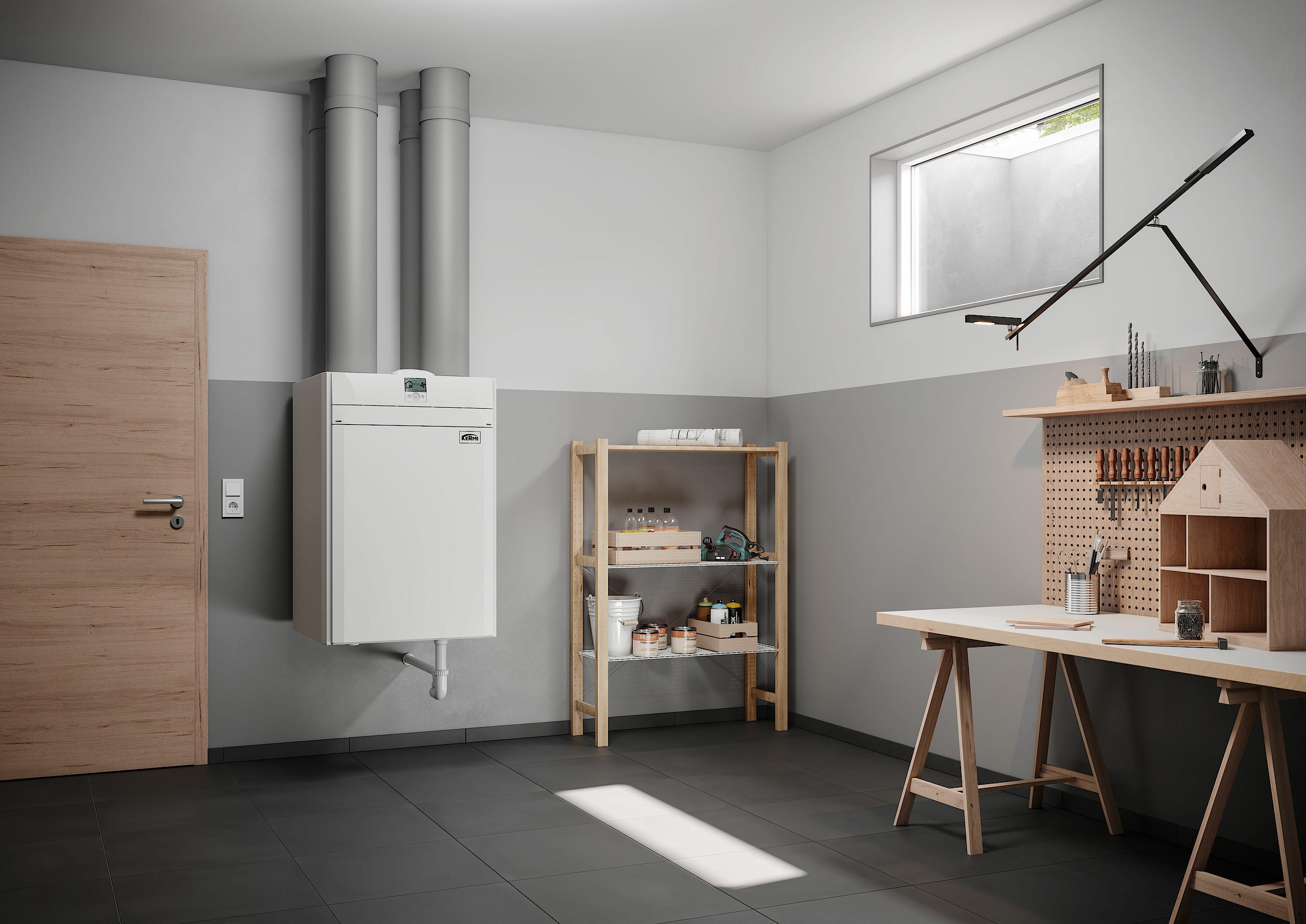 There are many reasons in favour of controlled residential ventilation – health and well-being, value retention, and energy savings to name a few.
In your own four walls, it maintains constantly high levels of air quality and optimum humidity with regular air exchange. Controlled residential ventilation ensures that inside and outside air is exchanged as necessary. Carried out regularly, this benefits not only residents but also the fabric of the building.
What is controlled residential ventilation?
Watch our video to find out all about how controlled residential ventilation works.
Get inspired by our solutions for central or decentralised systems. 
How does controlled residential ventilation work?
Used air has a higher proportion of carbon dioxide than fresh air and its oxygen content is significantly lower that that of fresh air. Used air is also considerably more humid than fresh air. With controlled residential ventilation, ventilation units use fans to transport used air, and therefore CO2 and moisture, through air ducts that run from the inside to the outside, and feed fresh outside air into the room.
A heat exchanger in the ventilation duct transfers heat from the extract air back into the fresh supply air, so that virtually no heat (and therefore energy) is lost. Windows can remain closed and pollutants remain outside. The display integrated in the ventilation unit enables complete monitoring in addition to simple operation.
Central residential ventilation
Ideal for passive houses and low-energy houses
Central residential ventilation units are the ideal choice for passive houses, low energy houses, and buildings modernised for energy efficiency. Apart from the ventilation ducts, they use a central fan which removes humid and used air and introduces heated supply air into the room.

Convenient control
The system can be easily controlled using a self-explanatory controller. The built-in humidity sensors ensure that the ventilation system is really only on when you need it. This reduces not only energy consumption effectively, but also any operating noises which may arise. Is a ventilation system loud or very visible? All x-well compact ventilation units are low-noise.

Seamless integration
Depending on the operating level, they run either very quietly or completely silently. The functional outer panels in White, Anthracite, or Stainless Steel not only fit discreetly into the external look of your property, but also provide optimum sound insulation and damping of external noises. Inside your rooms, the x-well designer air vents are the ideal solution for a range of different installation scenarios.
Decentralised residential ventilation
Custom ventilation solutions to suit a whole range of requirements
Available as a complete system for new builds or for retrofitting during the renovation of a house. With decentralised residential ventilation, individual rooms can be ventilated as required – especially kitchens, bathrooms, and WCs. There are three basic device categories. 

Pendulum fans 
are perfect for permanent room ventilation. Air is drawn in from the outside, alternating with extract air being transported out. In the Kermi systems with heat recovery, the extract air gives off heat to the heat exchanger, which then heats the fresh air again. 

Single-pipe fans/small room fans: 
They are designed for use in extract air rooms and, depending on the user, reliably convey used and humid air to the outside – from the bathroom or WC, for example. Outer wall air vents ensure natural replenishment of supply air in decentralised systems – an ideal system when combined with single-pipe fans and small room fans.
Installation requires an opening in the outer wall for each fan and the associated cable connection. The installation brick makes it quicker and easier to install in a new build.
The benefits of x-well residential ventilation
Maintains value and minimises the risk of mould
Kermi x-well ventilation devices ensure a better residential climate by reliably transporting away used air. Not only does this improve quality of life, it also actively reduces the risk of a mould infestation. As your property is less susceptible to mould thanks to controlled ventilation, Kermi x-well also contributes towards maintaining the value of your property and avoids unnecessary structural damage.
Saves energy and therefore heating costs
A ventilation system is considerably more efficient than windows left open without any control, as it enables intelligent or controlled air and heat exchange to take place. In comparison to old-fashioned window airing, controlled residential ventilation reduces heat losses. It keeps your indoor climate consistently pleasant – good for not just your health and the environment, but also your wallet.
More comfort and quality of life
There's no need to open and close windows manually, so less external noise and environmental pollution gets into your home. Leaving windows open is a thing of the past – increasing your security.
Clean air and a pleasant indoor climate
Kermi x-well air filters and pollen filters keep the air clean by reliably filtering particles and pollen out of it (particularly in city apartments and along main roads). This creates a pleasant climate, particularly for people with allergies.
Low running costs and extremely easy maintenance
Kermi x-well ventilation devices feature low running costs and are extremely easy to maintain. Regular maintenance is essential for keeping your ventilation system running economically and ensuring it has a long service life. This includes checking supply and extract air vents for dirt and cleaning them as required. Every 24 months, the system should be serviced by a specialist who will thoroughly check your Kermi x-well residential ventilation system.
Is it possible to retrofit a ventilation system?
Yes. When older properties are being refurbished, it is often possible to attain such a high level of insulation that controlled residential ventilation is essential. In this case, there are two integration solutions available for retrospective installation of ventilation systems.
Integration in a suspended ceiling
Integration in a suspended ceiling as a central ventilation system is possible if there is enough ceiling height available in the living space. A compact ventilation unit like the Kermi x-well F170 is particularly suitable for this due to its flat design. However, it does not have to be integrated into the ceiling: it can also be mounted vertically through concealment in kitchen or bathroom cabinets, for example.
Integration into the floor structure
As an alternative in cases where the ceiling is not high enough, for example, your ventilation system can also be integrated into the floor structure. With this solution, ventilation ducts are installed in the insulation level, allowing for central residential ventilation.
Residential ventilation advice