x-change® dynamic terra BW I
The modulating x-change dynamic terra brine/water heat pump extracts thermal energy from the earth by means of a geothermal collector or geothermal probe containing a circulating heat transfer fluid (the brine) and converts it into heat for heating.
The x-change dynamic terra is characterised by its extremely efficient operation, whereby the scroll compressor, heat source pump, and charge pump are speed-controlled. This enables it to adjust its output automatically to the building's heat demand. The highly efficient integrated brine pump with expansion tank and flow sensor – as well as the optional passive cooling station (on the pc version) – ensure a high degree of integration and help to reduce the installation time considerably. The compressor features vibration decoupling and so produces very low sound emissions. Together with the additional sound-proofing mats on the continuous housing cover, this ensures virtually silent operation.
Quality and design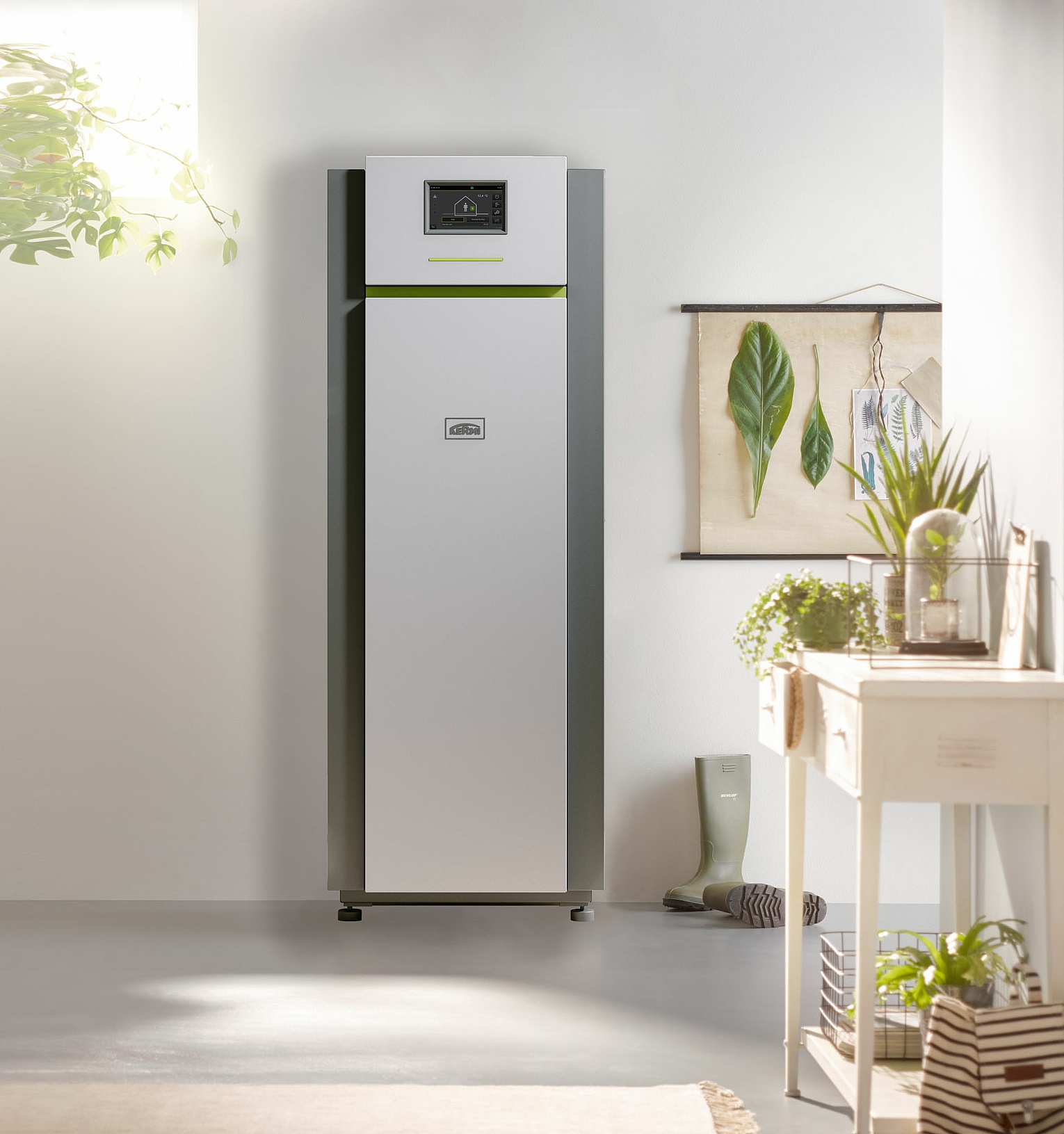 Heat pump energy efficiency class A+++

Low operating costs thanks to a high COP value

Maximum flow temperature of up to 63 °C

Quiet operation thanks to the optimised design

Included: integrated x-center x40 controller with intuitive touch control and colour graphics display, weather-controlled operation

Remote servicing via x-center x40 (without accessories)

Brine/water heat pump has a large application range
Modulation of the compressor, and primary and secondary circuit pumps

Power to Heat: intelligent use of excess PV electricity

Integrated electronic heat quantity recording including COP determination

Web-based remote control of the heat pump

Optionally available with passive cooling function  "pc"
|   |   |
| --- | --- |
| Energy source | The ground |
| Installation site | Inside |
| Function | Heating / optional passive cooling |
| Heat output range (kW) | 4.5–22 (at B0/W35) |
| COP | Up to 4.63 (B0/W35) |
| Cooling range | Dependent on source temperature |
| Dimensions | 580 x 640 x 1600 |
| SG ready | Yes |
| Energy efficiency class at 35 °C | A+++ |
x-change heat pump/x-center control
Quotation and planning service for x-change heat pump/x-center control
Are you looking for a Kermi specialist partner near you?
With our search, you can find a specialist partner near you that can assist you with consultation plus exhibition, with planning or with consultation and installation.