x-flair®
The heat pump radiator
x-flair is the ideal radiator for low flow temperatures. The low-temperature radiator heats up quickly and distributes the heat effectively in the room by combining x2 technology with axial fans.
Refurbishing existing buildings with a heat pump. This radiator, which is designed for use with a heat pump, can be connected to existing pipes. It makes optimum use of the low flow temperature of the heat pump, heats up efficiently, and rapidly distributes the heat. This means that underfloor heating is not absolutely necessary. New build projects with a heat pump. Is it only at certain times that you need the children's room, study, or utility room to get warm quickly? If so, x-flair is the perfect choice of radiator for your requirements.
Underfloor heating would take to long to respond in this context. This radiator is also perfect for operation in conjunction with condensing boilers.
In order to be truly efficient, condensing boilers rely on lower system temperatures. And, once again, that makes x-flair the ideal addition to the system.
How you can benefit from x-flair
The benefits you get from x-flair:
Ideal for operation with low-temperature heat generators
The x-flair is operated just like a conventional radiator. The fans switch on and off automatically as required
Minimum noise thanks to sound-optimised axial fans and integrated acoustic decoupling
System temperature can be significantly reduced. In turn, this allows highly efficient operation with heat pumps and condensing boilers
Eligible for subsidies for efficient buildings under current subsidy programmes
x-flair can be combined with all therm-x2 steel panel radiators, blending in perfectly thanks to its identical appearance
Features original x2 technology as standard
Equipped with dry cooling function to prevent condensate formation

Hot water
Product variants and impressions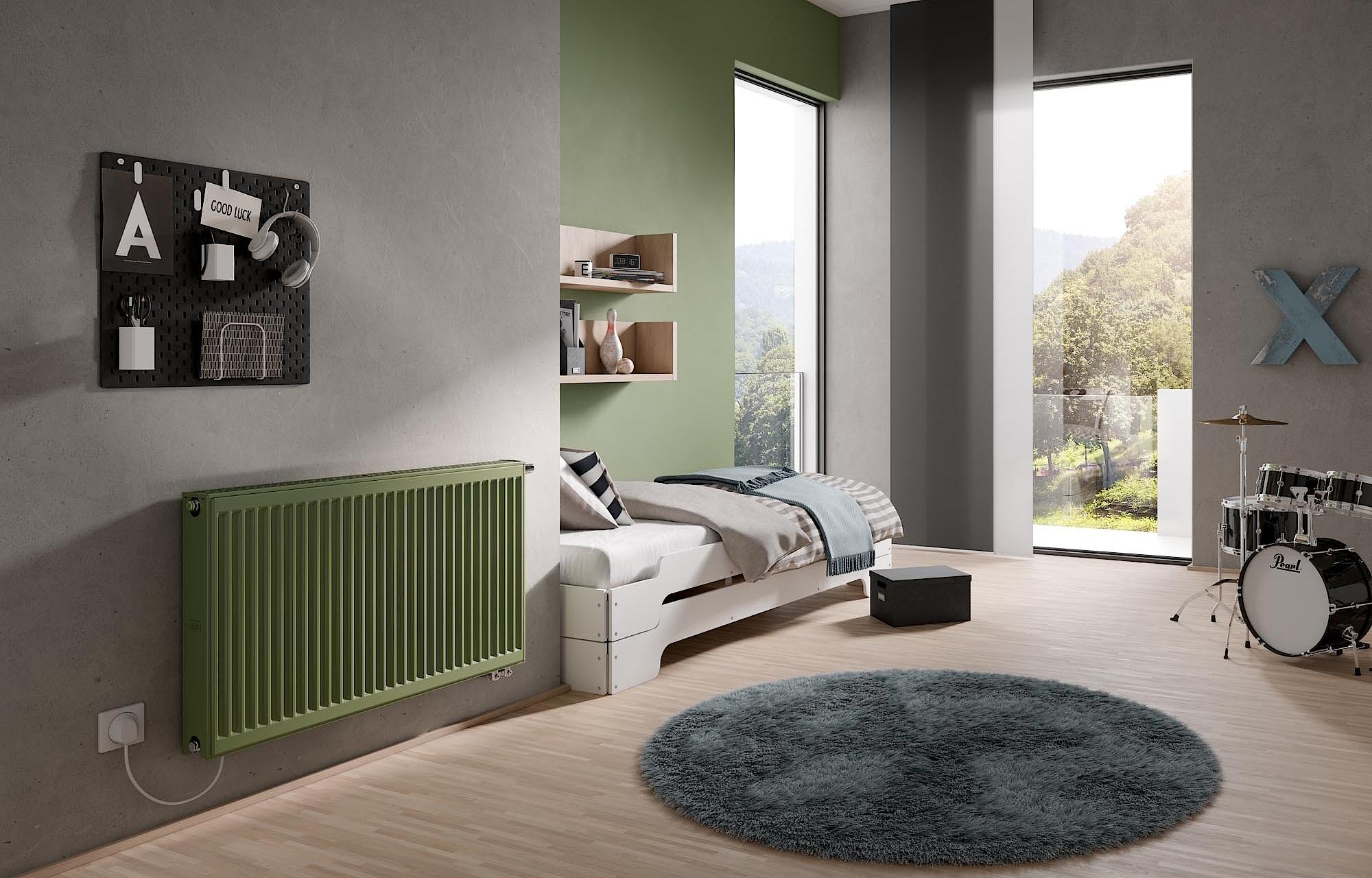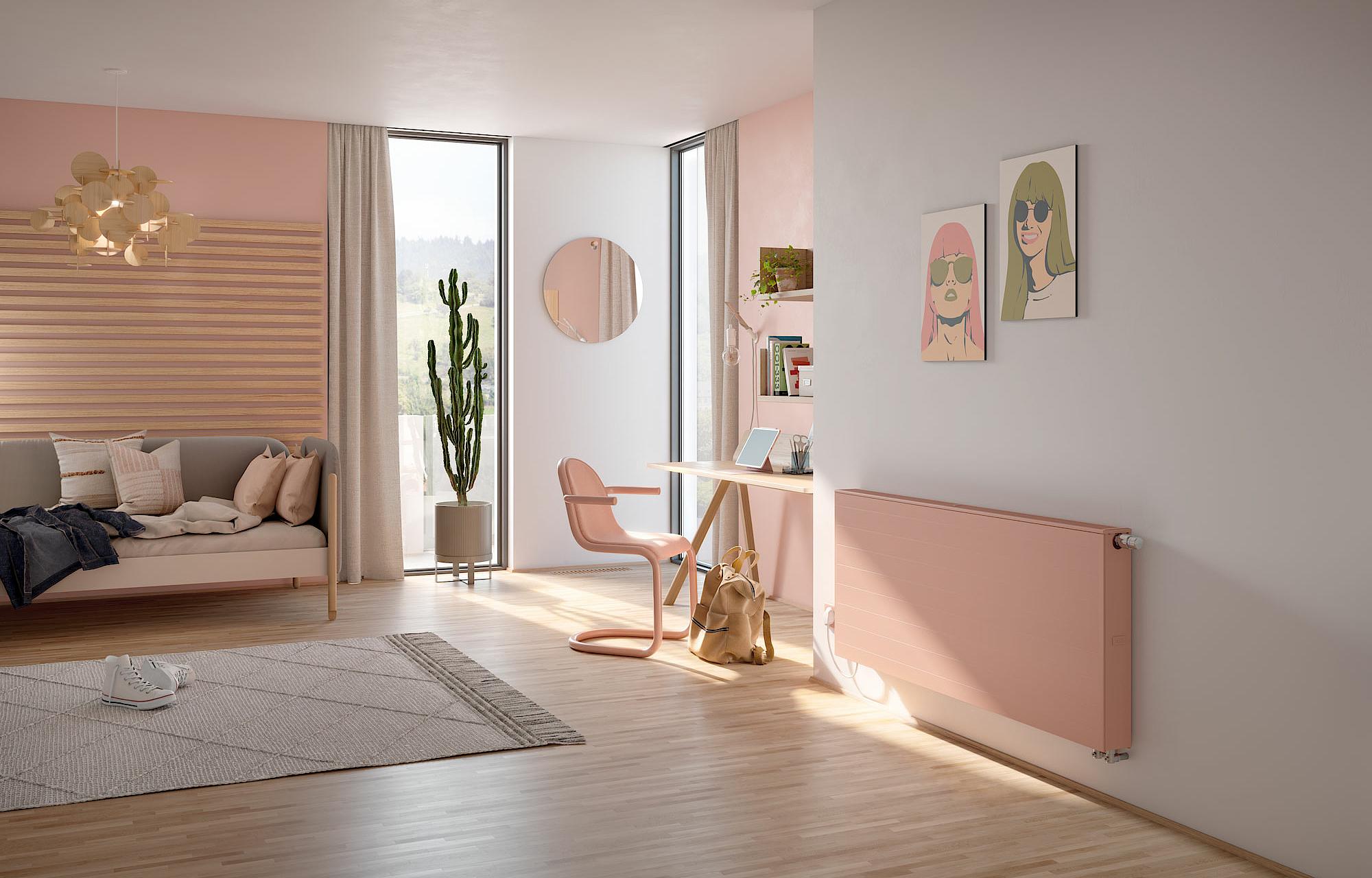 x-flair for new builds and refurbishment projects.
The x-flair heat pump radiator makes optimum use of the low flow temperature of heat pumps or condensing boilers, heats up efficiently, and rapidly distributes the heat within the room.
x-flair power calculator
Easy calculation of demand
The x-flair power calculator provides an easy way of determining demand for heat pump radiators
x-flair – our heat pump radiator
Get inspired by getting to know our x-Flair steel panel radiator.

Hot water
x-flair with cooling function
The x-flair is now available with a new cooling function: When combined with a heat pump such as the x-change dynamic pro – which is designed for heating and cooling as standard – the radiator ensures a comfortable temperature in both winter and summer.
The "Dry cooling" function becomes available if the special x-flair thermostatic sensor head is used.
Radiators
Contact customer service with any questions relating to our radiators
Quotation and planning service for radiators
Are you looking for a Kermi specialist partner near you?
With our search, you can find a specialist partner near you that can assist you with consultation plus exhibition, with planning or with consultation and installation.