Full thermal comfort – low noise generation
Kermi heat pumps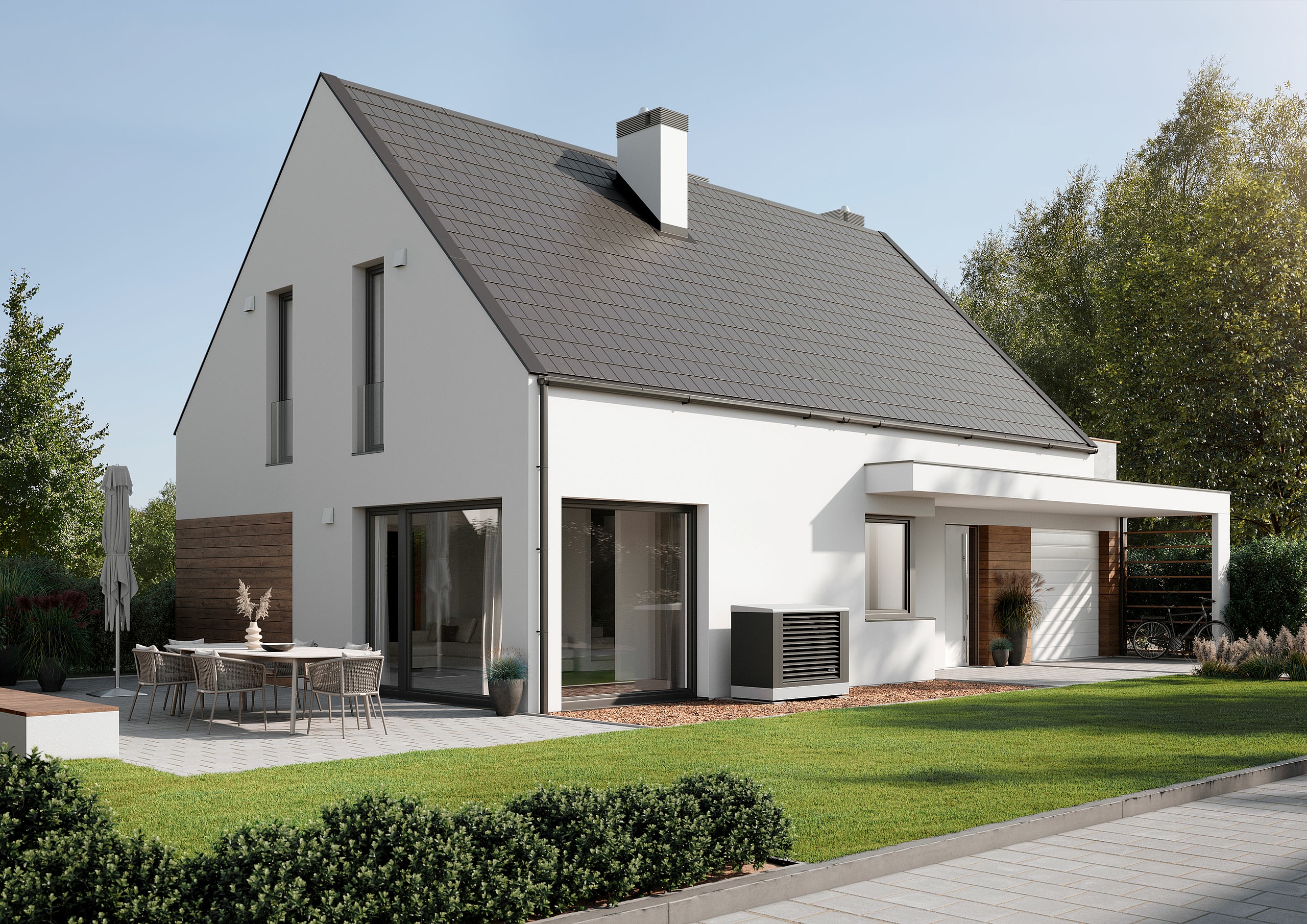 Sound level and sound insulation
Kermi heat pumps operate exceedingly quietly.
With their exceptionally effective sound and vibration absorption, they generate scarcely more noise than a ticking alarm clock. As a result, these heating systems can in most cases be conveniently installed in industrial areas and outdoors without the need for any additional construction measures. Whisper-quiet operation and a night reduction mode ensure that systems installed either outdoors or indoors will not disturb the neighbours.
Benefits:
Highly efficient sound insulation
Noise and vibration-optimised design
No additional noise-reducing measures required
Night reduction mode available for even quieter operation of models installed outdoors
The ideal outdoor installation
As the distance from the sound source increases, the surface over which sound scatters increases and the sound level is reduced at certain points as a result. However, sound reflections on obstacles such as walls usually amplify the sound. Therefore, any surrounding sound-reflecting surfaces have to be taken into account from the perspective of sound propagation. The material properties that apply in each case also have a role to play, although they are not a consideration in this case.
What needs to be considered: 
There should be a sufficient distance to the neighbouring property.
The air flow must not be impeded at any point.
The installation site should be sufficiently far from bedrooms and quiet rooms.
The air/water heat pump should be installed in a place that is sheltered from the wind.
It is necessary to keep a minimum distance of 3 m from the exhaust opening to footpaths. Distances below this can result in ice forming, even at temperatures above zero.
The exhaust opening must not point towards the building or another obstacle in the immediate vicinity of walls, terraces, or pathways.
The distance to the property line should be at least 5 m. Please also take the applicable limit values in the "Sound Theory" appendix into account.
Do not install the heat pump in recesses, interior courtyards, or the like. This creates the risk of an air short-circuit.
The heat pump's installation area must not be surrounded by sound-reflecting surfaces (such as interior courtyards): the larger the sound-reflecting surfaces, the more noise is created.
Keep minimum distances to exterior lightning protection systems according to DIN EN 62305, VDE 0185-305.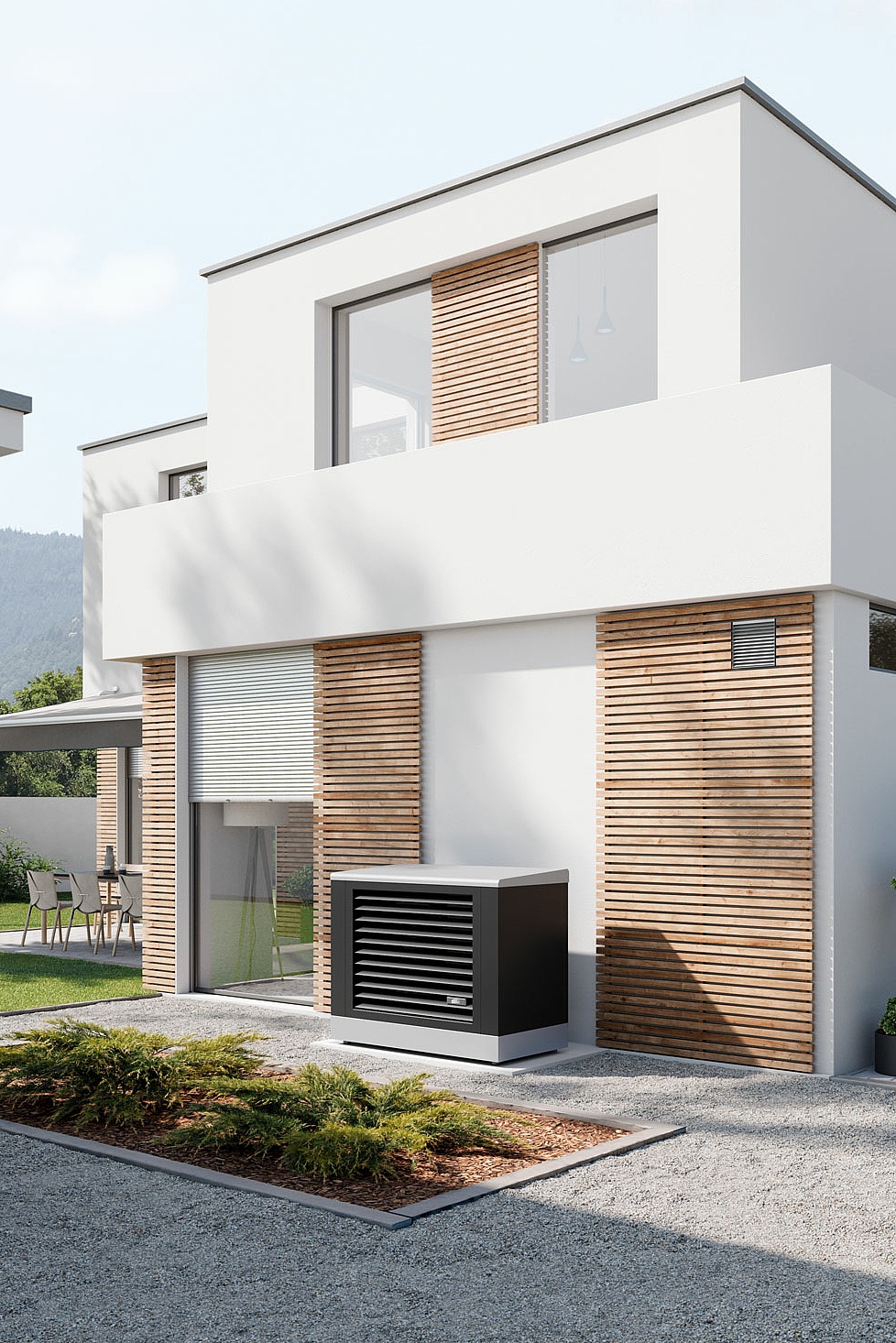 Limit values for sound immissions for heat pumps installed outdoors
The German Technical Guidelines for Noise Reduction (TA Lärm) are designed to protect communities and neighbourhoods from harmful environmental effects caused by noise. TA Lärm is part of the Federal Immission Control Act. The sound pressure level is determined in building areas centred 0.5 m in front of the open window of the room in the greatest need of protection.
In built-up areas without rooms in need of protection, or in non-built-up areas, the sound pressure level is determined at the side most heavily affected, where the construction of a room in need of protection would be permitted in accordance with building rights.
| | | |
| --- | --- | --- |
|   | 6 a.m. to 10 p.m. during the day | 6 a.m. to 10 p.m. during the day |
| Industrial area | 70 dB(A) | 70 dB(A) |
| Commercial area | 65 dB(A) | 50 dB(A) |
| Central, village, mixed areas | 60 dB(A) | 45 dB(A) |
| Housing and small residential estate areas | 55 dB(A) | 40 dB(A) |
| Purely residential areas | 50 dB(A) | 35 dB(A) |
| Treatment areas for hospitals and nursing facilities | 45 dB(A) | 35 dB(A) |
| Source: excerpt from the TA Lärm |   |   |
Acoustic power level
The acoustic power level is a factor that is sound source-specific and independent of distance and direction. It can only be determined by way of calculation. Devices can be compared with one another sonically on the basis of the acoustic power level. (Source: German Federal Heat Pump Association (BWP) sound handbook)
Sound pressure level
In acoustics, the sound pressure is understood to be the metrologically recordable level that is generated by a sound source at a particular distance. The measured sound pressure level is always subject to the distance from the sound source. (Source: German Federal Heat Pump Association (BWP) sound handbook)
The ideal indoor installation
Another option involves installing an air heat pump inside the building: this is the quietest installation variant. Sound in a house usually spreads across floors and walls. When connecting air ducts or pipeline connections, it is important to ensure that structure-borne noise is disrupted by using a flexible line connection. Potential narrowing flow channels in the air ducts and on the weather protection grille need to be prevented so that annoying flow noises do not occur at the air inlets and outlets.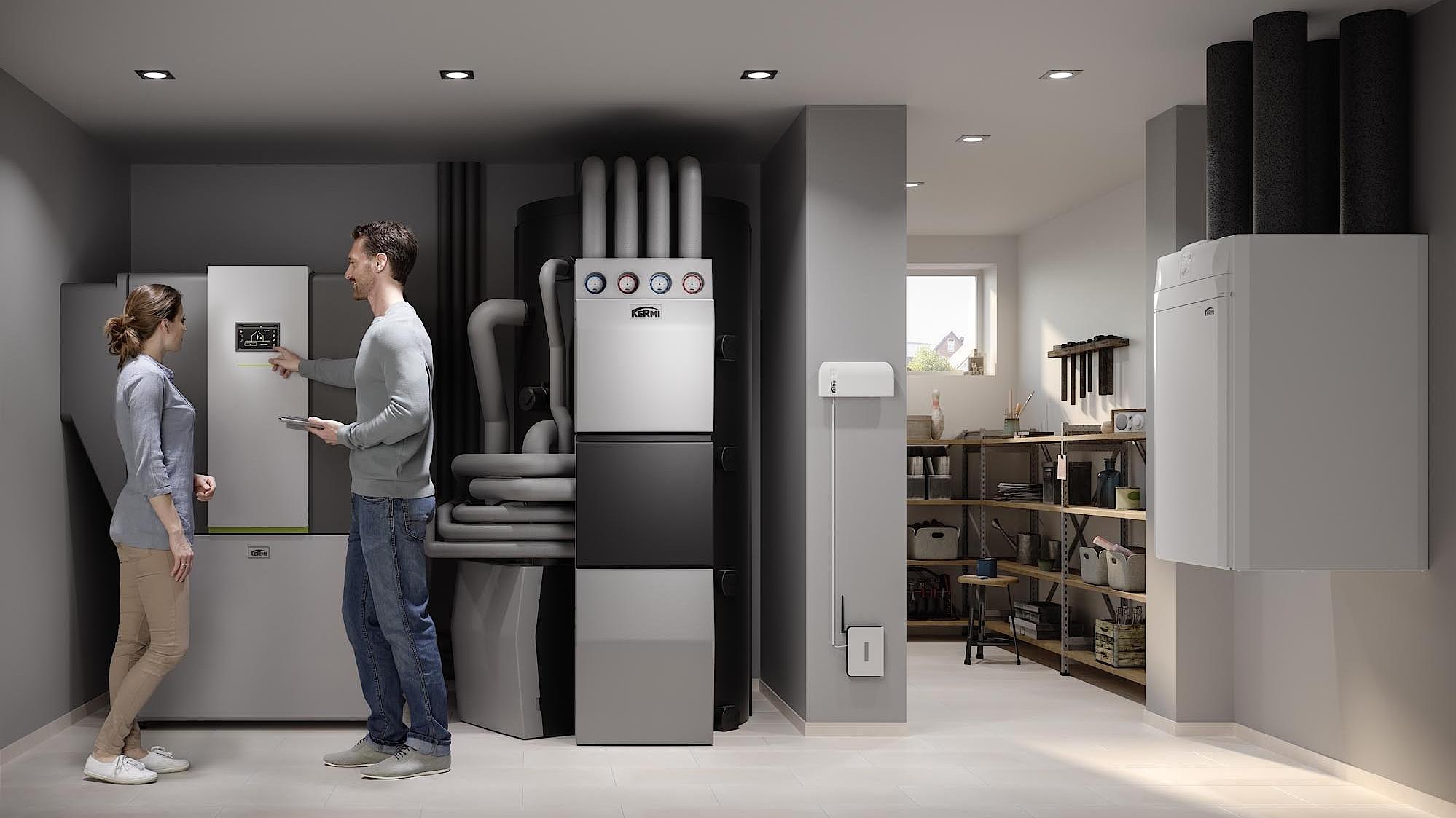 What needs to be considered: 
Solid walls in the installation room.
A heavy, tightly closing door.
The wall and ceiling may need to be lined with a sound-absorbing material.
Do not install a heat pump above rooms deemed to be in need of protection.
Prevent thermal short-circuits.
Prevent narrowing flow channels on the weather protection grille.
Preventing structure-borne noise
Install a heat pump line connection on the heating pipes using the flexible pressure hoses included in the scope of delivery.
Make wall breakthroughs for heating pipe lines, potentially using an additional protective conduit and flexible insulation.
Insulate wall breakthroughs for air duct lines (on the outlet and inlet side) in order to deaden structure-borne noise.
Provide circumferential screed cut-outs in floating screed with impact sound insulation at the installation site.
Please note:
Our x-change dynamic AW I units installed indoors come equipped with a triple vibration-free compressor. The EPP ventilation ducts can be installed directly without the added installation of a canvas duct connector over an EPP air adapter on the EPP housing.
Limit values for sound immissions in the case of heat pumps installed indoors
When installing heat pumps in buildings, so-called "rooms in need of protection" (according to DIN 4109) need to be taken into account.
| | | |
| --- | --- | --- |
| Rooms in need of protection |   | Immission values |
| Living room and bedroom | During the day | 35 dB(A) |
| Workrooms/office | During the night | 25 dB(A) |
| Classrooms / seminar rooms | During the night | 25 dB(A) |
| Children's rooms | During the night | 25 dB(A) |
Kermi is a member of the Bundesverband Wärmepumpen e.V. (German Federal Heat Pump Association).