The x-center controller controls the individual components of the Kermi x-optimised system, ensuring that all the processes run smoothly. It guarantees efficient and resource-saving operation of the heating system, and makes sure that the heat gets to where it needs to go.
The clear display makes the x-center controller exceptionally user-friendly. The Kermi x-optimised system is extremely transparent and easy to use, with handling that's consciously designed with simplicity in mind plus an intuitive screen design and an operator-friendly user interface with instructive menu guidance.
A brief introduction is all you need to start controlling all the components in your Kermi heating system as effectively as possible.
x-center pro
The controller with a high-resolution capacitive 7" touch colour display, for controlling an x-change dynamic pro heat pump.
Features
High-quality powder-coated casing to match the heat pump

High-resolution capacitive 7" touch colour display with straightforward, intuitive menu navigation

Self-explanatory icons and innovative overview screens

Wide range of applications without the need for additional accessories (remote maintenance, SG-Ready interface, S0 meter, Power to Heat, integration of other Modbus devices)

Quick and easy installation thanks to a straightforward construction and integrated contactor for 2 screw-in radiators

LED strip for displaying the status of the heat pump system quickly and simply

Connection of up to 2 mixed heating circuits

Remote maintenance/remote operation via the web portal and Kermi x-center app
x-center x40 controller
The digital heat pump controller with a touch display for modulating x-change dynamic heat pumps.
Features
Intuitive and easy-to-use menu navigation with self-explanatory, large icons

Large 7" colour display with touch control

Remote servicing without accessories only available with x-center x40

Web-based remote control of the heat pump via PC, tablet, and smartphone

Intelligent load management via SmartGrid function

Control of up to two mixed heating circuits and one unmixed heating circuit as well as a second heat generator

Power to Heat : intelligent use of excess PV electricity

Integrated electronic heat quantity recording incl. COP determination

Timer programmes: clear graphic representation of the settings as well as individual implementation of different requirements
Remote servicing for x-center x40 controller
Register for remote servicing and take advantage of additional functions. Whether you're a private individual or a specialist partner, this option comes with a whole host of benefits.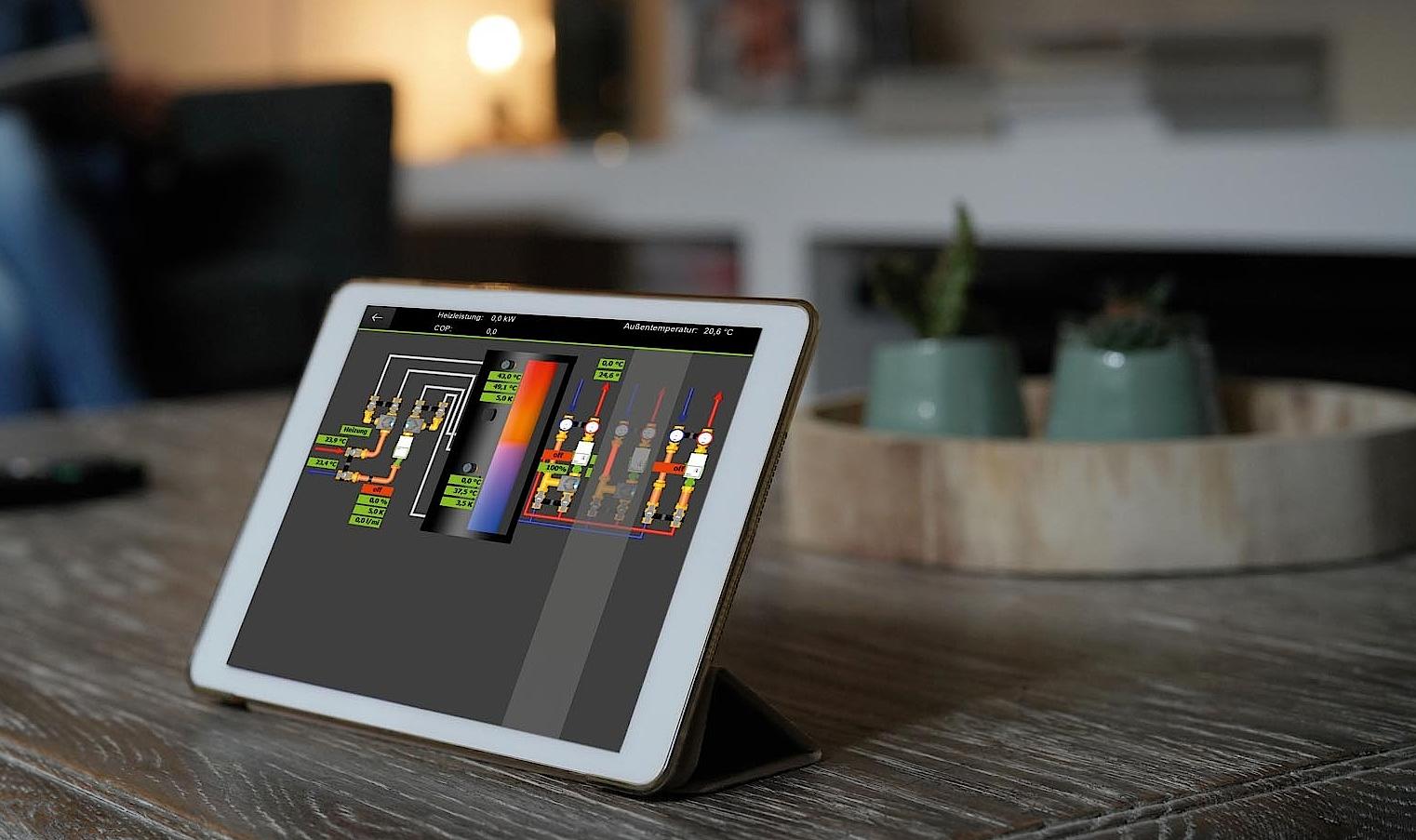 To access the remote servicing user interface of the x-center x40 controller, the x40 controller
must be connected to the mains power supply and

must be connected to the internet.
You can then register at www.x-center.systems.
To register, you will need
your personal data and

the serial number of the display (you will find the serial number at the bottom right of the start screen).
You can control and regulate all the settings on the x-center x40 controller when you are out and about as well –
and you don't need to be at home if servicing or troubleshooting needs to be carried out.
This eliminates complicated appointments, saves time, and cuts down on unnecessary journeys and costs.
You don't need to be at home to check your heat pump – you can do it any time from your PC, tablet, or smartphone.

Solve problems quickly by getting online help from your specialist partner or Kermi Service if you need it. 

In the case of simple malfunctions or updates, there's no need for a specialist partner to travel to your premises.

Software updates always ensure your x40 control system is up to date.
With remote servicing, you can operate the unit as if you were on location.

The fault analysis facility allows you to read faults via remote servicing.

You can clarify any faults you have identified with Kermi customer service and get important additional information in the process.

If a component needs to be replaced, you can see in advance via remote servicing what has to be swapped out or ordered.

Alarm messages can be sent to a stored e-mail address so that you are notified immediately if any problems arise, allowing you to react quickly.

If a malfunction occurs on public holidays or in winter, emergency operation can be activated remotely.