Steel panel radiators
Innovative heating for your own four walls
Our steel panel radiators give you an advanced source of heat within your own four walls. With by far the largest range of types and sizes on the market.
Three attractive surface finishes, an extensive range of sizes and colours, a special anti-corrosion coating, and numerous connection options. For new builds or renovation projects, for all heat sources, from low temperature to district heating – the innovative technology, reliable operation, high-quality materials, and outstanding finish are the hallmarks of a Kermi steel panel radiator with quality that's Made in Germany.
therm-x2 steel panel radiators
With its innovative, patented x2 technology, the therm-x2 radiator is setting new standards.
Thanks to the serial flow through the radiator panels, it saves up to 11 % more energy, generates up to 100 % more comfortable Radiant heat and has a heating period that is up to 25 % shorter compared with conventional radiators.
In another huge advantage, these strengths also enable the therm-x2 to work in perfect harmony with modern heat generators, especially heat pumps.
With three attractive surface appearances
With energy-saving x2 technology
For all heat sources: oil, gas, or district heating, solar energy, or condensing technology
Wide range of sizes and colours
Perfectly suited to new builds and refurbishment projects
Top cover and side panel as standard
Comprehensive range with short delivery times
Energy-saving x2 technology
Various fronts available: Profil, Plan, or Line
Generous freedom of design thanks to multiple connection options
Easy to replace during renovation
x2 technology in every steel panel radiator
The original x2 technology is exclusive to Kermi steel panel radiators. A brilliant invention: In contrast to conventional radiators which heat up their panels simultaneously, the x2 technology works with serial flow. First of all, the front panel provides heat quickly and ensures maximum comfort. In contrast, the lower temperature of the downstream panel reduces the heat losses to the outer wall. Steel panel radiators with x2 technology are suitable for all heat sources and always operate efficiently – oil, gas, or remote heating, solar energy or condensing technology.
Further information about x2 technology
Wide selection
For every installation scenario and requirement
therm-x2 Profil: a distinctive profiled look
therm-x2 Plan: a timeless planar design
therm-x2 Line: a finely profiled front cover
Verteo: a space-saving solution with a sleek vertical shape
Leveo: designer steel panel radiator, elegant and efficient
In a selection exclusive to Kermi, you can choose from a variety of radiator front designs and obtain replacement radiators for quickly replacing old DIN radiators, hygiene radiators for a virtually dust-free indoor climate, designs that are short, long, low, or high, and more besides.
There are a total of 26572 designs available in 240 base colours.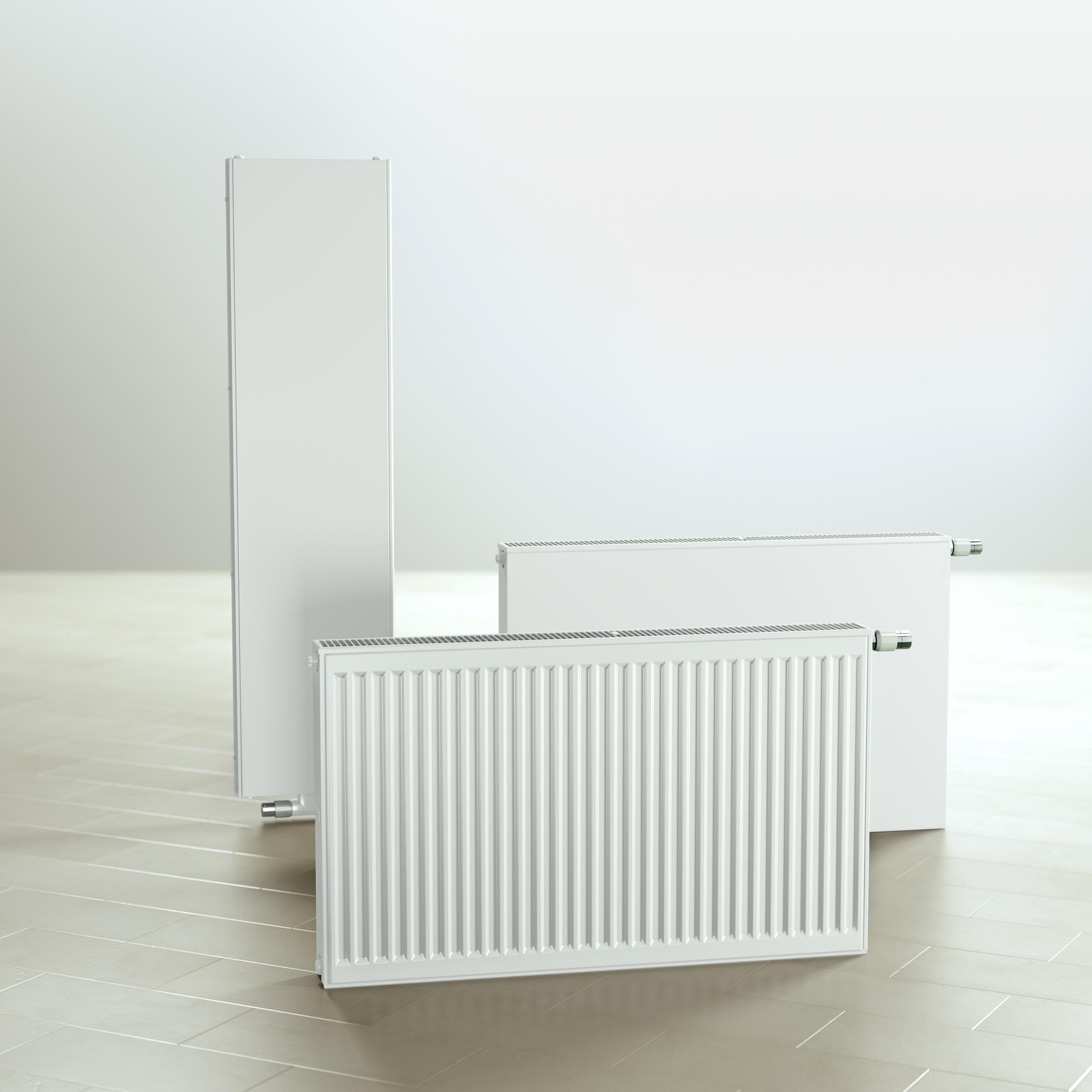 x-therm +e Profil horizontal
x-therm +e Plan horizontal
x-therm +e Plan vertical
The new x-therm +e electric steel panel radiators are simple to install, easy to operate, and efficient during operation. They can be installed anywhere, independently of any central heating system that may be in place. These electric radiators are also a practical choice in rooms that are rarely used, in holiday homes, or in refurbishment projects, for example. The x-therm +e is also a practical choice for periods between the seasons as a way of avoiding having to switch on the central heating system. Easy to operate, the controller allows for precise control and the electric radiator provides an extremely high output and consistently comfortable temperatures. At < 0.5 watts, the standby consumption is extremely low. What's more, if electricity can be generated at home from solar panel systems, the radiator becomes an even more efficient choice.
Steel panel radiator colours
Most of our radiators are of course painted in the classic Kermi White (RAL 9016). Steel panel radiators can be white – but they don't have to be! So why not play with colours and select a radiator in your favourite shade?
Our extensive colour concept is available for you to choose from. In addition to white and the major sanitary colours, the Kermi special editions are particularly inspiring, with contemporary looks that are aligned with the stylistic realms of modern living. The Soft edition is one example, with its luxurious, silky-smooth matt surfaces.
There is also our Nature edition with fresh, expressive tones drawn from nature. Meanwhile, the Ethno edition is based on the warm, vibrant colour spectrum of exotic cultures and the Metallic edition, with its vivid surfaces, brilliantly accents the glamorous 1950s trend.
Beyond this colour range, you can also choose finishes in any RAL CLASSIC colour you like.
Whatever you choose, you can always rely on a high-quality, durable surface.
Upgrade set for steel panel radiators
Make your radiator visually stunning in just a few steps.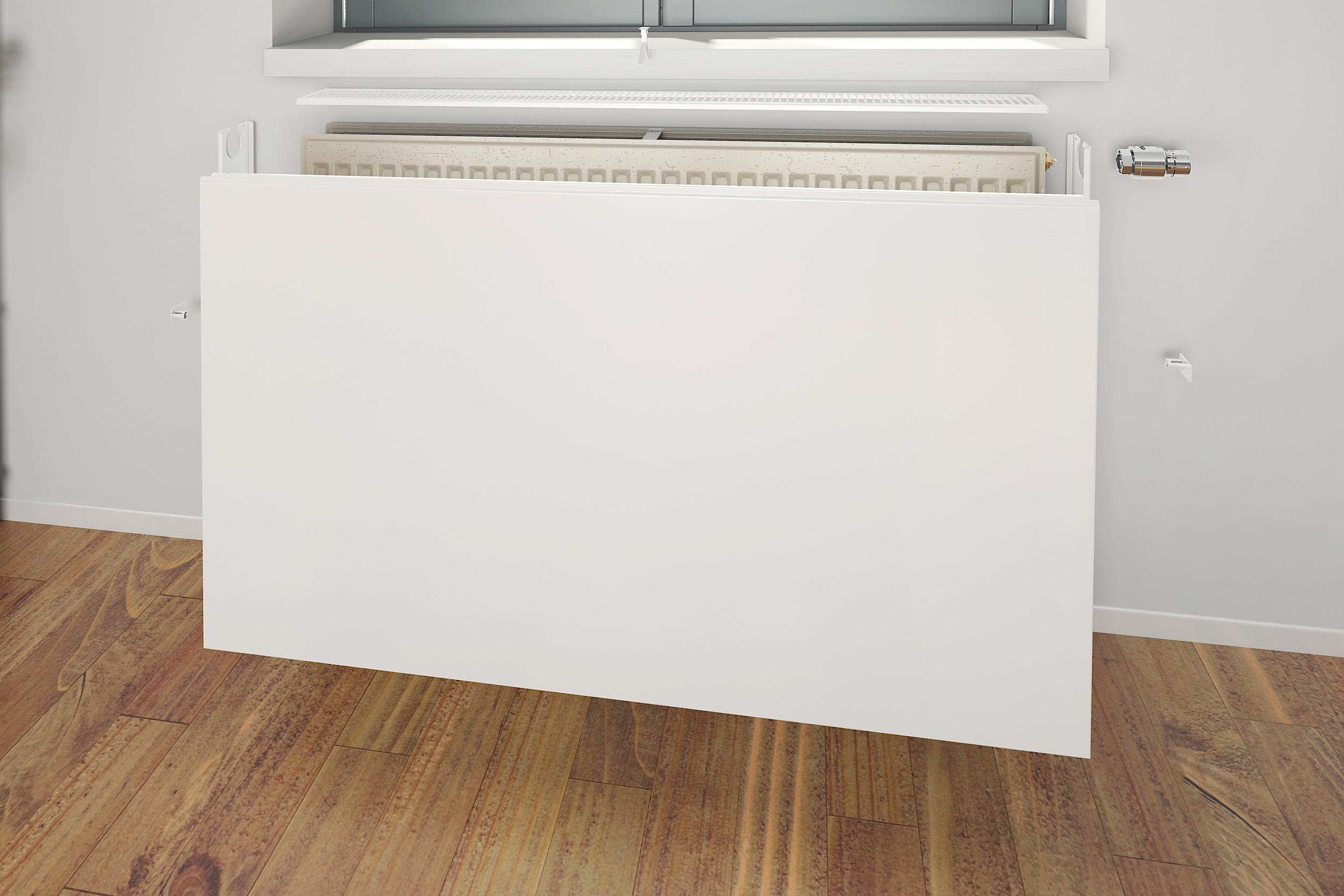 The state-of-the-art radiator covers lend every Kermi steel panel radiator a fresh, modern look. Made of metal, the radiator covers are easy to install and blend in perfectly with the existing home decor thanks to Kermi's colour concept.
Benefits of the upgrade set:
Quick and simple installation
Custom-fit production for all connection options
Modern appearance
Sturdy design, first-class workmanship
Optimised heat conduction
Steel panel radiators – coatings for special requirements
anti-corrosion coating
Radiator coating requirements in the spray zone around showers and toilets or urinals in private and public areas are less demanding than they are in rooms with an aggressive and/or humid atmosphere. If radiators require greater protection on account of these locations, a coating that complies with DIN 55900 is not enough. In these cases, there are also special requirements for the appearance and feel of the coating, in addition to the protection it provides. Kermi offers a less expensive anti-corrosion coating for applications of this kind. Powder coatings can be applied to the usual high Kermi standard on the basis of the Kermi colour concept. For these applications, the anti-corrosion coating offers ideal corrosion protection and an attractive appearance.
Hot-dip galvanised
Rooms with an aggressive and/or humid atmosphere – in commercial operations such as butcher shops, saunas, swimming pools, or areas with salt-laden air near the sea, for example – present extreme challenges for radiator coatings. The same is true for rooms that are regularly wet-cleaned with a high-pressure cleaner. Hot-dip galvanising provides the best possible anti-corrosion protection for these areas. The hot-dip galvanising process produces an irregular surface. For this reason, a coating with textured paint in white (RAL 9016) is then applied in order to create a uniform appearance.