x-link® plus
Connection fitting for underfloor heating
Combining bathroom radiators with underfloor heating is more popular today than it has ever been. But what is the best way of making this vision a reality if only one heating circuit is available? Our innovative connection fitting is the perfect solution to this problem, both technically and visually.
Combining underfloor heating with radiators requires different temperature levels. x-link plus provides a quick and easy solution in this case. The x-link plus connection fitting connects the underfloor heating circuit to the existing radiator network via the bathroom radiator. This ensures convenient floor temperature control in the bathroom – regardless of the room temperature.
Simple, quick, and direct connection to the Bathroom radiators instead of complex installation of an RTL flush-mounted box in the wall.
The Kermi x-net underfloor heating is simply connected to the x-link plus connection fitting on the bathroom radiator. No electrical connections or complex structural measures are required, and there is no need to access the boiler controls. The radiator is connected to the existing heating circuit and controls the room temperature via a thermostatic valve. The temperature of the panel heating is then controlled independently of the radiators via a return temperature limiter. The radiator's appearance remains virtually unaffected in the process. With x-link plus, the connection fitting replaces the usual valve shut-off block and its classic shape allows it to fit in perfectly with whichever radiator version is selected.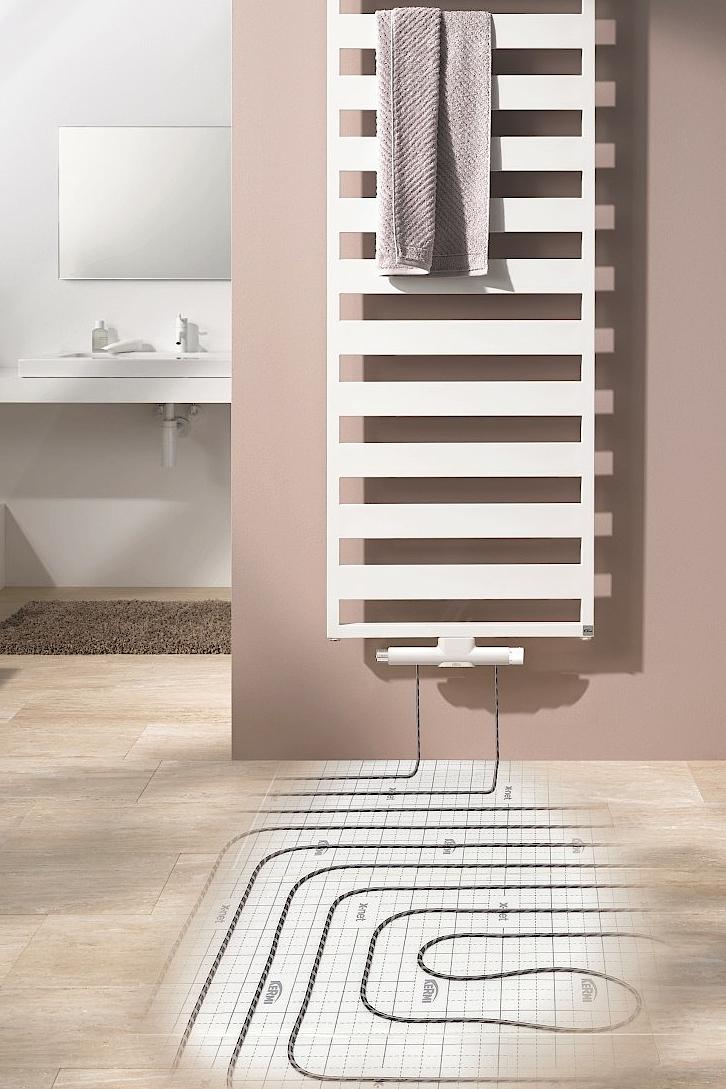 Product benefits
Innovative integration of the underfloor heating and bathroom radiator connection in a single unit
Meets the highest standards of bathroom design (complete connections concealed under a cover)
Bathroom radiator and underfloor heating integrated together into the pipe system at a central location
No need for an additional control circuit for the underfloor heating
No need to plan and install a separate wall box for controlling the underfloor heating
Simple operation
Complete solution with coordinated interfaces from a single source
Two-pipe shut-off block included as standard
x-link plus combines a valve shut-off block and x-link connection fitting in a single version
x-link plus is available in White and Chrome
The connection fitting with a White or Chrome cover perfectly fits the 50 mm connection of the compact bathroom radiator.
Suitable for
Designer radiators
Suitable for
Steel panel radiators
Suitable for
Underfloor heating