Combination of heat pump, solar panel system, and electricity storage system.
Architect's house, Darmstadt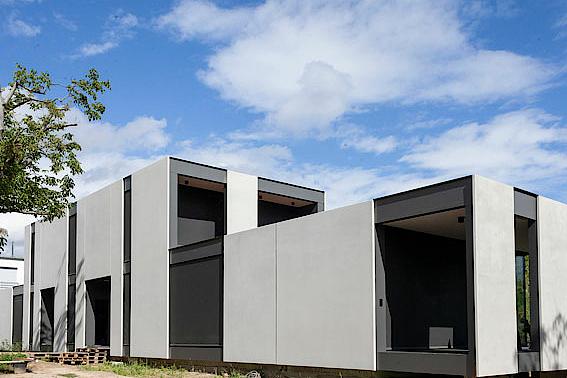 In 2020, architect Beatrice Korte and designer Tomas Fiegl completed work on their dream modular home in the Darmstadt municipal area – bringing to life their vision of combining a holistic, sustainable heating and ventilation concept with minimalist architecture.
To avoid relying on fossil fuels, they opted for a combination made up of a heat pump, solar panel system, and electricity storage system. Additionally, they enhanced the structure's energy efficiency and feeling of well-being by adding components from Kermi's x-optimised system: alongside the heat pump, this included a heat storage tank, underfloor heating, controlled residential ventilation, and an electric bathroom radiator – all cleverly linked by intelligent control technology. 
27000 square metres of Kermi x-net panel heating
Living Isar residential project, Munich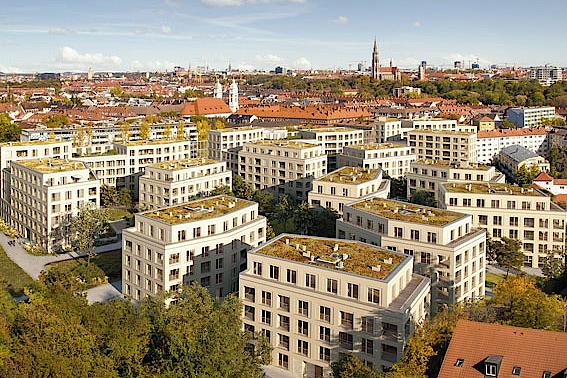 The new Living Isar complex is situated where the headquarters of lighting manufacturer Osram used to be in Munich. There, ABG Real Estate Group has built 423 flats, an office, two daycare centres, and a café over approximately 42000 square metres of floor space. This residential construction project boasts a range of flats with one to four bedrooms plus extensive roof terrace flats. Additional floor plans were also provided for during the planning process.
Some of the flats have been designed to be connected or separated in a modular fashion further down the line, depending on living space requirements. The central positioning and the direct proximity to the Isarauen park area provide an outstanding location, with sections of ground within the Isarauen flowing into the complex. This creates individual residential islands with green open spaces.
27000 square metres of the Kermi x-net panel heating tacker system have been installed in the complex. Comfort is assured through radiant heat and the living space is used as effectively as possible.
Kermi products with outstanding energy efficiency
Knielingen residential quarter, Karlsruhe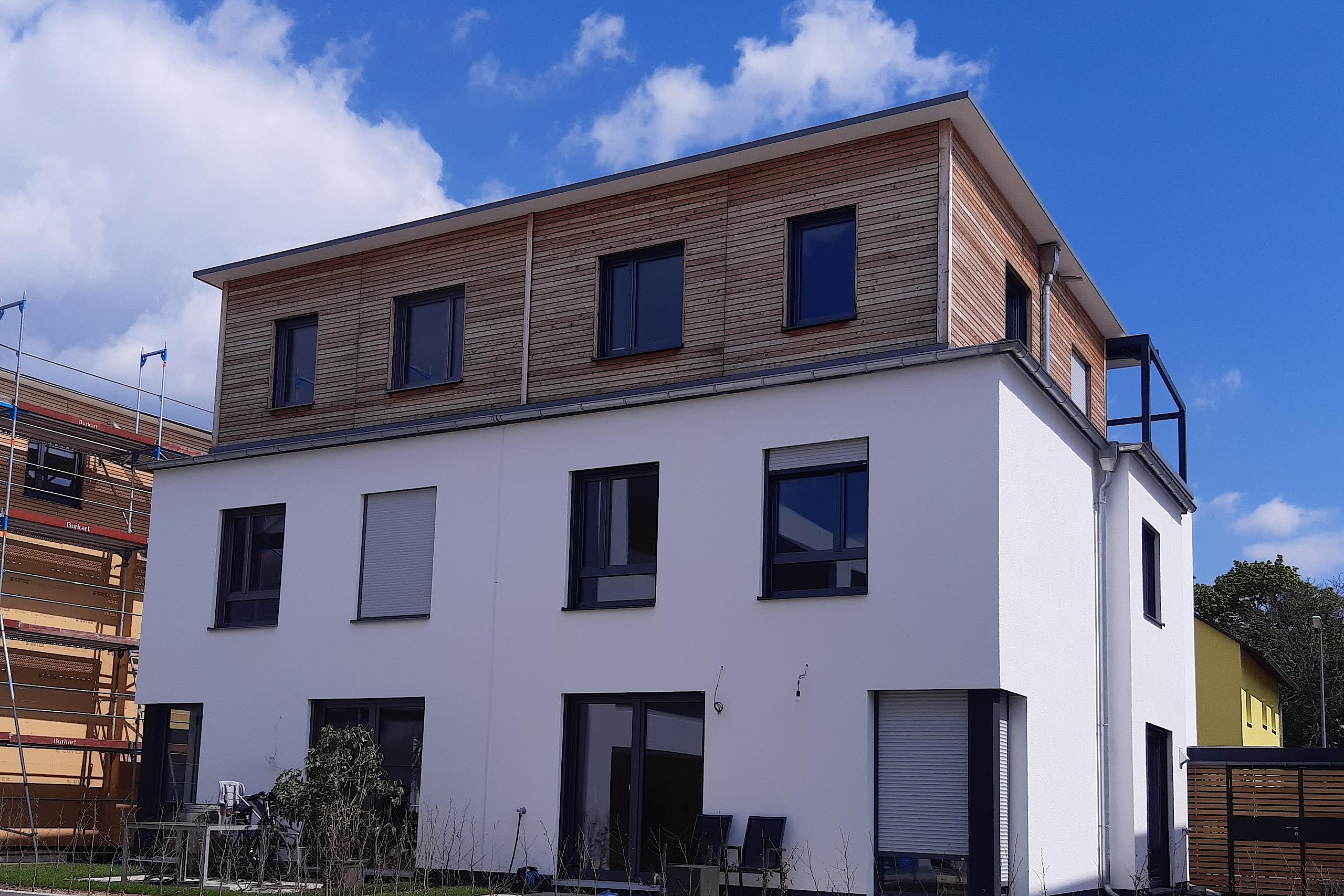 A car-free, green group of buildings with the name "elements" has recently been developed in order to enhance a former Deutsche Bahn site in the Knielingen district of Karlsruhe. The residential complex includes 12 semi-detached houses as well as four apartment blocks with 58 housing units. Despite demanding sound insulation requirements, the developer has succeeded in creating a harmonious living environment with sustainable construction methods. The houses have been built using ecological timber frame or timber element construction with a German KfW efficiency standard of 55 or 40, and Kermi products delivering outstanding energy efficiency have been used to fit out the buildings.
Controlled residential ventilation with heat recovery plus energy-saving, efficient underfloor heating ensure comfortable conditions indoors. The heat supply in the detached houses is provided by x-change dynamic air/water heat pumps combined with buffer and hot water tanks. 
Residence and solar power station in one
Solar power station, Solms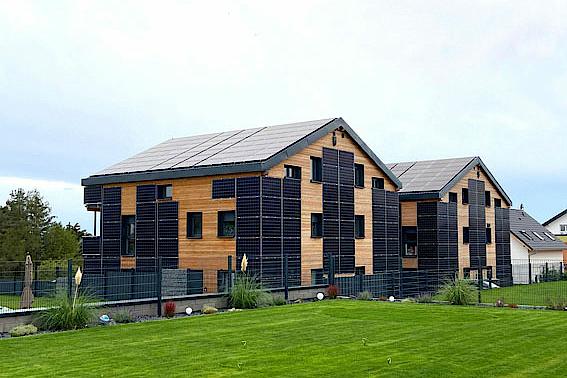 The Oberbiel district of the German town of Solms is home to a forward-looking project that combines a residence with a solar power station. Thanks to a carefully designed, sustainable construction method, the building produces more energy than it consumes for its electricity and heat supply. The builder, Michael Metz, was even awarded the Hesse State Prize for Energy in recognition of this work.
Made up of eight housing units in total, the new building also stands out visually from other residential developments. The wooden frame, the solid ceilings, and the insulation are made entirely of wood, a renewable resource. There are 245 solar panels on the roof and walls for energy generation. The energy produced is stored in environmentally friendly saltwater electricity storage facilities, and surpluses are fed into the power grid. In addition to the heat pump for heating and cooling, there are eight systems for controlled ventilation with 90 % heat recovery, including a distribution system. All of the living space is heated or cooled as required via underfloor heating. 
650 housing units with valve radiators
Nibelungenhain residential park, Regensburg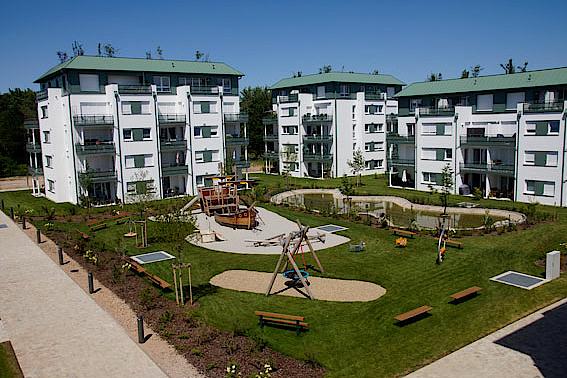 Numerous businesses locations have been created and residential complexes built in recent years on the site of the former Nibelungen barracks in Regensburg. Until 2007, the 35-hectare area served as a base for the German Armed Forces. Today, the site is home to 800 owner-occupied and rental flats, 300 student flats, several office buildings, plus a TechCampus for research institutions and technology-focused companies.
The excellent location is directly next door to the university campus and just one kilometre away from the historic centre of Regensburg. All the flats enjoy efficient use of space with transparent floorplan structures. The kitchens are connected to the hallways with an open-plan design, creating a spacious, bright living atmosphere. Not only that, but all the flats are also fully accessible for people with disabilities. 
Kermi has installed valve radiators in 650 of the housing units alongside Diveo and Basic-50 designer radiators.
Green, sustainable, and cost-effective heating
Alter Steinbruch residential district, Herdecke
In Herdecke, a town located in the German state of North Rhine-Westphalia, Herdecker Gemeinnützige Wohnungsgesellschaft mbH (HGWG), a not-for-profit housing association, finished building the Alter Steinbruch residential district in early 2020. Located near the center of Herdecke, the development covers 10000 square metres with 75 housing units across several buildings, offering living space for intergenerational communities.
In the houses built in the third construction phase, Kermi x-change dynamic 8 AW E air/water heat pump systems were installed to provide heating and enable hot water production. Solar panel systems on the roofs supply the electricity required for this. The buildings have been constructed in accordance with the high standards of the energy efficiency standard KfW 40 Plus, which sustainably and permanently keeps the annual energy needs at a low level. The total annual COP of the heat pump achieves an extremely good value of 4.53. 
The innovative technology from Kermi shows that installing green, sustainable, and cost-effective heating is possible even in rental properties. 
Panel temperature control covering an area of around 4000 square metres
Inn.Viertel, Passau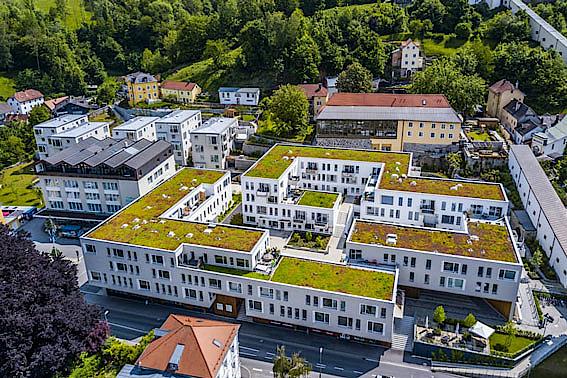 Where bottles were once filled for a local brewery, the Innstadt Brauerei, there is now an attractive residential complex in the form of Inn.Viertel, in the German city of Passau. The forty million Euro project has been built in the shape of a ring and consists of 120 housing units as well as apartments, including a range of green spaces. The residential and commercial complex also includes five split-level buildings with 30 apartments, a hotel, and approximately 4000 m2 of space for services. Using a sustainable method of building was extremely important when creating the complex; this is also complemented by the Inn.Viertel car-sharing project that has been available to all tenants since 2018.
Kermi supplied panel temperature control for the residential area, covering an area of a good 4000 square metres. Also installed were 700 radiators, plus convectors that are used in front of large areas of glass and Verteo Plan, a space-saving vertical steel panel radiator with a smooth front panel.
Area with 610 apartments, shops, offices, and luxury hotel buildings
Hafenpark Quartier, Frankfurt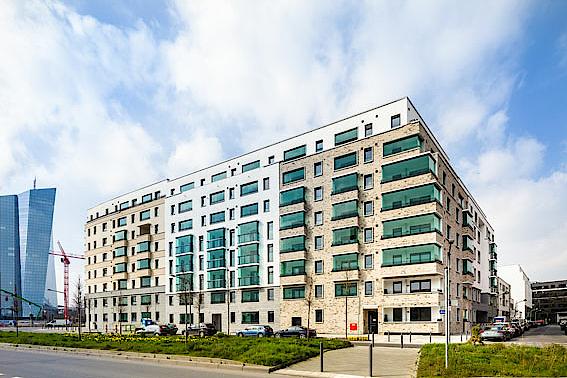 Located directly on the river Main in a central location, the Hafenpark Quartier area is being developed over the next few years and will comprise 610 apartments, shops, offices, and luxury hotel buildings. Covering 184000 m2, the project will be created in four construction phases and is considered to be an important part of the current development work taking place in Frankfurt. The first construction phase, completed at the end of 2019, marks the first milestone showing the dynamic development of this district. Work on the second construction phase in this Main metropolis started in early 2020.
Nearly 24000 m2 of Kermi's x-net C16 surface heating system have been installed in the apartments. The system has the advantage of being extremely durable but still quick and easy to install. In addition, central residential ventilation with heat recovery has been installed. This provides an optimised indoor climate with easy, on-demand operation.
With its customer-specific solution, Kermi has been able to make a good impression as a contractual partner and is supplying all of the ventilation components, from the units to the ducts.
Timber Homes residential pods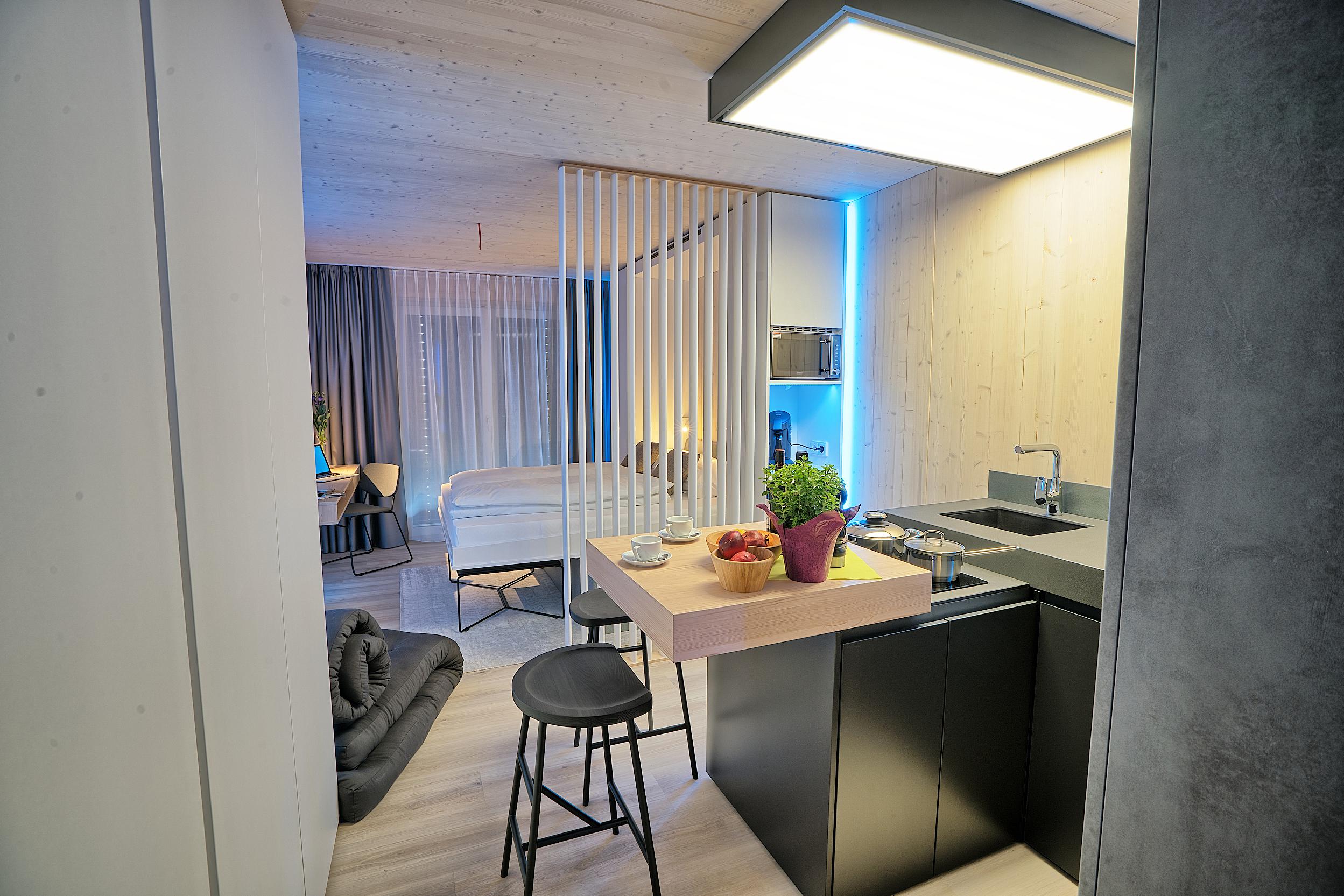 The company Timber Homes GmbH & Co. KG is now bringing to housing construction what the automotive industry has been exemplifying for some time now: complete volume production in factories with high quality standards yet an affordable price. 
Since May 2019, the real estate entrepreneur Robert Decker and the timber construction company Huber & Sohn have been operating this forward-looking model. The turnkey residential pods are made out of solid wood in the town of Dorfen, and can even be supplied fully furnished and equipped – right down to the last teaspoon! The first project is the Timber-Town-Areal in Straubing, with 180 timber pods that meet the energy efficiency standard KfW-40 Plus.
To satisfy this demanding requirement, the 1, 2, and 3-room apartments are equipped with a solar panel system to generate renewable power. In addition to that, a residential ventilation system with heat recovery ensures a pleasant indoor climate and sustainability.
Central residential ventilation systems in each housing unit ensure an excellent indoor climate
Wohnwerk Dorfen residential complex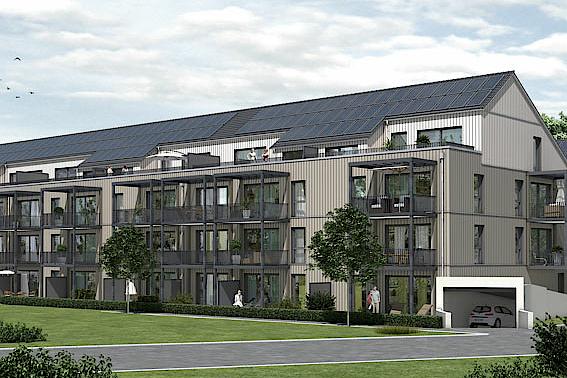 Several building complexes are currently being constructed as part of efforts to improve the housing situation in Dorfen, the fourth-largest town in the Upper Bavaria region. One of these projects is the residential complex known as Siemensstrasse Wohnwerk Dorfen, which is being built by Robert Decker Immobilien GmbH. In 80 housing units, pleasant comfort is being combined with an ecological building design.
This includes energy-efficient building technology fittings, with Kermi residential ventilation systems among them. The central residential ventilation systems in each housing unit ensure an excellent indoor climate while saving heating energy with integrated heat recovery.
Some of the apartments have also been fitted with the Kermi Smart Home system, which can be used to manage all the energy technology in an extremely efficient and user-friendly way. Additionally, each apartment is equipped with an electricity-generating solar panel system that includes a battery storage system to store the power.