Why a therm-x2 energy-saving radiator?
If you want all the options, you need to go back to the product that started it all.
You won't find compromises here. The Kermi steel panel radiator range contains the right solution for every installation scenario and every requirement.
Whether they're being used in a new build or a renovation projects, radiators need to fit seamlessly into the installation and living situation. And the only way to achieve this is with the benefit of a complete set of options like Kermi's full product range.
You won't find this variety of connections, types, and versions anywhere else – and you won't find 400 sizes per model range. With an incredible 6377280 different radiators to choose from, you're sure to find something to suit every taste and every purpose.
All sizes: short or long, low or high, flat or deep
All types: 10, 11, 12, 20, 21, 22, 30, 33
All front versions: Profil, Plan, Line
All connection versions: compact version, valve version, centre connection
Durable protection thanks to hot-dip galvanisation or anti-corrosion coating
Hygienic version: the clean solution for special requirements
Renovation solutions: quick, clean radiator replacement thanks to DIN connection dimensions
Versatile accessories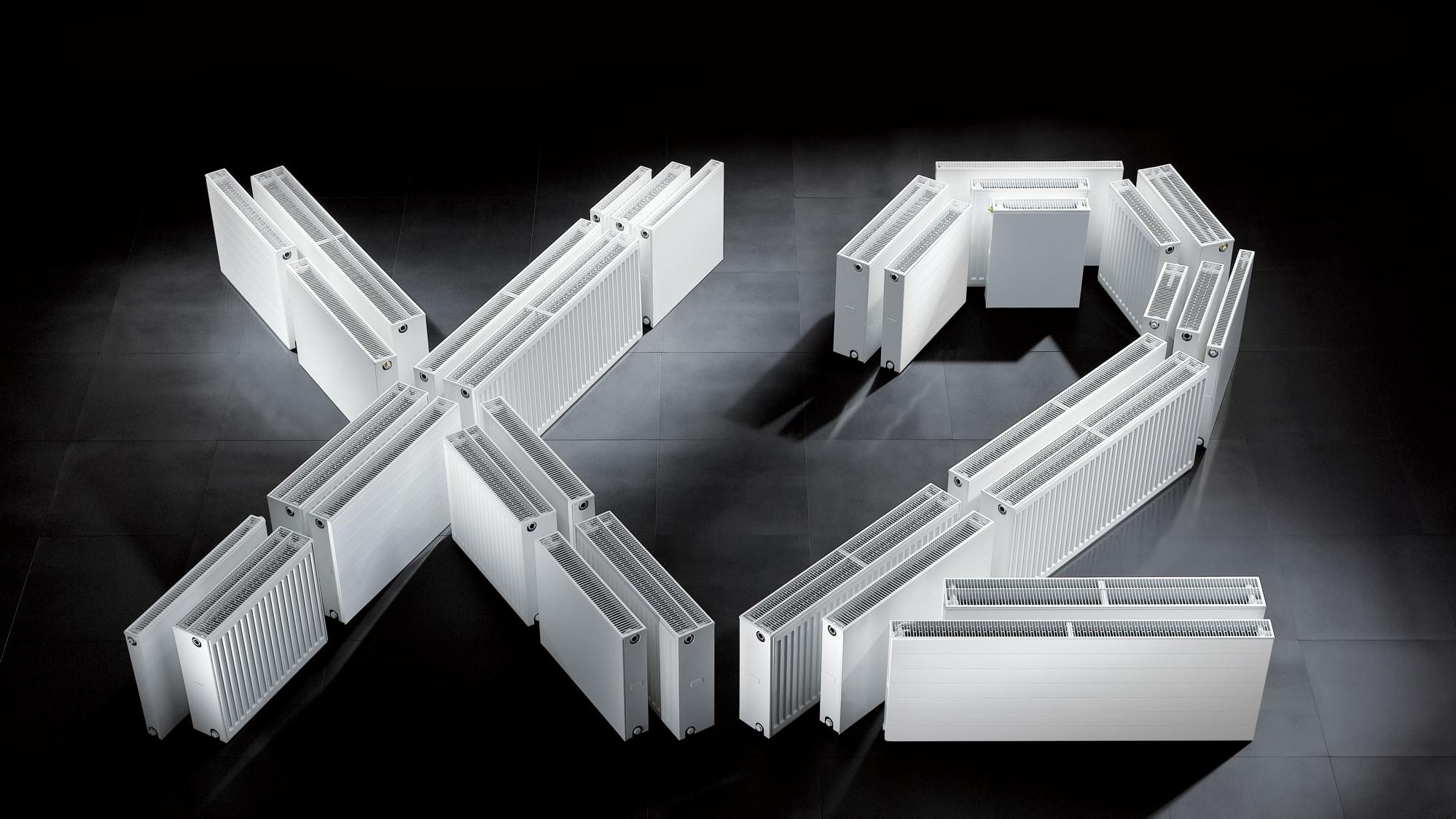 Why a therm-x2 energy-saving radiator?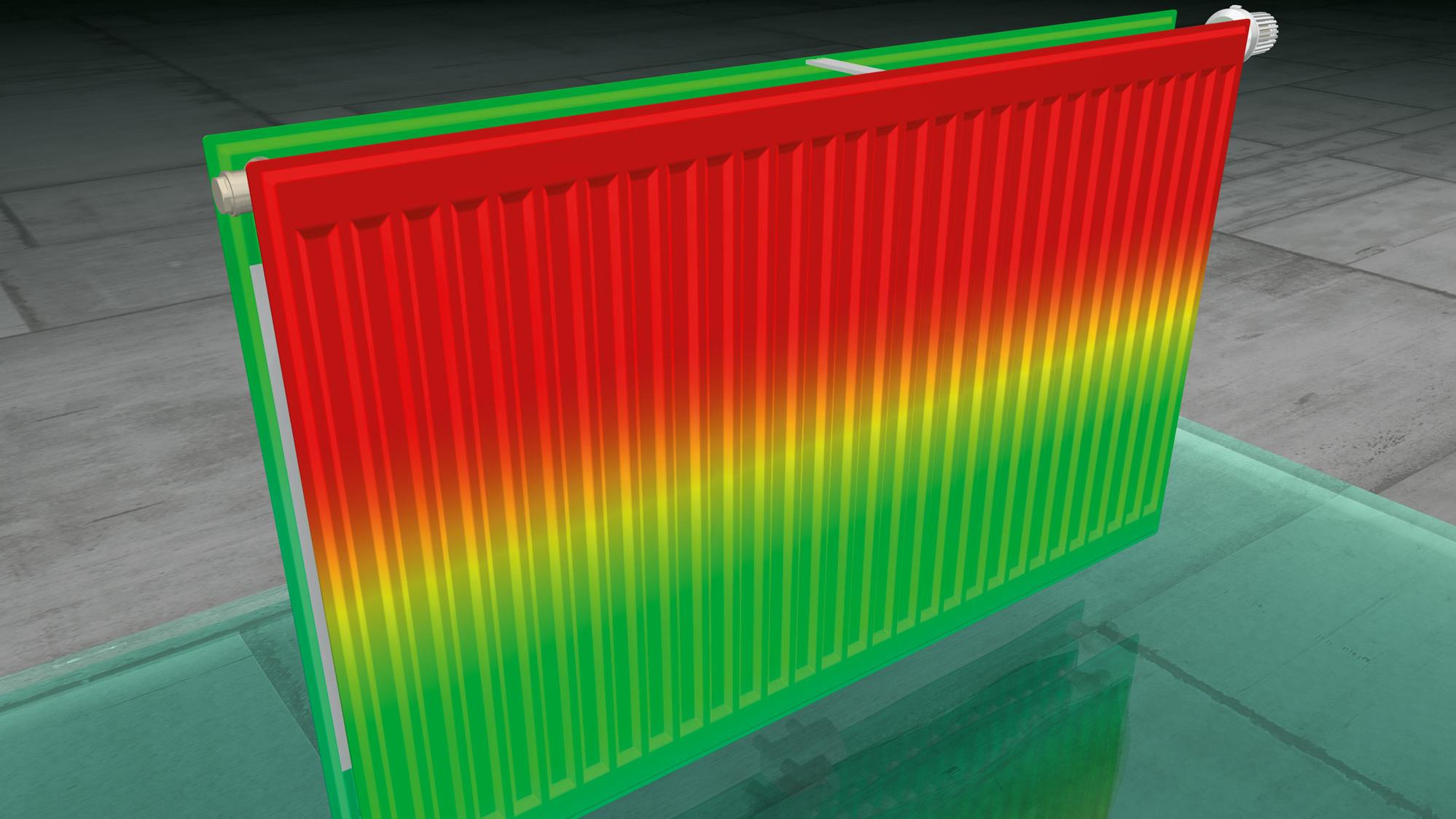 Boasting several unique benefits, the therm-x2 energy-saving radiator sets new standards in the steel panel radiator sector.

With a heating period for the radiator which is up to 25 % shorter, up to 100 % more cosy radiant heat , and verifiable energy savings potential of up to 11 %, the therm-x2 consistently focuses on energy-efficient heat transfer.
Radiator heating time reduced by up to 25 %. The forced flow creates a shorter heating cycle and shorter operating times, and the valve closes more quickly.
x2 technology
Innovative and patented
The success of the therm-x2 energy-saving radiator is based on the innovative x2 serial flow principle. While existing steel panel radiator technology heats all the panels concurrently, the x2 principle is based on the flow only moving through the front panel at first.
This heat output is sufficient during normal operation, when the downstream panel only functions as a radiation shield. The downstream panel does not start providing high levels of convection output (leading to the room heating up rapidly) until the output demand increases.
Increased energy efficiency and reduced losses during distribution and generation due to a greater temperature difference between flow and return.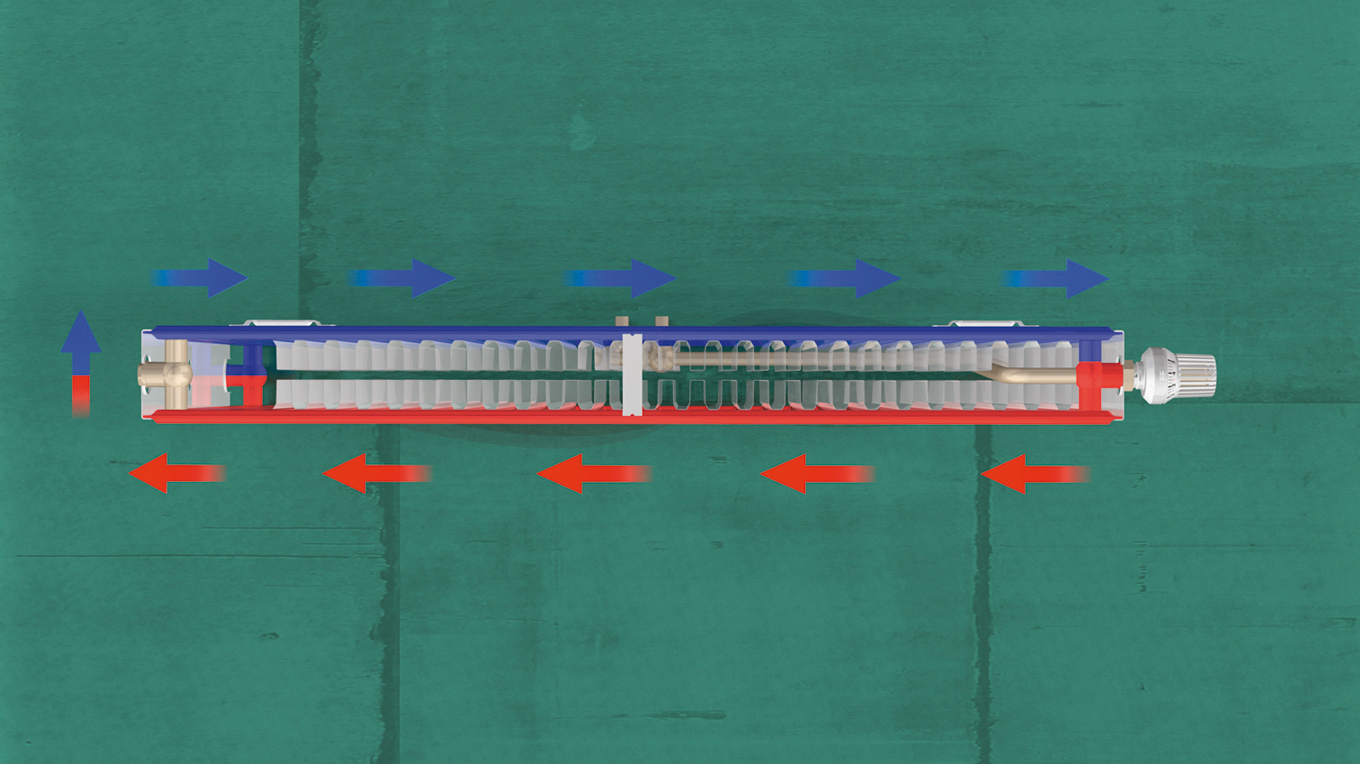 For maximum energy efficiency.
And maximum comfort.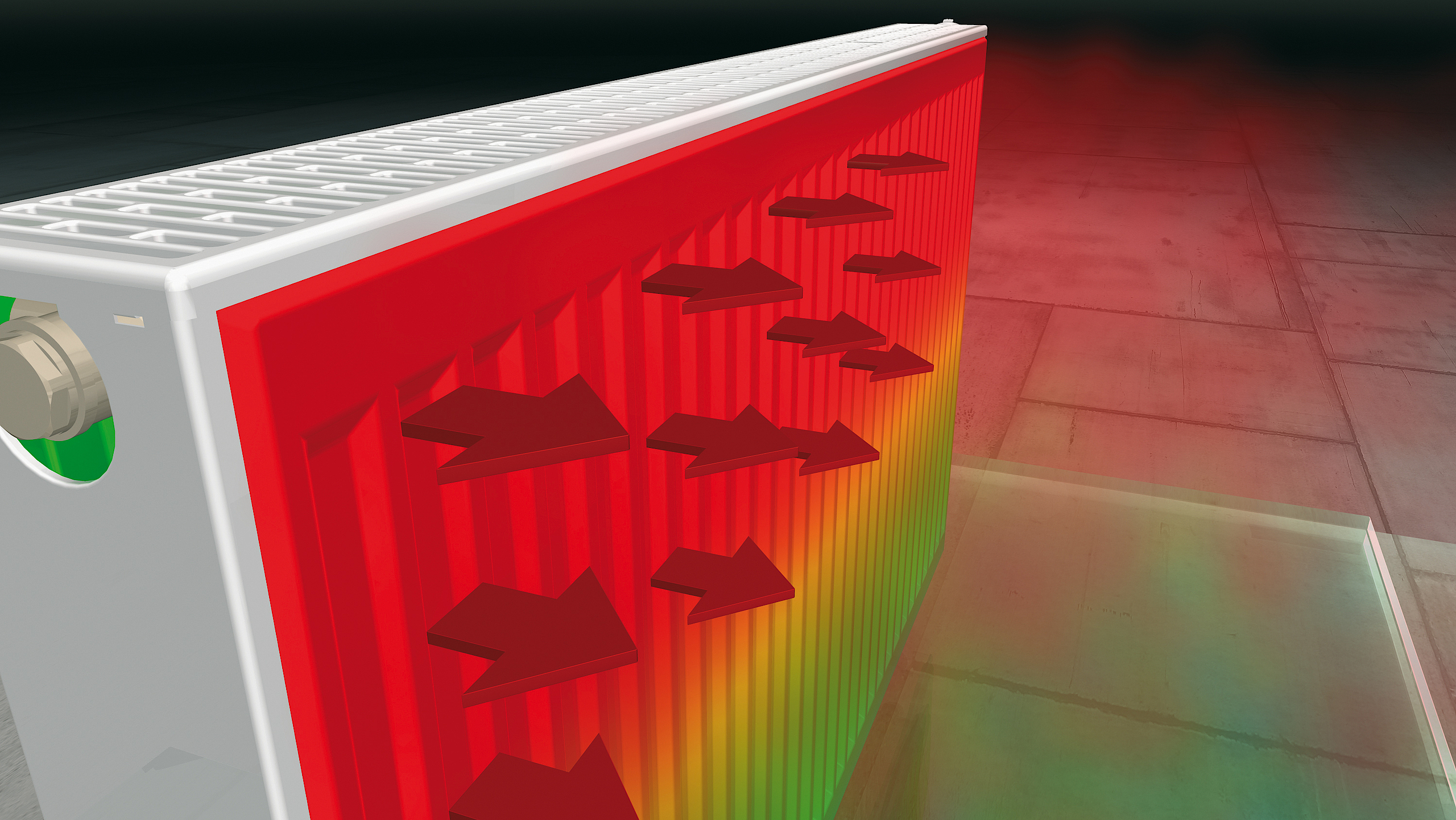 Verified, independent studies have shown that the multi-phase heating performed by the therm-x2 steel panel radiator not only leads to an energy efficiency level that has never been attained until now – resulting in significant energy savings in comparison to conventional radiators – but also ensures maximum thermal comfort at the same time.
This is because the feeling of warmth strongly depends on the radiation characteristics of the radiator in question: if the room temperature is adequate but the radiator is emitting little heat, we subjectively perceive the room to be too cold. The therm-x2 energy-saving radiator prevents this with a significantly increased average surface temperature on the front panel.
Up to 100 % higher radiated portion in the room. Caused by the front panel's higher average surface temperature.
Energy savings
Highly economical. Fit for the future.
A heating system like Kermi x-optimised, designed to use energy as efficiently as possible, needs good heat transfer in order to produce its energy benefits to full effect. The therm-x2 energy saving radiator maintains the high levels of efficiency provided by modern heat generation sources, right up to the point of heat transfer.
And the innovative x2 technology goes one key step further – it is proven to reduce energy consumption during transfer by up to 11 %. If you consider that 75 % of the energy required in a household is used by the heating alone, it is clear that the potential for savings in this area is huge.
With the therm-x2 energy saving radiator, in comparison to conventional steel panel radiators, more than 6000 kilowatt hours can be saved per year in an old building. With the same amount of energy, you could bake 6000 cakes, shave 15600000 times with an electric razor, wash 6270 loads of washing, or operate a refrigerator for 42 years...
and if all 14.5 million detached and semi-detached houses in Germany were to deploy the innovative x2 technology, then we could save more than nine billion litres of heating oil in a year! The carbon emission savings alone would be 24 million tonnes annually in this case.

This high savings potential makes the therm-x2 an extremely practical building block in a future-oriented heating system, and allows you to achieve a lot with relatively little effort. For the benefit of both you and the environment.
The energy-saving radiator of the year
Magnificent. And magnificently versatile.
From the beginning, the innovative x2 technology has been a sensation among specialist partners and users. Now, a new chapter has been written in the success story of the the Kermi therm-x2 steel panel radiator: the jury for the renowned PLUS X AWARD has given the product series not only the PLUS X AWARD 2012 in recognition of its outstanding features, but also the "Best product of the year 2012" award due to its functionality, ecological traits, and quality.
Apart from its impressive energy efficiency, the versatility of the therm-x2 family was one of the key aspects that impressed the judges.
Whether it is used with heat pumps, solar panels, or condensing technology, the therm-x2 energy saving radiator is always the right choice for ensuring cosy thermal comfort combined with outstanding efficiency.
It works in perfect harmony with any heat generator and saves up to an additional 11 % of energy during heat transfer alone. This makes the therm-x2 a strong component in the Kermi x-optimised heating system.