Which radiator is the right one?
Kermi's extensive range
Kermi has been producing radiators in Germany since 1967 and, in 2005, revolutionised the market with its patented x2 technology.
Today, 75 million of its steel panel radiators have been installed.
The Kermi x-optimised system has made us the go-to system provider for sustainable, feel-good warmth.
For us, feel-good warmth involves the whole package – a heat pump, heat storage tank, radiators, underfloor heating, residential ventilation, and control.
One component of the Kermi x-optimised system is an extensive range of radiators. What radiators are available and which is the right one?
We've put together a guide to help you find the right radiator. Because Kermi is the manufacturer of choice when it comes to radiators.
Steel panel radiators
The best-known standard radiators
Steel panel radiators are without doubt the best-known and best-selling standard radiators. They are available in many heights and lengths. The depth is referred to as the type, with the number indicating the number of heating plates and convector plates.
Thus, a radiator with type number 22 refers to 2 water-conducting heating plates (first number) and 2 convector plates (second number) for room heating. In a conventional panel radiator, all the panels are heated simultaneously. Kermi therm-x2 steel panel radiators are based on the patented x2 principle of serial flow.
The flow only moves through the front panel at first, as the heat output this provides is enough in control mode. The downstream plate works as a radiation shield and does not start contributing towards heating the room with a high convection output until the output demand increases. This results in up to 11 % more energy savings, a radiator heating period that's up to 25 % shorter, and up to 100 % more comfortable radiant heat.
Benefits therm-2
With energy-saving x2 technology
With three different fronts: Profil, Plan, or Line
Top cover and side panel as standard
Wide range of sizes and colours
For all heating systems: oil, gas, or district heating, solar energy, or condensing technology
Replacement radiator for renovation without the need for laborious breaking and demolition work
Hygiene radiators for stringent hygienic requirements, e.g. in hospitals, in medical practices, or for allergy sufferers
Heat pump radiators
Ideal for low flow temperatures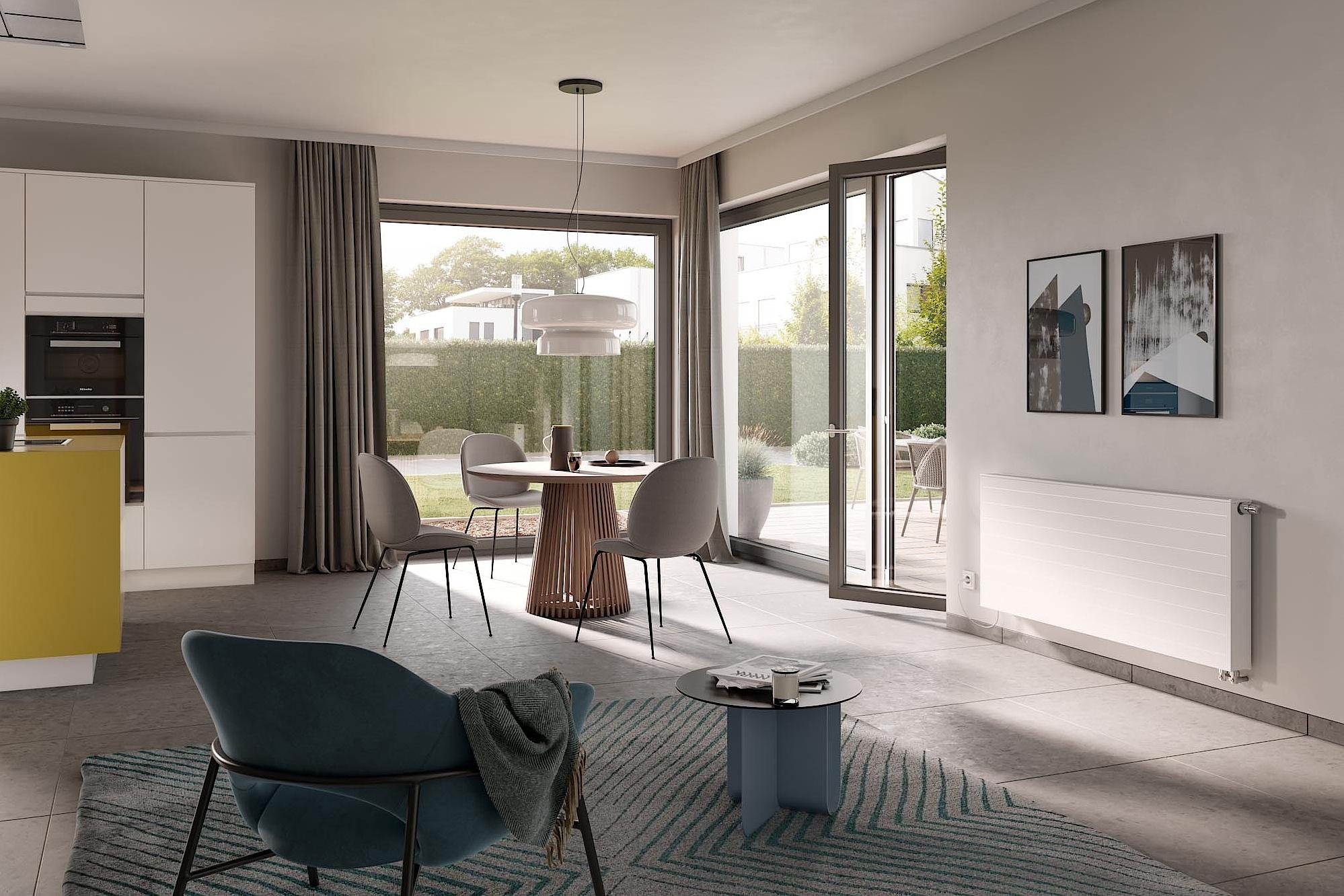 A heat pump radiator is the ideal radiator for extremely low flow temperatures. This low-temperature radiator heats up quickly and distributes the heat effectively in the room by combining x2 technology with axial fans.
It makes the best possible use of the low flow temperature of the heat pump, heats up efficiently, and rapidly distributes the heat. In renovation projects involving old buildings, the radiator can be connected to existing pipes (which means that underfloor heating is not an absolute necessity).
In a new build, it can be used in rooms which only need to be heated up quickly at certain times, such as utility rooms or home offices (underfloor heating would react too slowly in these cases).
Benefits x-flair
Significant reduction in the system temperature possible, allowing highly efficient operation with heat pumps and condensing boilers
Operated like a conventional radiator; fans switch on and off automatically as required
Sound-optimised axial fans and spring-loaded bearings reduce noise to a minimum
x-flair can be combined with all therm-x2 steel panel radiators, blending in perfectly thanks to its identical appearance
Maximum radiated heat output with integrated x2 technology
Bathroom and home radiators
Individual, stylish design
Modern designer radiators allow rooms to be custom-designed with style.
In everything from simple, timeless looks to extravagant concepts, they provide an interior design element that's suitable for the kitchen, bathroom, living area, or hallway. They are available in many shapes and colours, sizes, and heat outputs. The only thing to consider are the requirements for the new radiator:
should it be able to cover the entire heating demand of a room or is it simply a bathroom radiator designed to warm towels, for example? Is it an addition to underfloor heating? Many designer radiators are also suitable for straightforward replacement during a renovation project.
Benefits bathroom and home radiators
The very highest quality standards in construction, workmanship, and surface finish
Wide range of sizes and colours
Many accessories: hooks, brackets, and shelves with various shapes and surfaces
Many models also available with additional electric operation or all-electric operation
Replacement radiators for straightforward renovation work, thanks to the standardised hub distance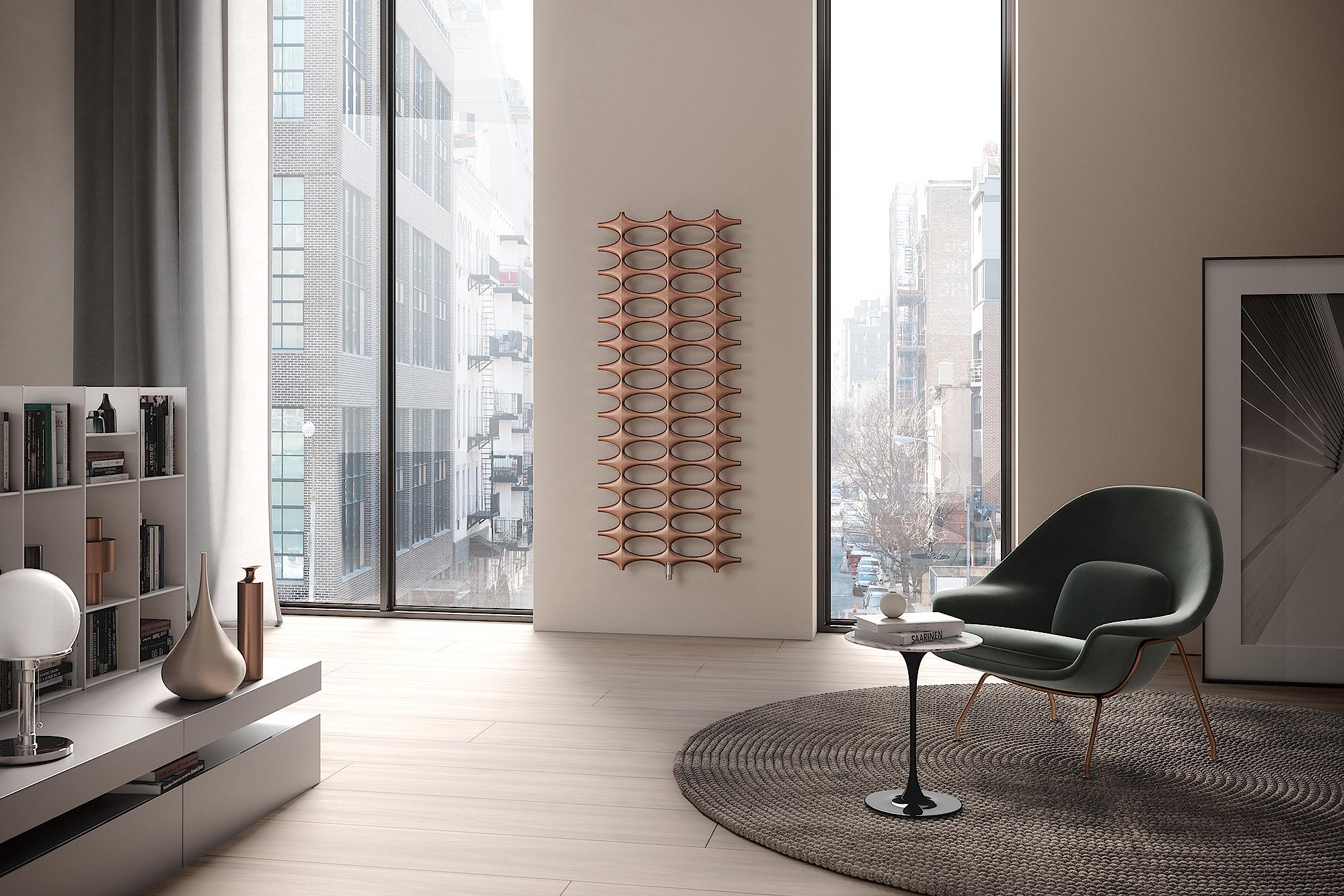 Infrared radiator
All-electric
An infrared radiator is an all-electric radiator. It provides a high proportion of cosy and efficient radiant heat
that feels like warm sunshine, quickly and directly affecting the human body as well as any other surfaces it irradiates. The high proportion of radiant heat minimises air movement and dust dispersion. This makes infrared radiators particularly attractive to allergy sufferers.
Benefits
Short heating period and even heat distribution
Beneficial for allergy sufferers thanks to minimal air and dust dispersion
All-electric operation – completely independent from the central heating
Flexible uses – can be installed almost anywhere
Electric radiators
Independent from the central heating
An electric radiator is completely independent of the central heating. It is supplied complete with an electronically controlled heating rod, heat transfer fluid, and controller.
It can be used almost anywhere as it is either connected to the mains via a socket or flush-mounted. A solution that saves both time and costs, particularly in existing buildings.
Benefits
All-electric operation – completely independent of the central heating
Flexible uses – can be installed almost anywhere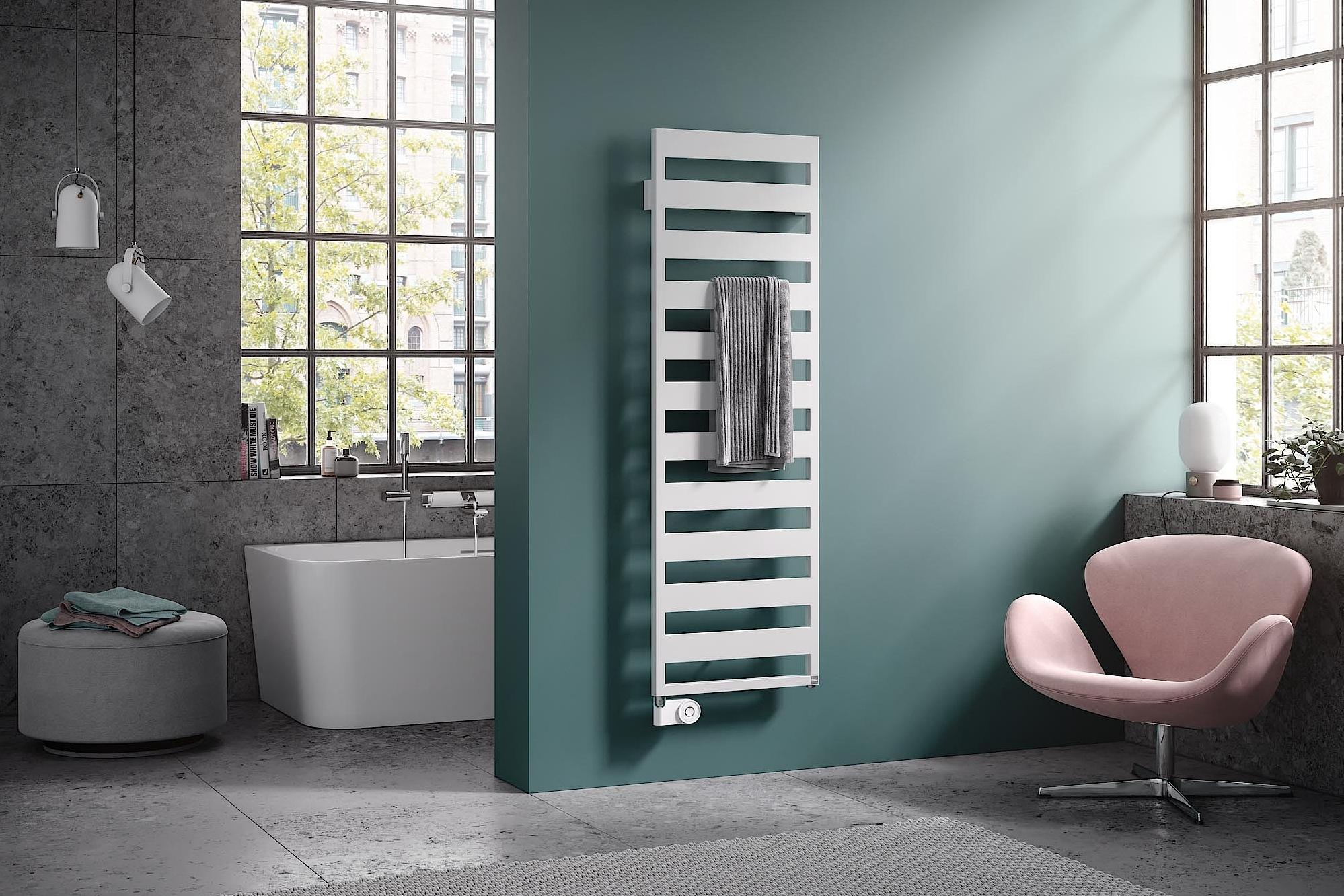 Radiator with additional electric operation
Connected to the central heating – and the mains.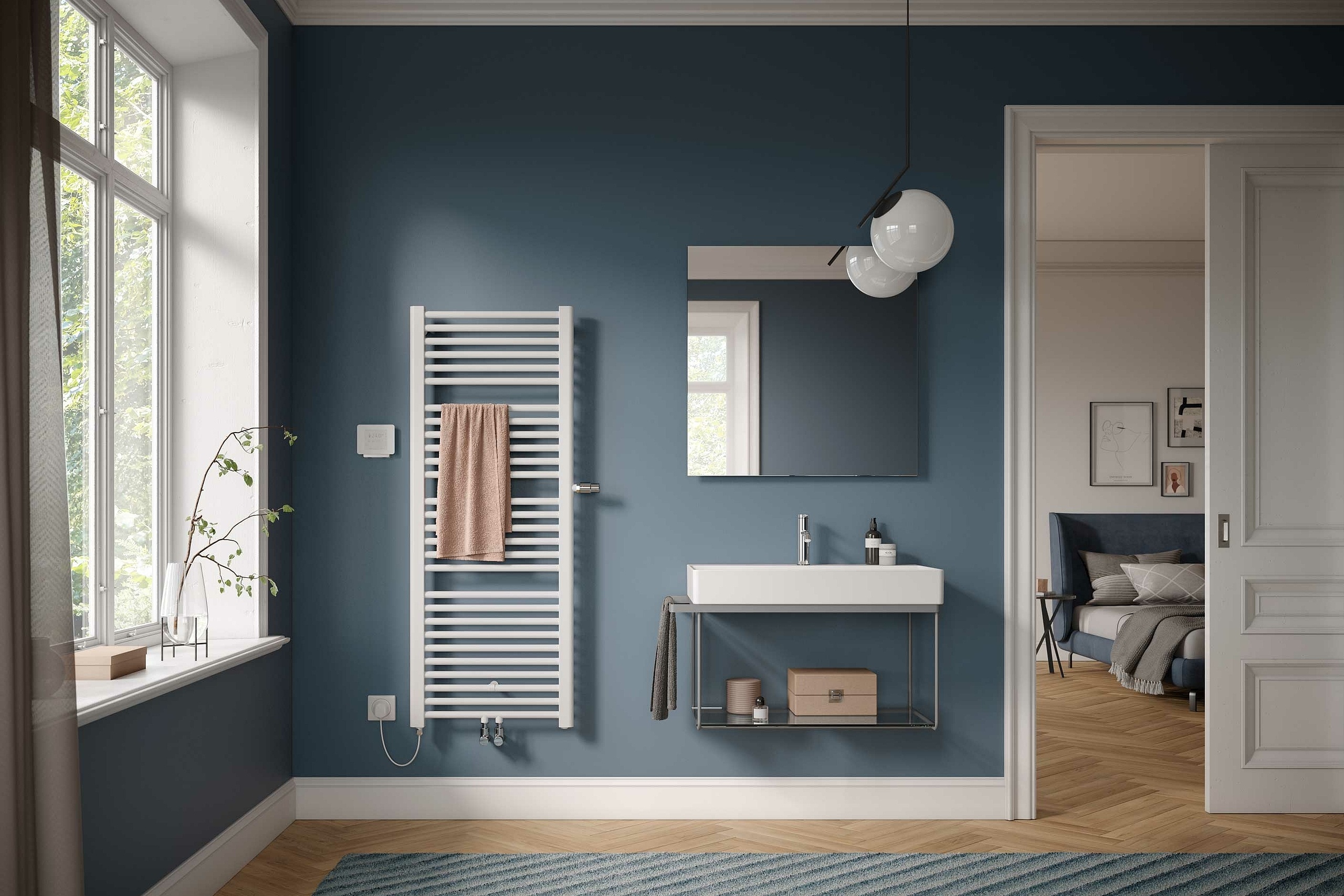 A radiator with additional electric operation is not only connected to the central heating, but is also connected to the mains via an electric set.
This is especially practical in seasonal transitional periods as it can be operated without the heating system.
Benefits
Practical in seasonal transitional periods
Replacement radiators
More efficient and economical.
There are many good reasons for replacing old radiators. New radiators are more efficient and save on heating costs.
They enhance a property both visually and in terms of energy use in projects involving renovations or energy efficiency-focused refurbishments. Replacement steel panel radiators and designer radiators are available in a range of different heights, lengths, and depths.
With suitable hub distances of 500 and 900 mm, old DIN radiators can be replaced quickly, easily, and cleanly – without any laborious breaking or demolition work.
Benefits
Hub distance 500 mm or 900 mm
Fast radiator replacement thanks to hub distances that exactly match those of the old DIN radiators
Hassle-free, clean, efficient
Process can be completed in just a few installation steps without any special accessories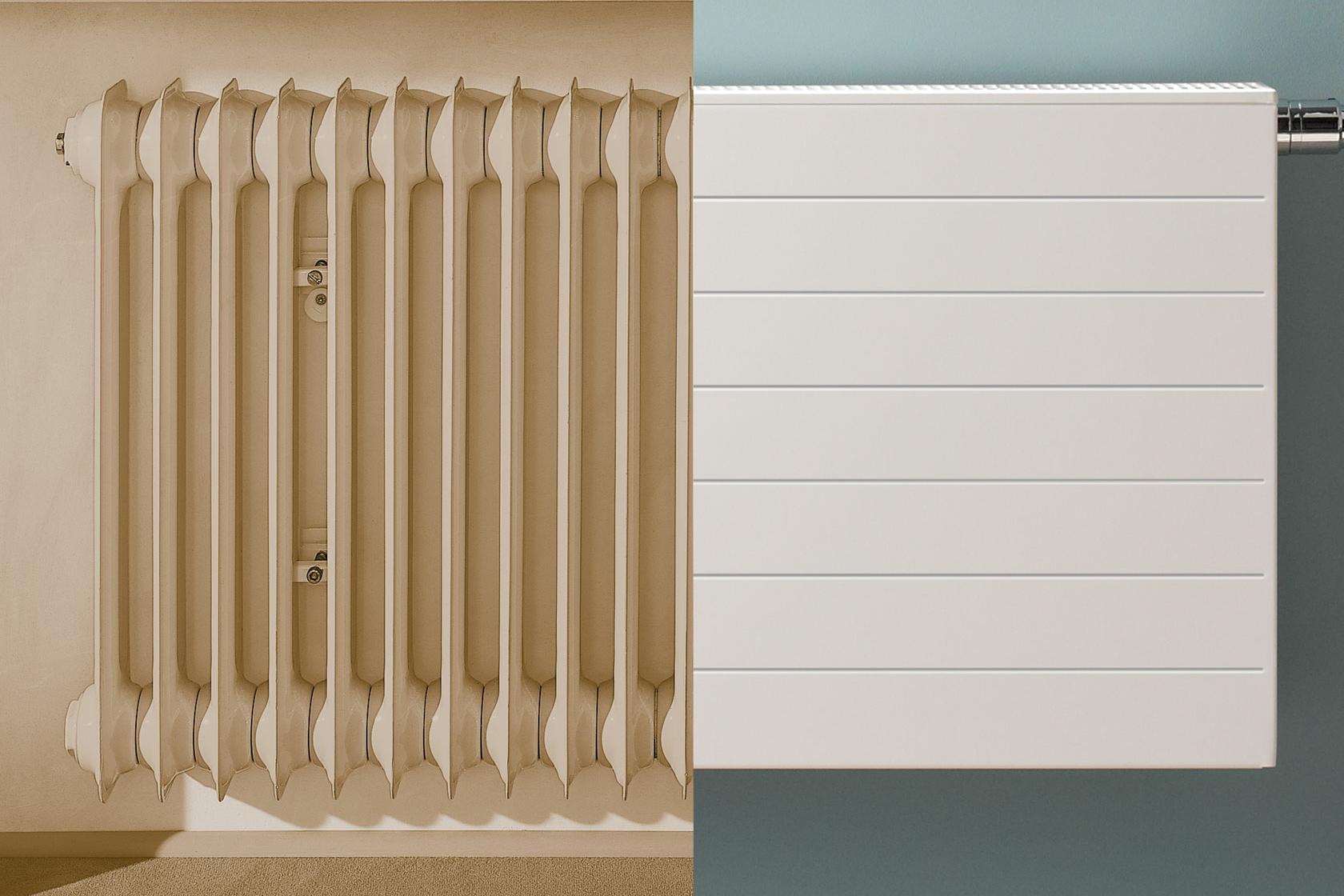 Hygiene radiators
For special requirements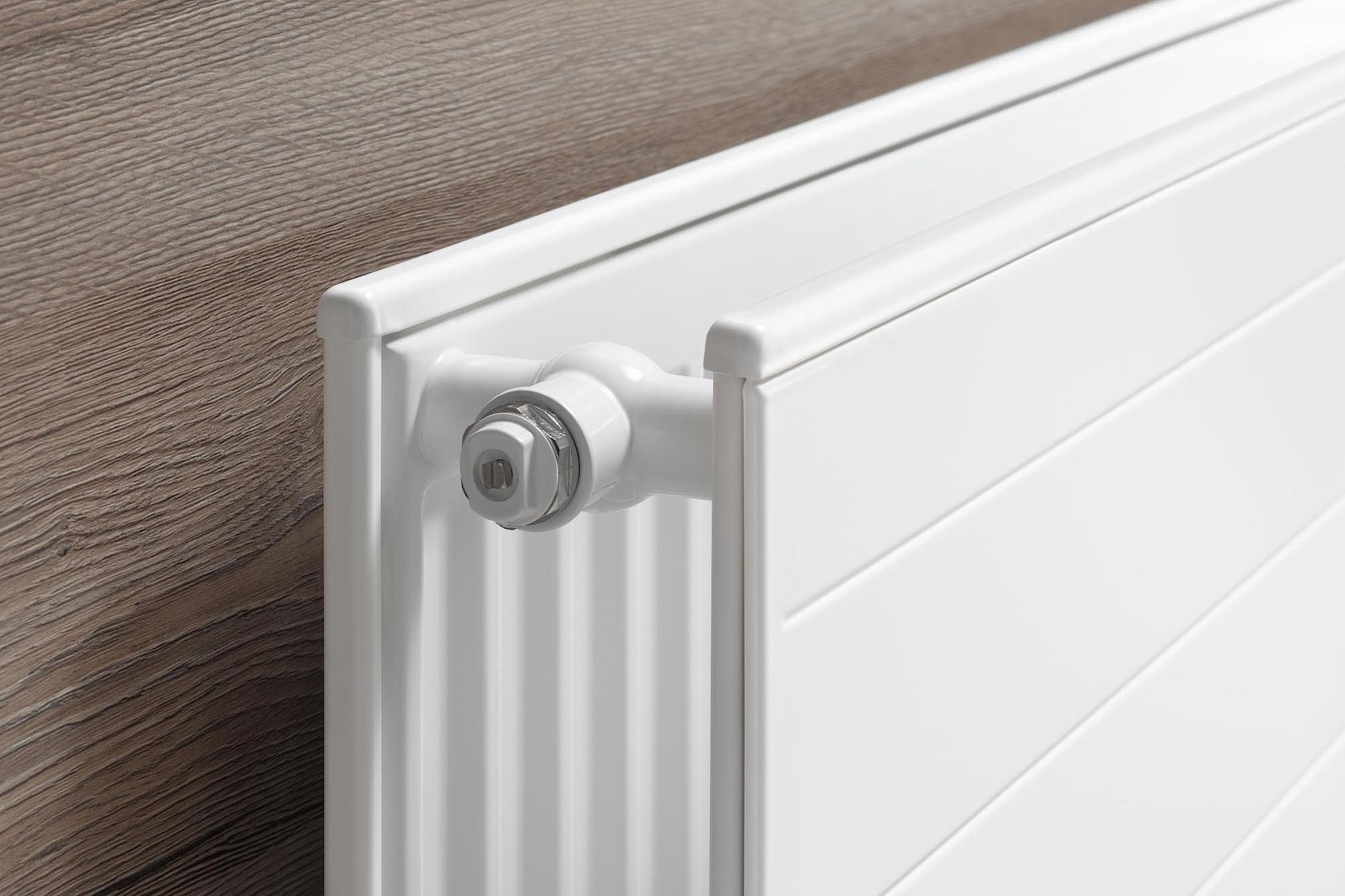 therm-x2 hygiene radiators are particularly suitable for stringent hygiene requirements. Hygiene radiators do not have any side or top covers, or any convection plates.
This makes them quick and easy to clean. and ensures a virtually dust-free indoor climate that is highly suitable for people with allergies.
Benefits
For rooms with especially demanding hygiene requirements
Without convectors
Easy to clean
Wide range of sizes and colours
Perfectly suited to new builds and refurbishment projects
Convectors
Small and compact.
Convectors are small and compact, but deliver impressive performance by quickly heating up rooms using convective heat.
They are particularly suitable for installation in front of floor-to-ceiling window areas, because their high heat output enables them to form an invisible heat protection shield and prevent a stream of cold air spreading in the room. Convectors can be adapted for almost any building requirement
and are available in versions that are curved, follow the wall radius, provide a cross corner solution, are coupled, or feature one or more angles.
When attached to a bench convector, they can even become a bench or window seat.
Benefits
Compact and powerful
Short heating period
Even radiant heat
Special solutions for individual adaptation to the architecture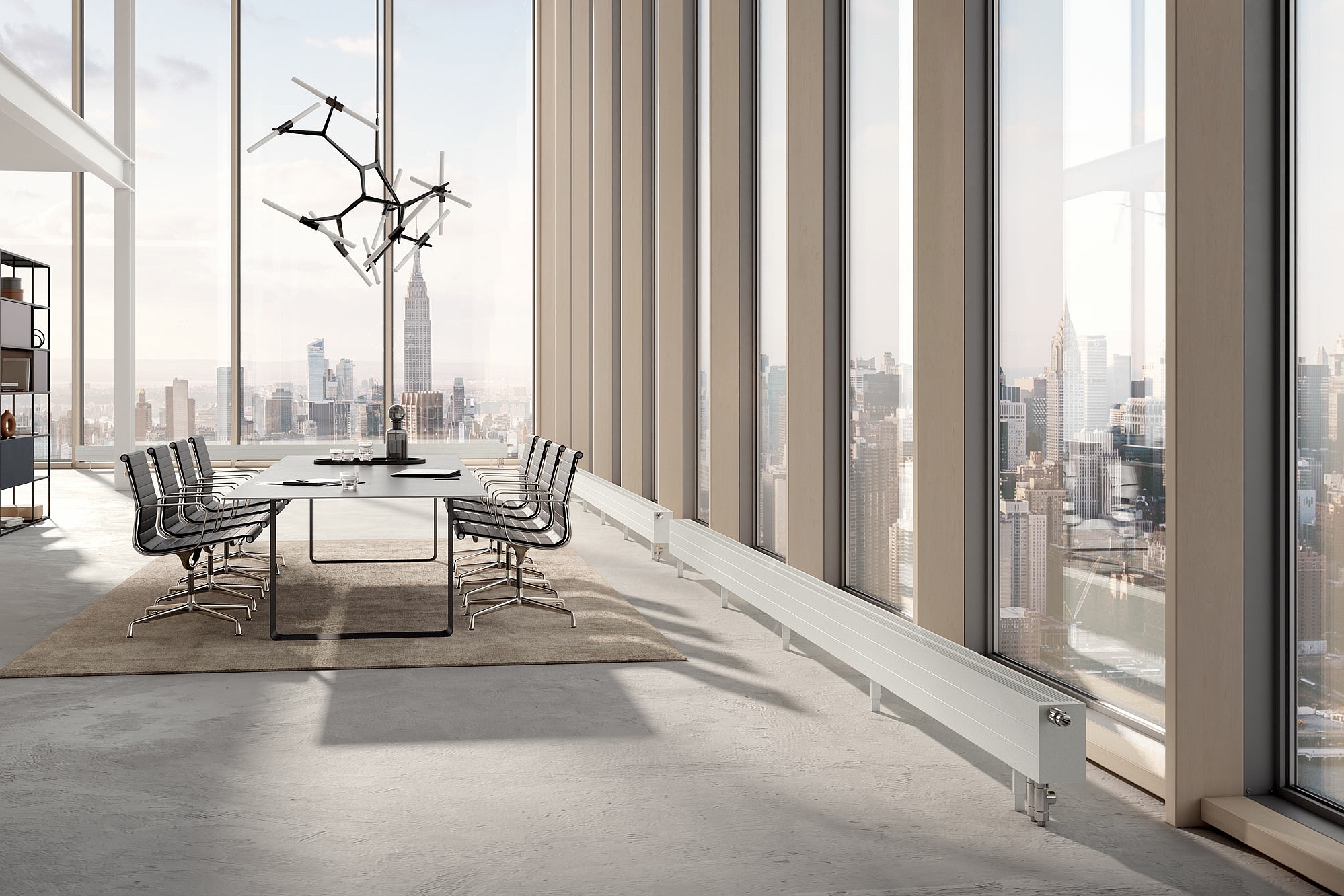 Heating panels
Vertical and horizontal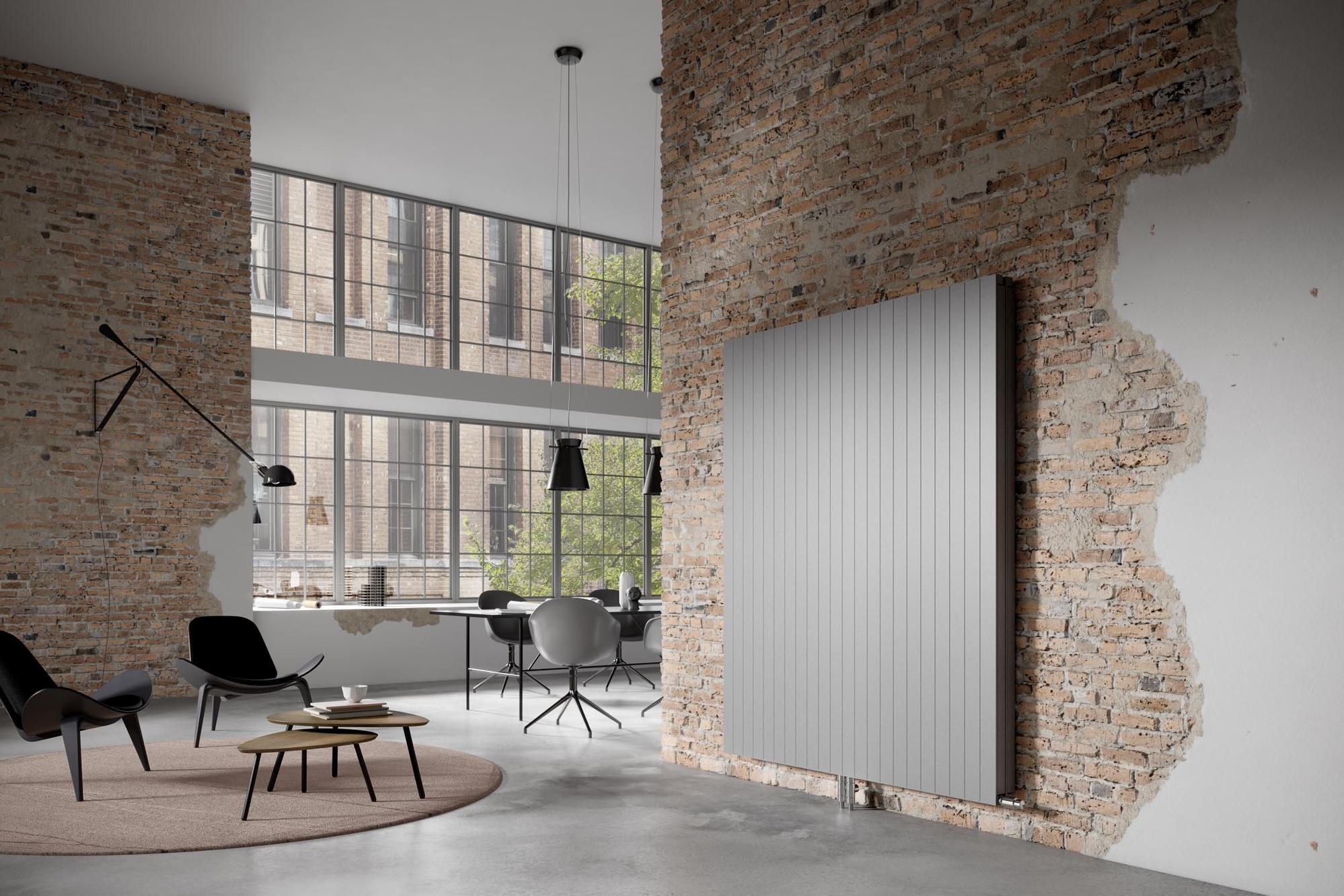 Heating panels are available in vertical and horizontal versions. Their balanced proportion of convection and radiant heat ensures optimum comfort.
Vertical, slimline versions with closed side covers as standard or horizontal versions, with or without the option of covers, are an ideal fit in spacious, elegant interior design concepts, such as those found in foyers, stairwells, entrance halls, or hallways. 
Special solutions also allow customised heating panels to suit every room design.
Benefits
Powerful heat output
Short heating periods and precise control
Horizontal version, with or without cover
Vertical version, with standard side cover
Customised special solutions for virtually every installation scenario