Cleaning with Kermi PremiumCLEAN
Sparkling clean with minimal effort. That's how you want your Kermi shower enclosure. And that's exactly why Kermi now has the perfect "little helpers" on offer – for quick and easy cleaning and long-lasting enjoyment of your Kermi shower enclosure.
PremiumCLEAN All Day
Sanitary cleaner
PREMIUM CLEAN All Day bathroom cleaner is perfect for gentle and nourishing cleaning of your Kermi shower enclosure, giving it a fresh look. The cleaning spray is particularly gentle and therefore also ideally suited for the care and refreshment of the surface coating KermiCLEAN. Regular use creates a water-repellent protective film on the shower enclosure, so that dirt and shower gel residues are less likely to adhere and cleaning is also made easier.
Application:
Simply spray on, rub with a cloth and leave for about 1–2 minutes.
Wipe off thoroughly or wipe with a damp cloth.
Repeat if necessary.
Can only be used inside.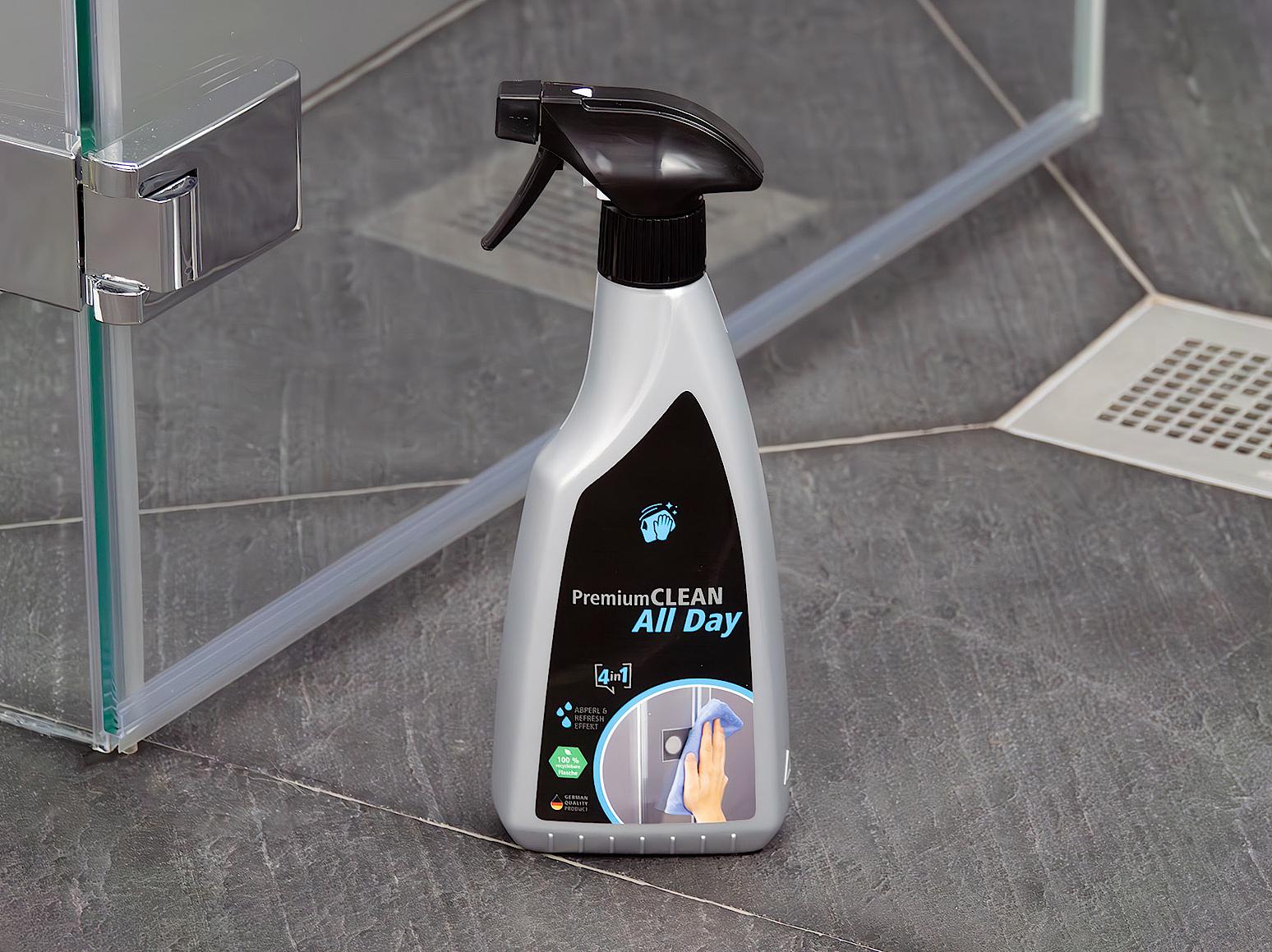 PremiumCLEAN Special
Lime cleaner
The PremiumCLEAN Special power cleaner is particularly effective against stubborn limescale deposits on the Kermi shower enclosure. It can also be used to reliably and easily remove dirt and shower gel residues, water stains, or other dirt. PremiumCLEAN Special ensures a visibly shiny and clean shower enclosure and also makes new dirt adhere less.
Application:
Spray, leave on for at least one minute and rinse off thoroughly.
If necessary, wipe with damp cloth or scratch-free sponge.
Can only be used inside.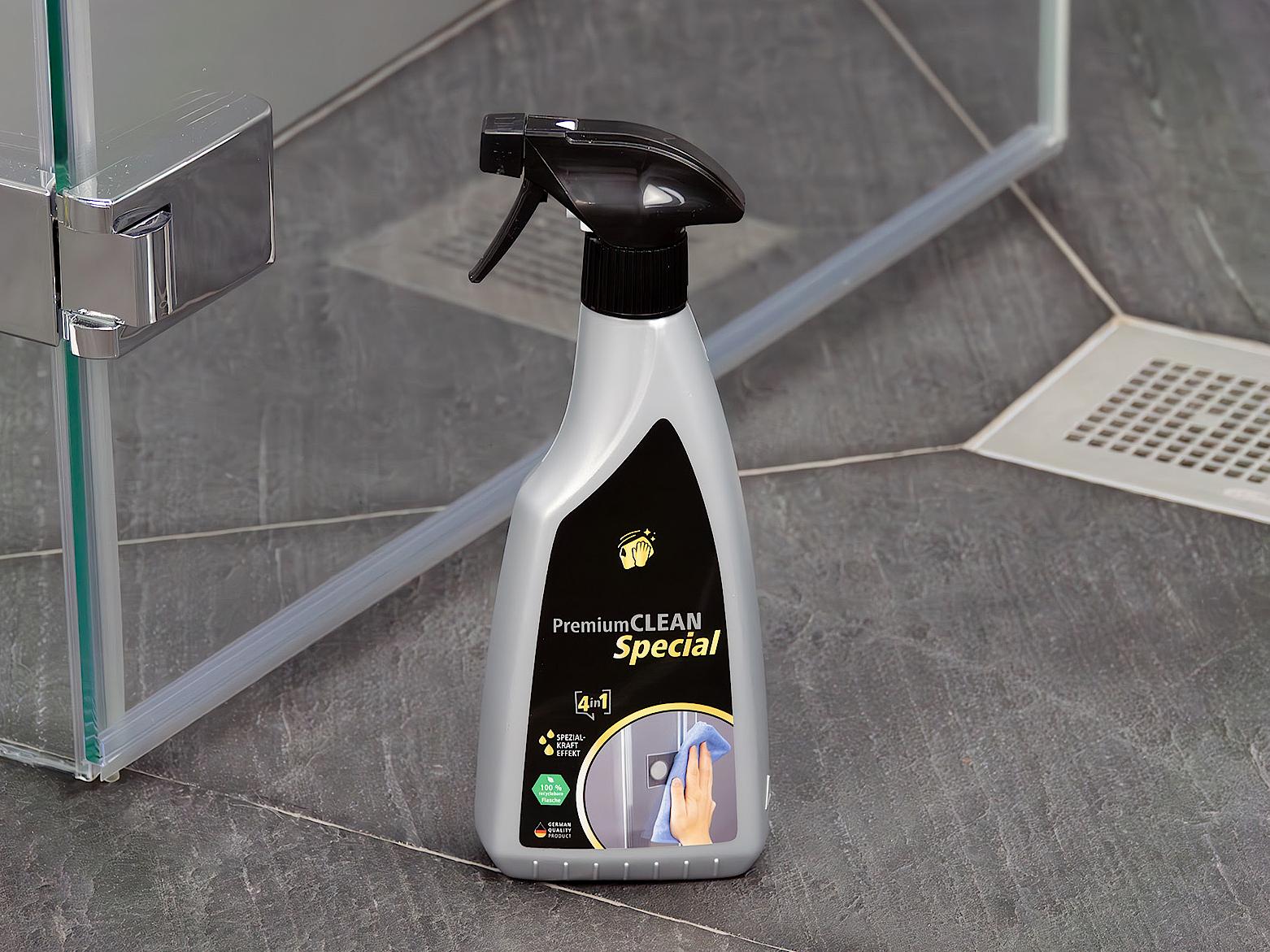 PremiumCLEAN special cloth
for cleaning
The PremiumCLEAN special cloth is perfect for cleaning the Kermi shower enclosure without streaks, without lint, and without leaving water stains. Due to its fine structure, the special cloth is also particularly gentle on sensitive surfaces, such as the KermiCLEAN coating. Can only be used inside.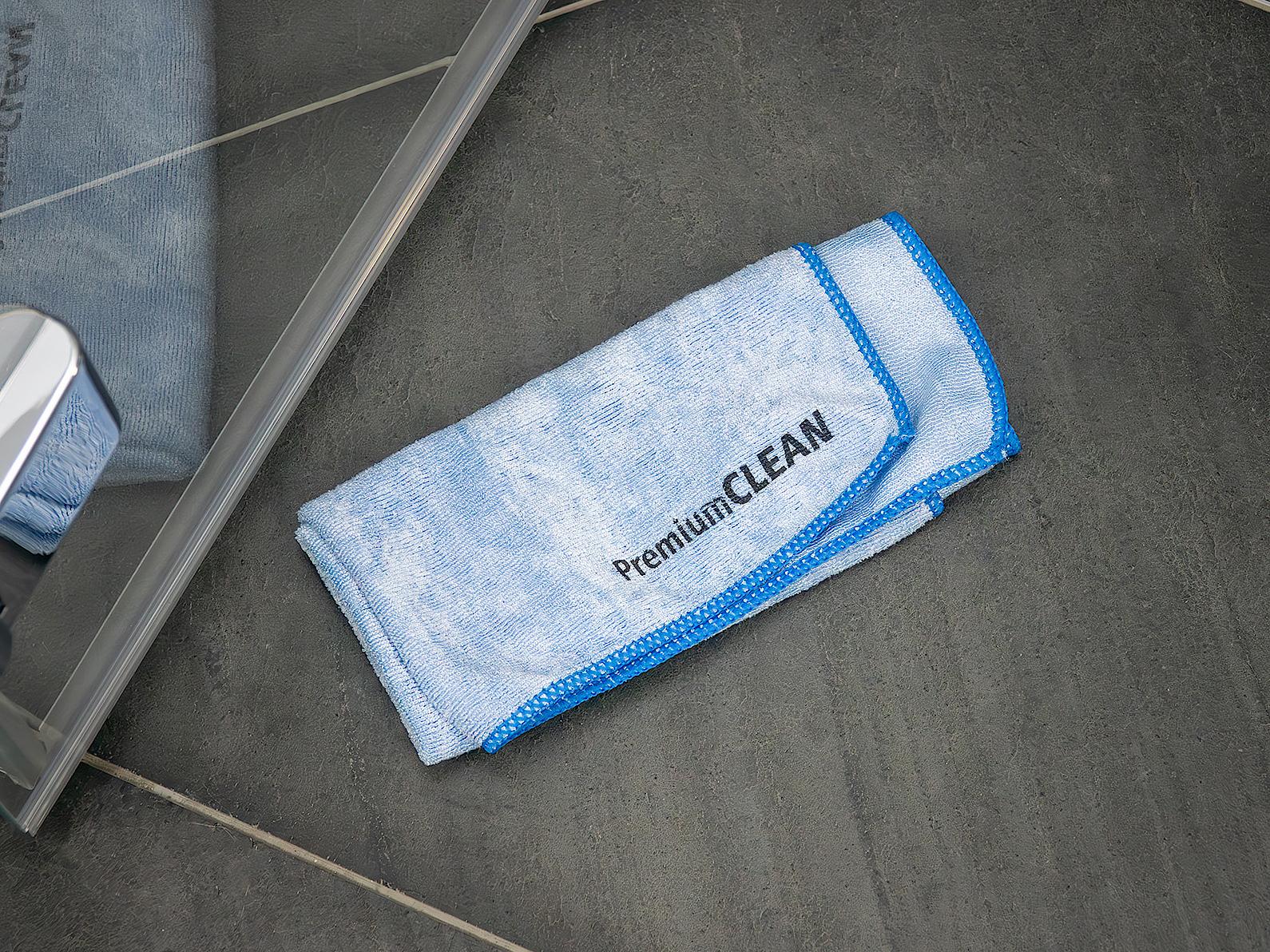 PremiumCLEAN fine polishing paste
Polish for the shower enclosure
With the silicone-free PremiumCLEAN fine polishing paste, the Kermi shower enclosure can be polished to a high shine again. Even stubborn stains, such as limescale marks, can be reliably removed.
CAUTION: The PremiumCLEAN fine polishing paste may only be used on toughened safety glass or on aluminium profiles with a matt silver finish. It is not suitable for polishing plastic glass Kerolan or processed surfaces such as toughened safety glass SR Opaco, sandblasted glass, toughened safety glass with KermiCLEAN, etc.
Application:
Apply the polish generously to the shower enclosure with a lint-free cloth or cotton rag and polish evenly, using circular movements. Then rinse with water.
Repeat the process in case of severe and very stubborn calcification. Do not apply selectively, otherwise there is a risk of the glass becoming blind.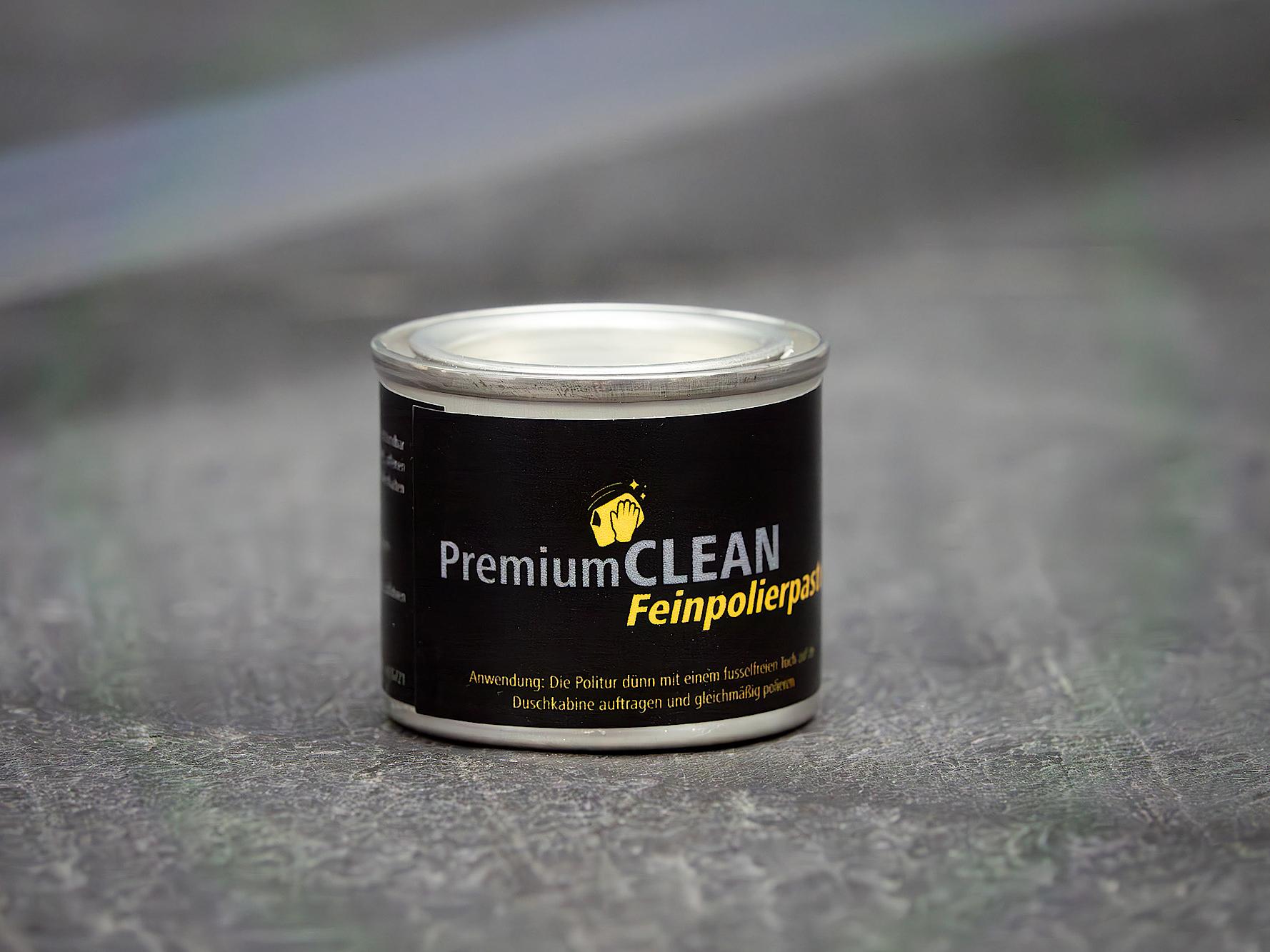 PremiumCLEAN shower wiper
with stainless steel glass holder
The PremiumCLEAN shower wiper is indispensable for cleaning the shower cubicle. With the stainless steel window cleaner with practical holder, the shower enclosure dries very quickly. Simply pull it off after showering so that no water or limescale stains remain. Can only be used inside.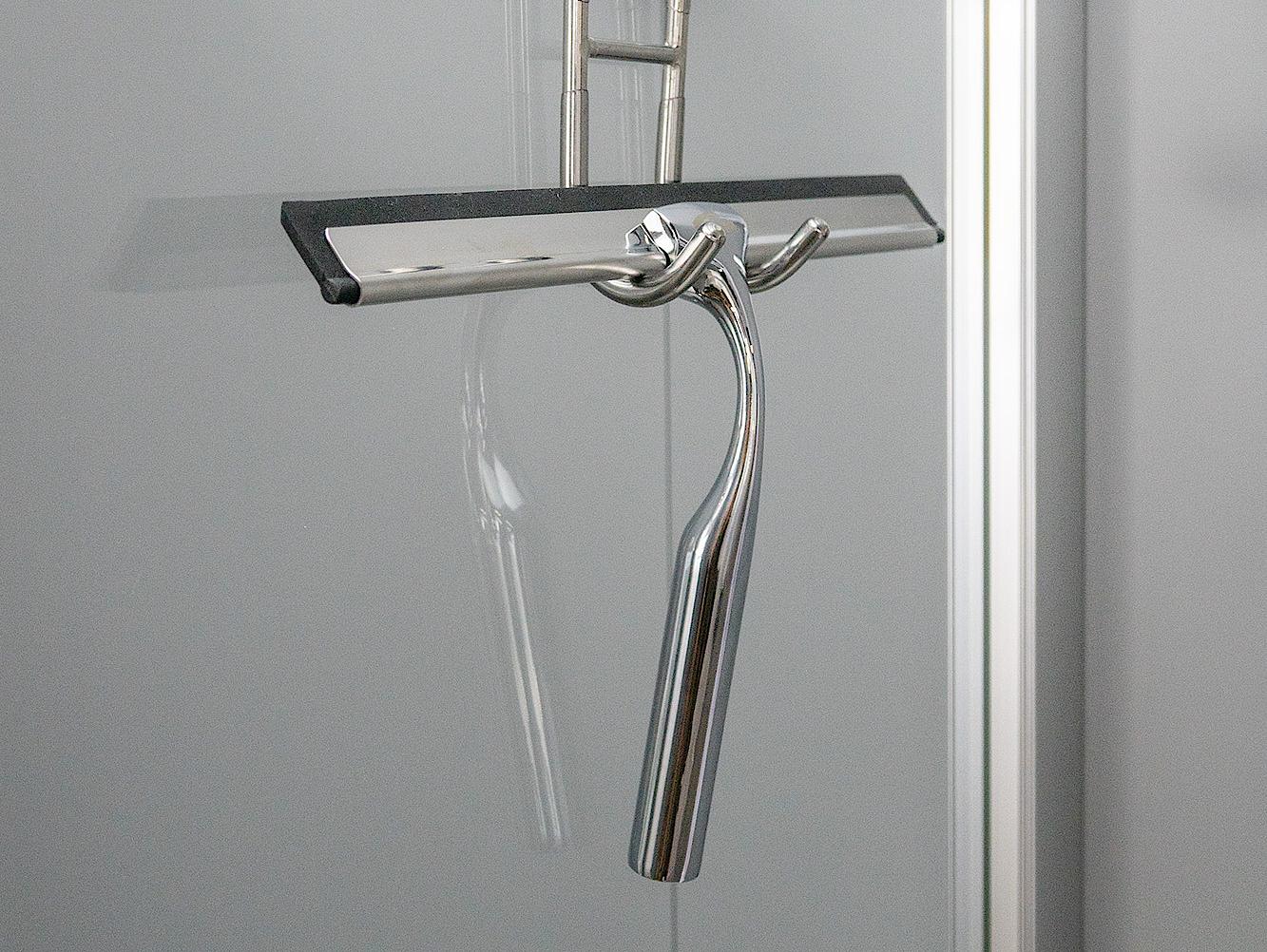 PremiumCLEAN starter set
Complete package
With the starter set from Kermi you are well equipped for ensuring that your Kermi shower enclosure is always clean and shiny. With the two cleaning agents PremiumCLEAN All Day and PremiumCLEAN Special, cleaning becomes child's play and the fine PremiumCLEAN Special cloth ensures a streak-free shine.