The LIGA shower enclosure with its range of profiles is perfect for those who like straight lines. LIGA is also extremely variable, offering an optimum solution for virtually every shower layout. For yours too, of course. This series is the best evidence that cutbacks in terms of quality and design are not necessary even with lower budgets.
All important parts are produced from metal. Like the ergonomic bow-shaped handles which are easy to use in everyday life. All hinges, connections, and handles have a high-quality chrome finish. What's more, the enclosure looks great, too!
Quality and design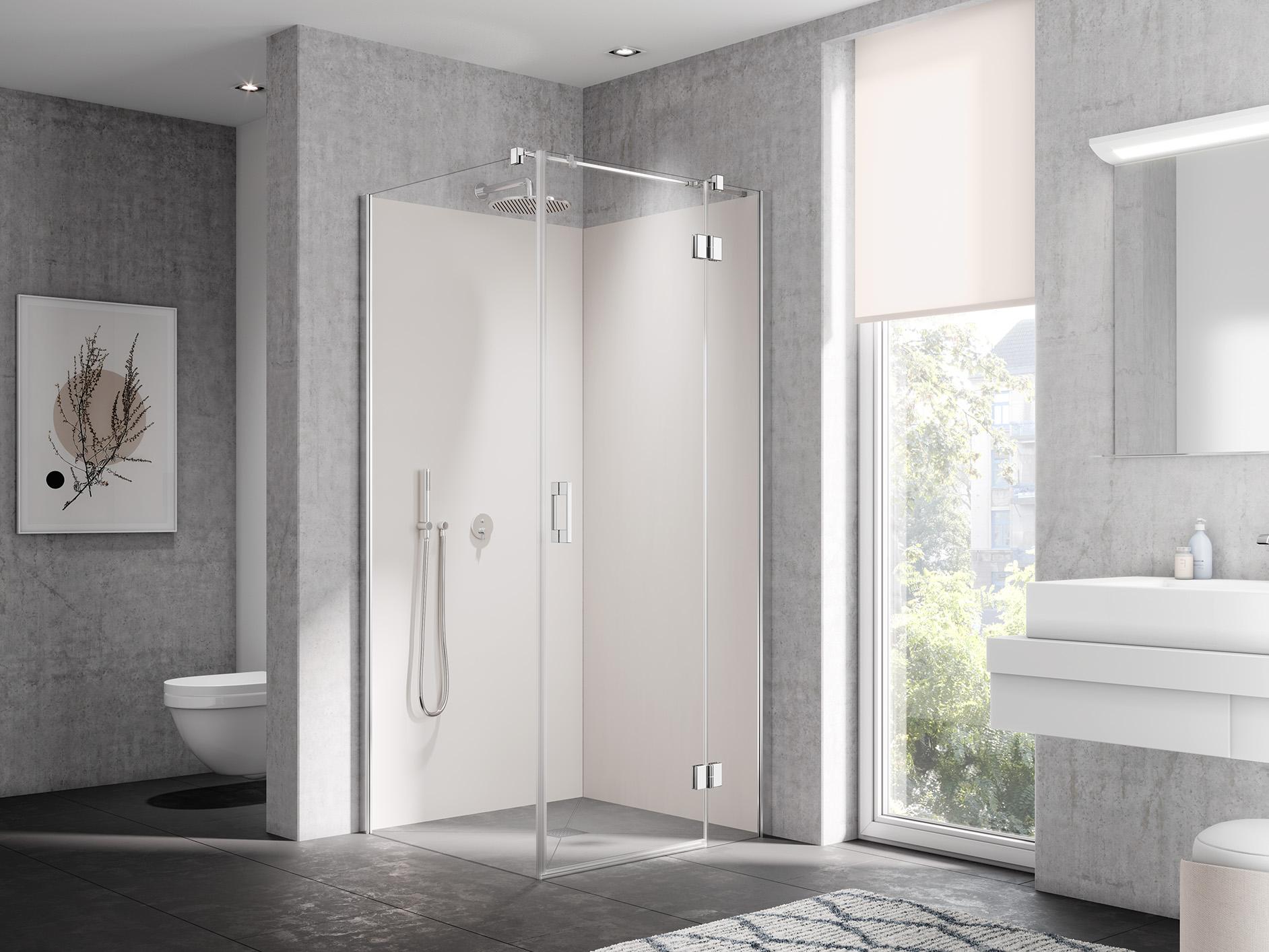 Benefits
Modern, linear design.
Reliable

single panel safety glass

.
High-quality

anodized aluminum profiles

in Matt Silver and High-Gloss Silver.
Hinges, connections, and handles in stylish chrome.
Handles and hinges made of high-quality metal.
Rising hinge mechanism in all hinges.
Sliding door sections can be swung inwards for cleaning.
Doors can be hinged folding, two-part hinged, hinged, or sliding doors.
Standard heights 1850 mm and 2000 mm.
Quadrant shower enclosure (hinged doors, sliding doors) standard height 2000 mm.
Standard widths for all popular shower trays and Kermi wet floor system.
Seamless standard widths for doors.
Impressions and inspiration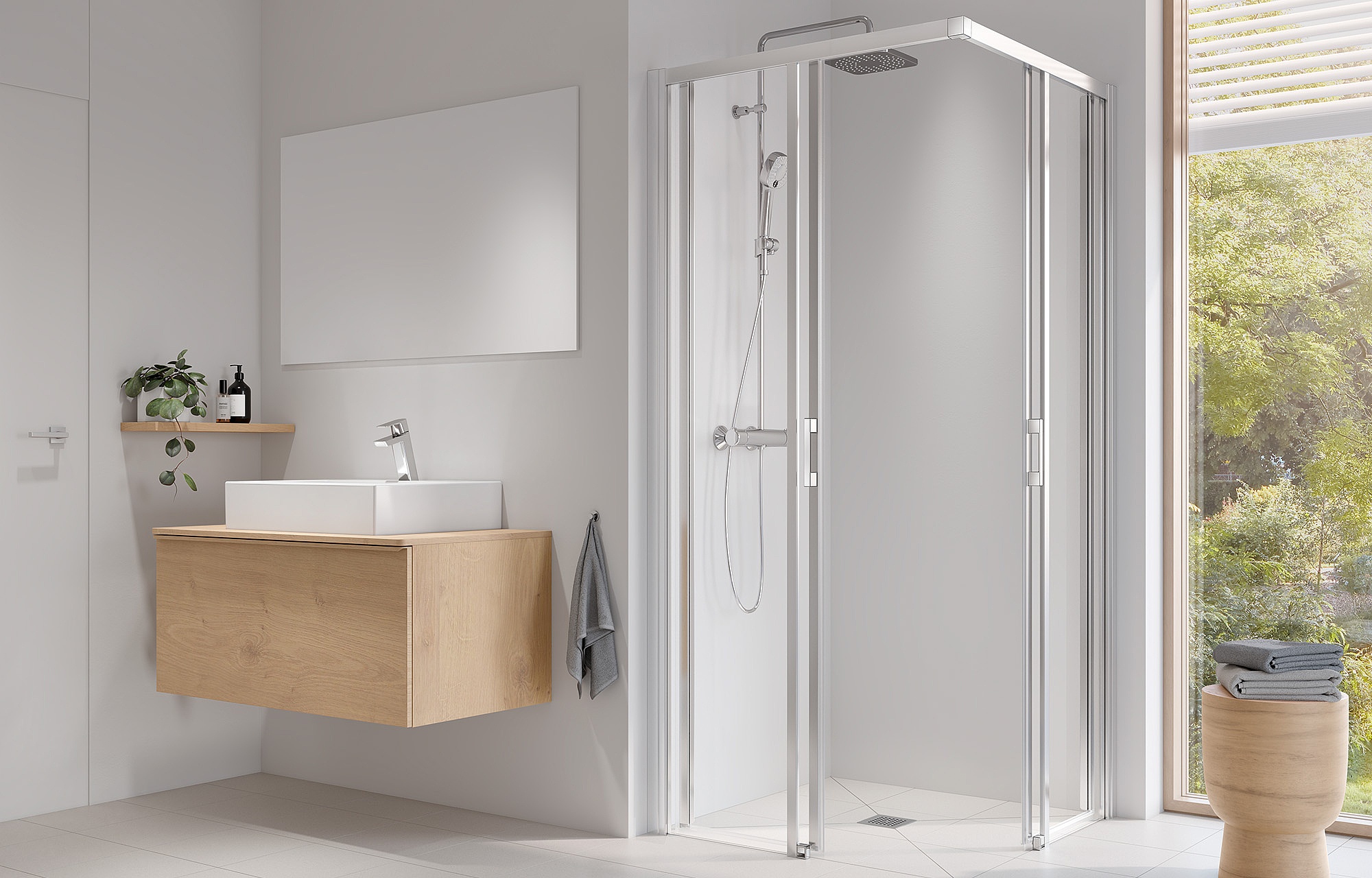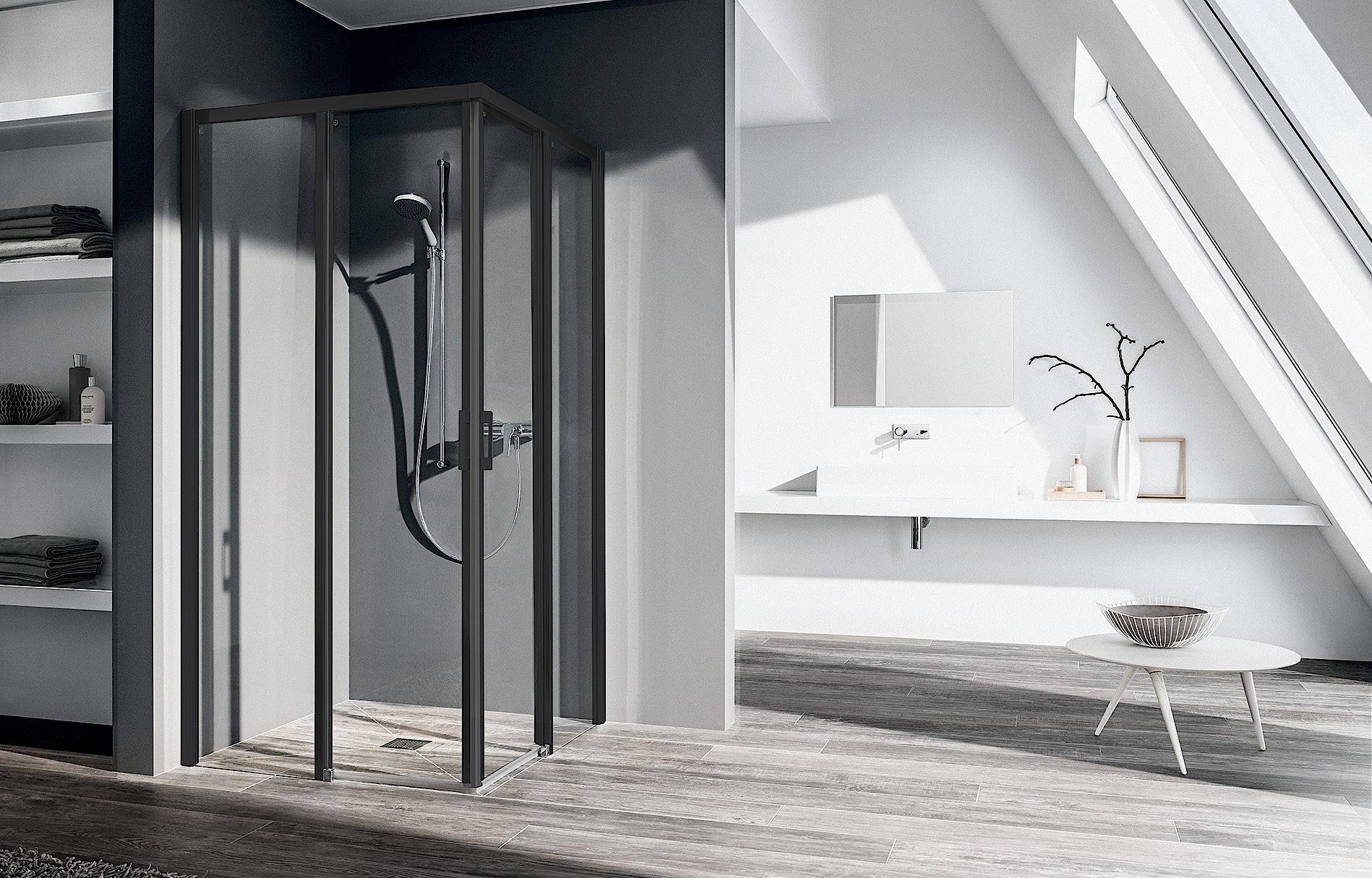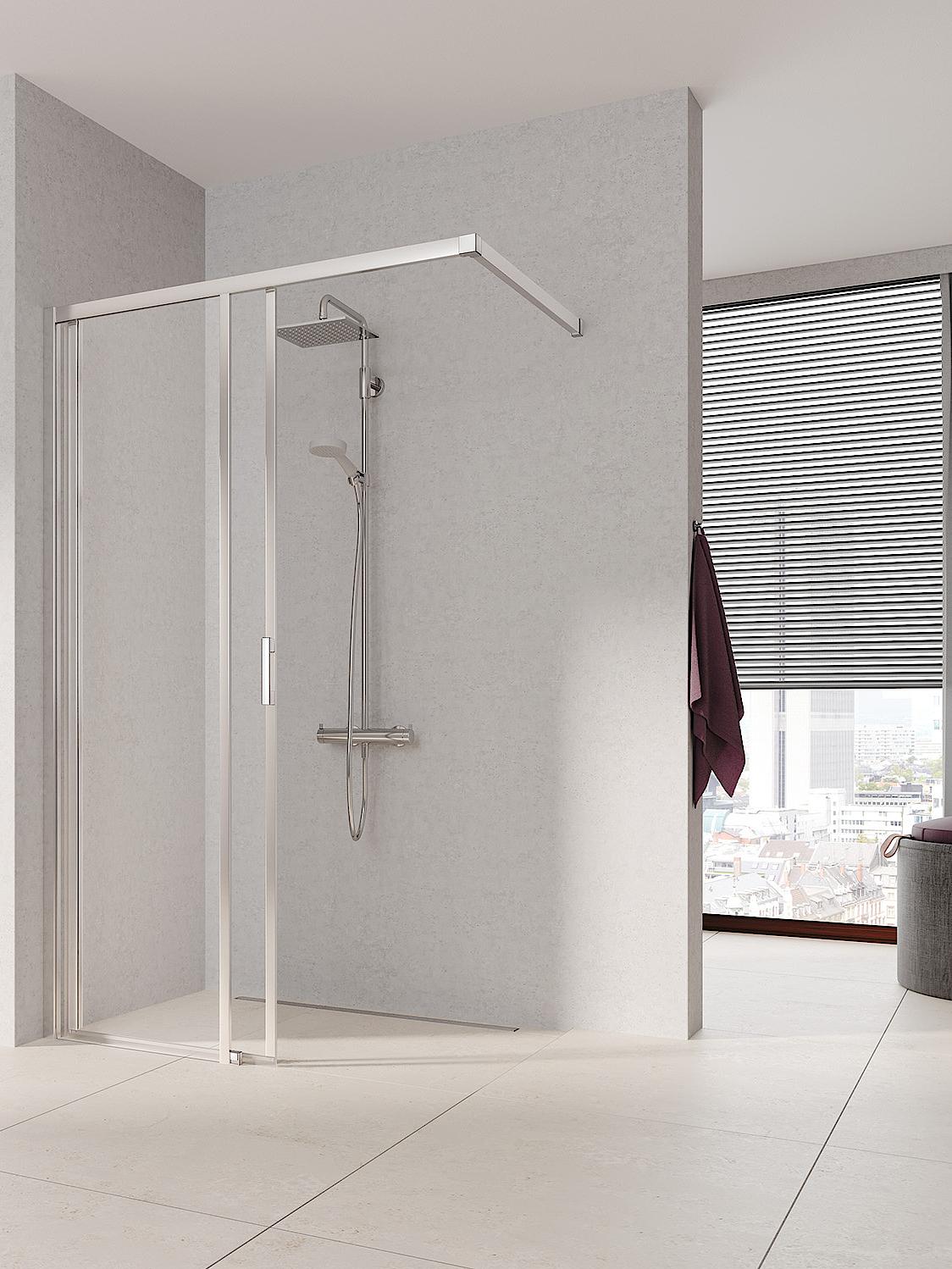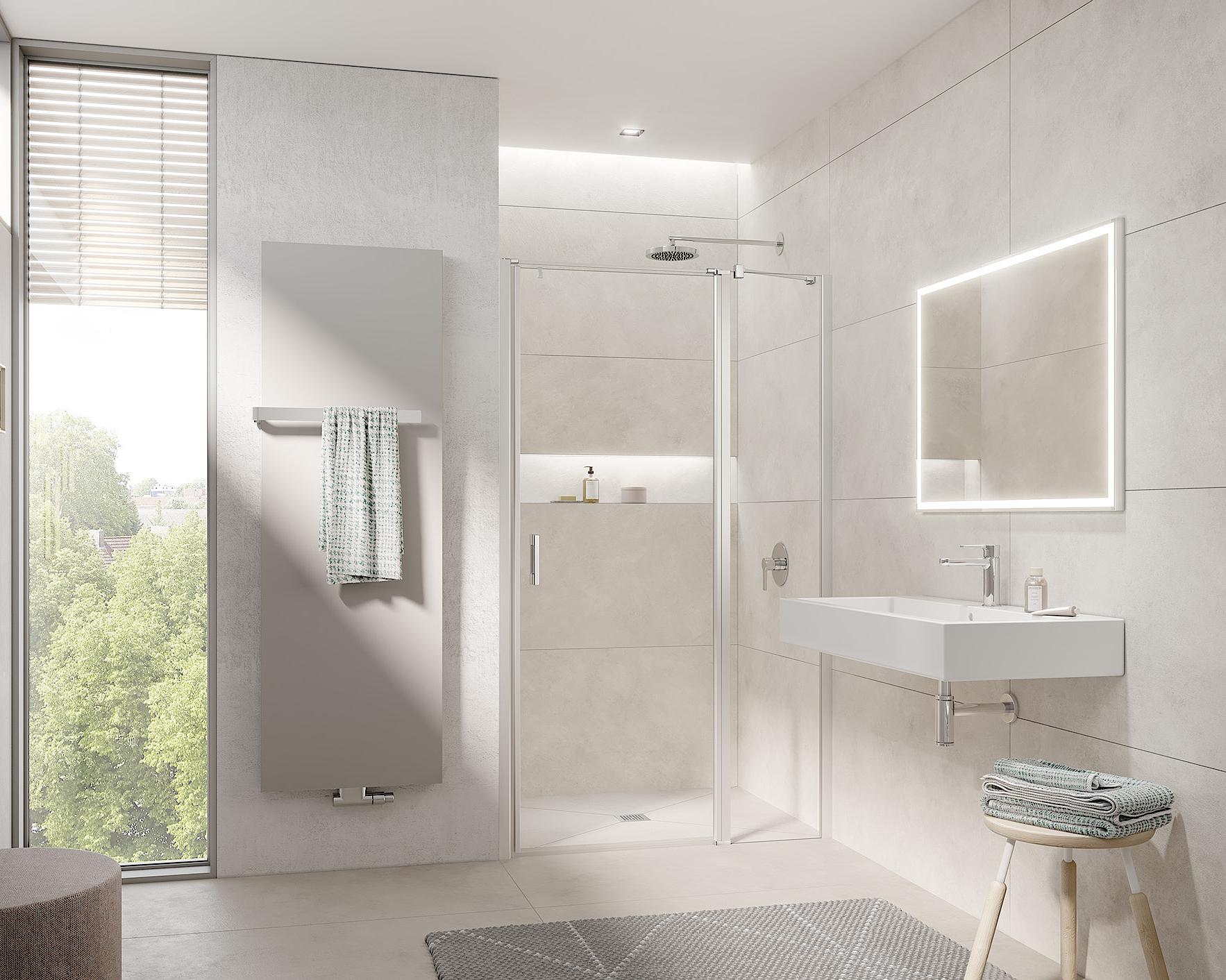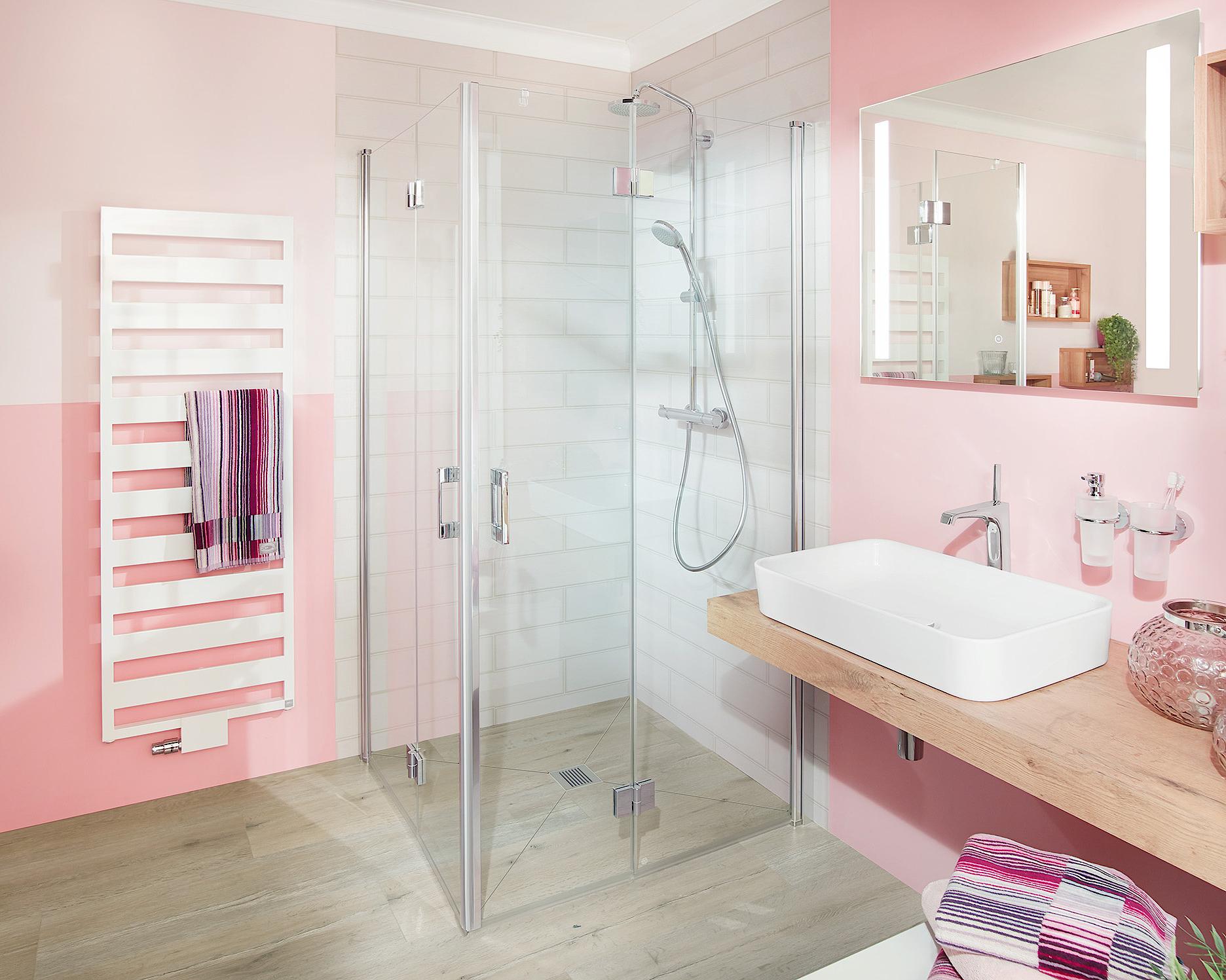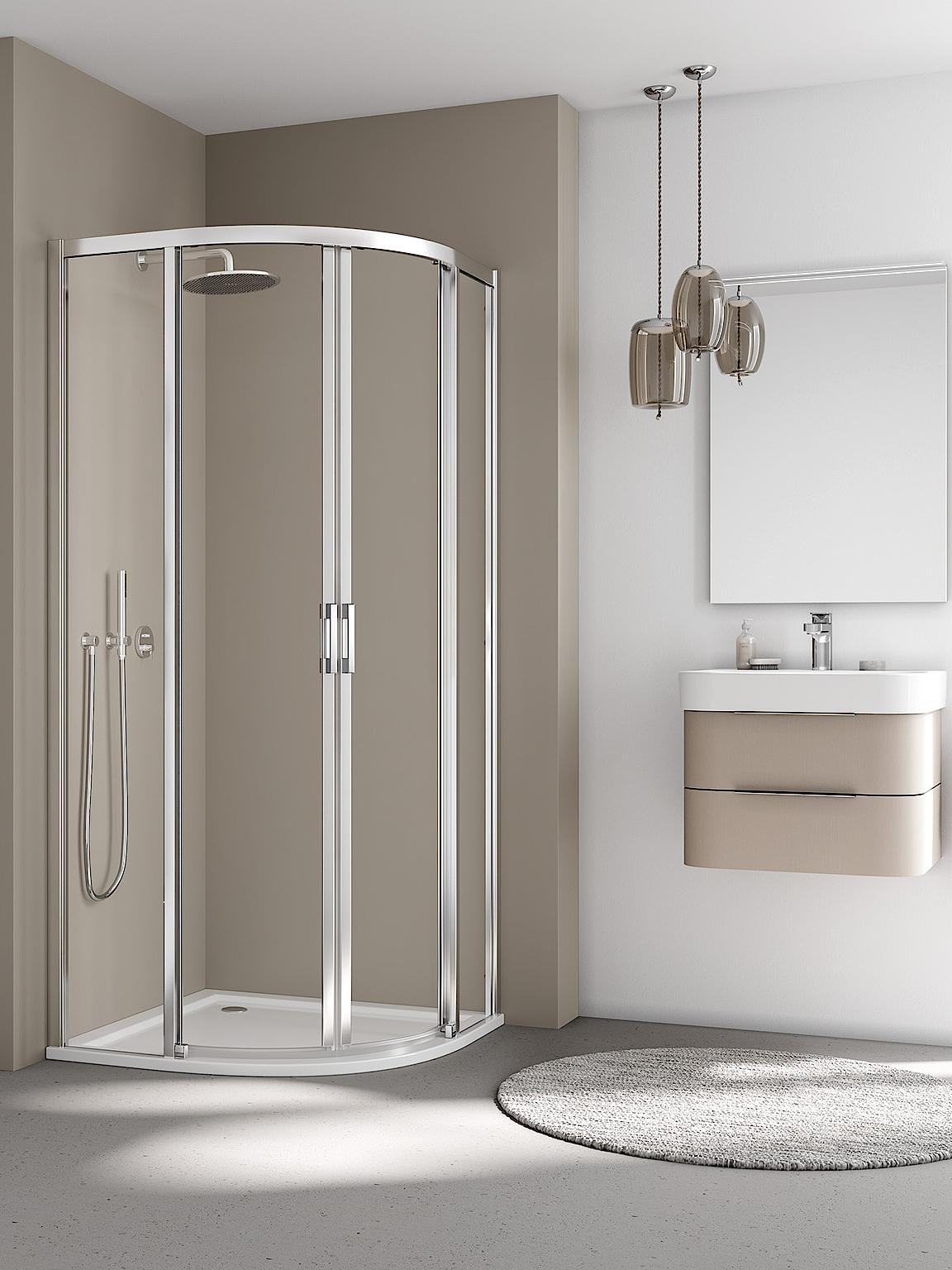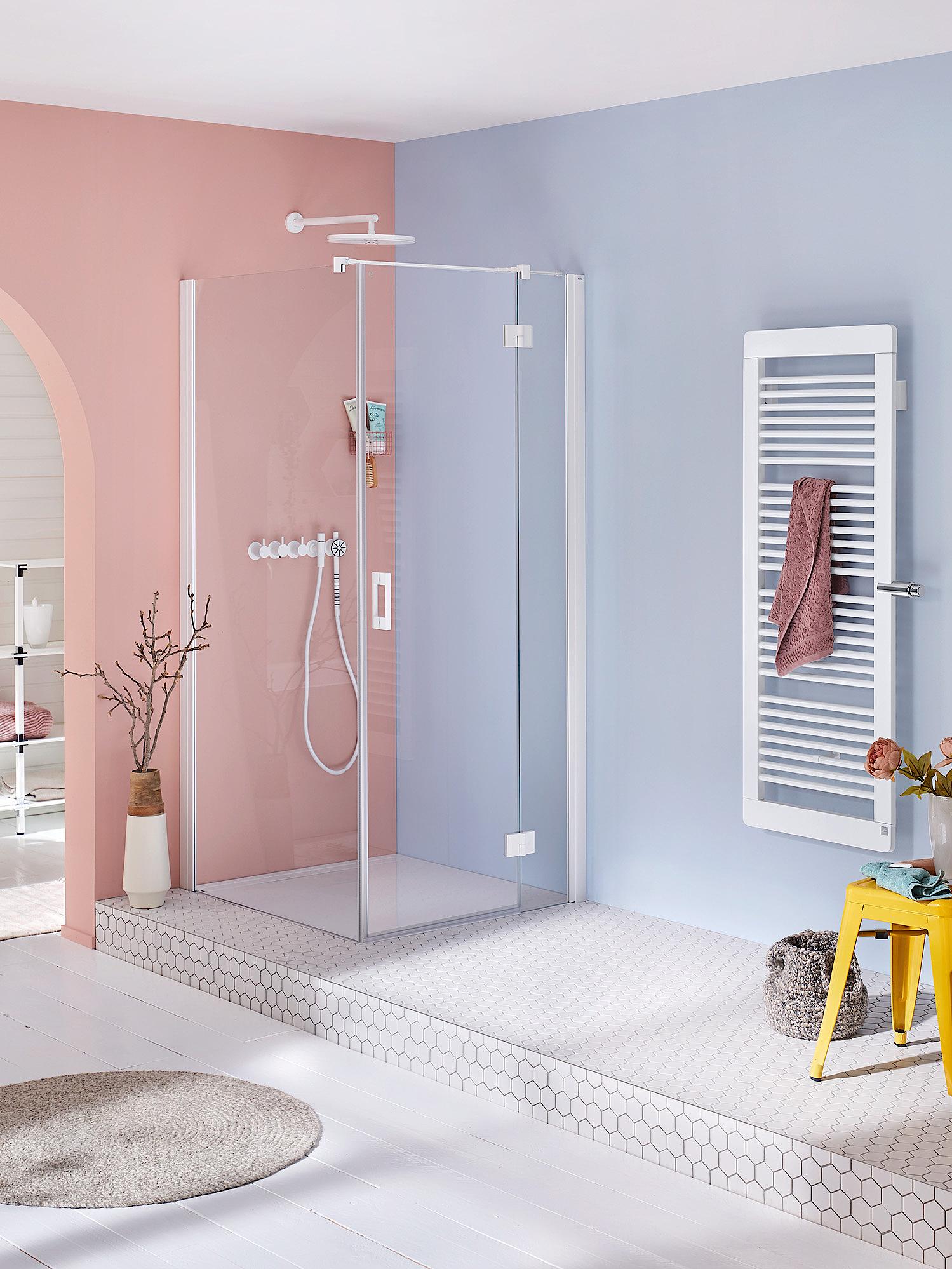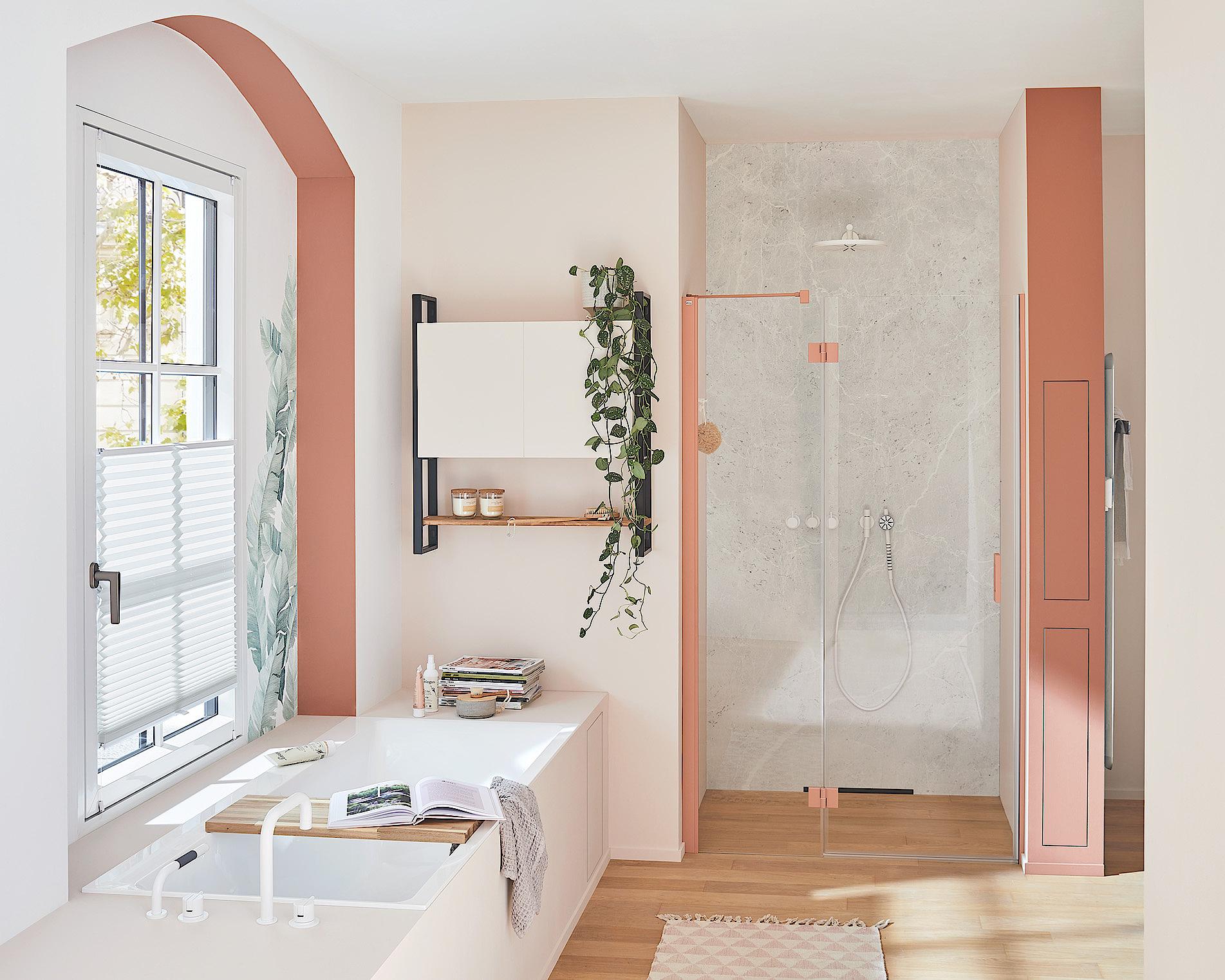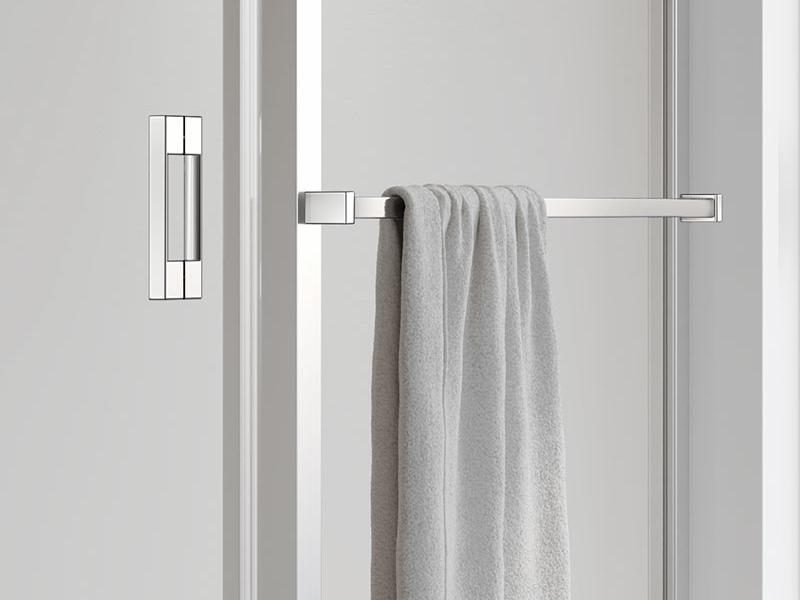 Cleaning
Correct cleaning is important.
To keep your shower enclosure shining for a long time, regular cleaning after use is recommended. After showering, you should first rinse the inner surfaces clean with warm water, then with cold water, and afterwards dry them. Profiles and glass panels may only be cleaned with mild, commercially available cleaning and care agents, e.g., with diluted vinegar water (mixing ratio 1:1). Abrasive cleaners, alcohol or nitro thinner, etc. must not be used under any circumstances.
Not sure which cleaning products are suitable for your Kermi shower enclosure?
We recommend the PremiumCLEAN cleaning agent from Kermi, which has been specially developed to gently clean our high-quality shower enclosures.
Maintenance
Minimal maintenance for optimal function.
We recommend that you lubricate the guide rails, castors, and hinges once a year, e.g. with Vaseline or silicone spray, and re-tighten the screws of the castors, metal hinges, and rising hinge mechanism in order to ensure smooth functioning for many years.
CLEAN easy-clean coating
The "Teflon effect" for your shower enclosure.
The Kermi easy-clean coating KermiCLEAN for real glass is the perfect option if you want to spend less time cleaning. The special surface coating prevents stubborn build-up of dried water drops, soap residue, and traces of dirt and limescale. This also prevents germs and bacteria which in turn improves hygiene.
For cleaning we recommend soft, non-abrasive cloths and commercially available, non abrasive cleaning agents.
Installation situation
Semicircle
Beside bathtub
Free
Pentagon
Recess
On bathtub
U-shaped shower enclosure
Corner
Quadrant
Door Type
Folding door
Hinged door
Hinged folding door
Walk-in
Two-part hinged door
Off-floor sliding door
Sliding door
Surfaces
Depending on series model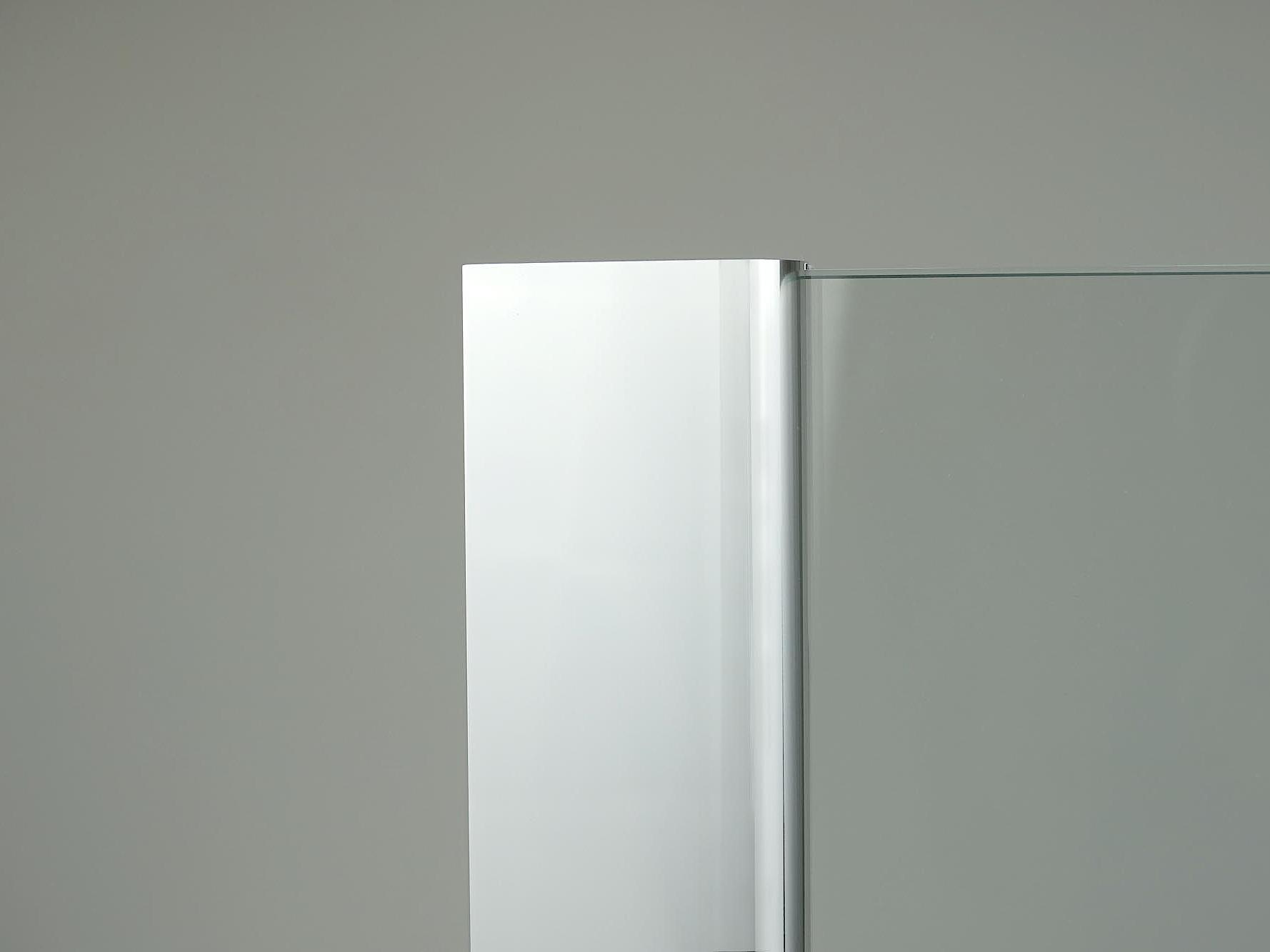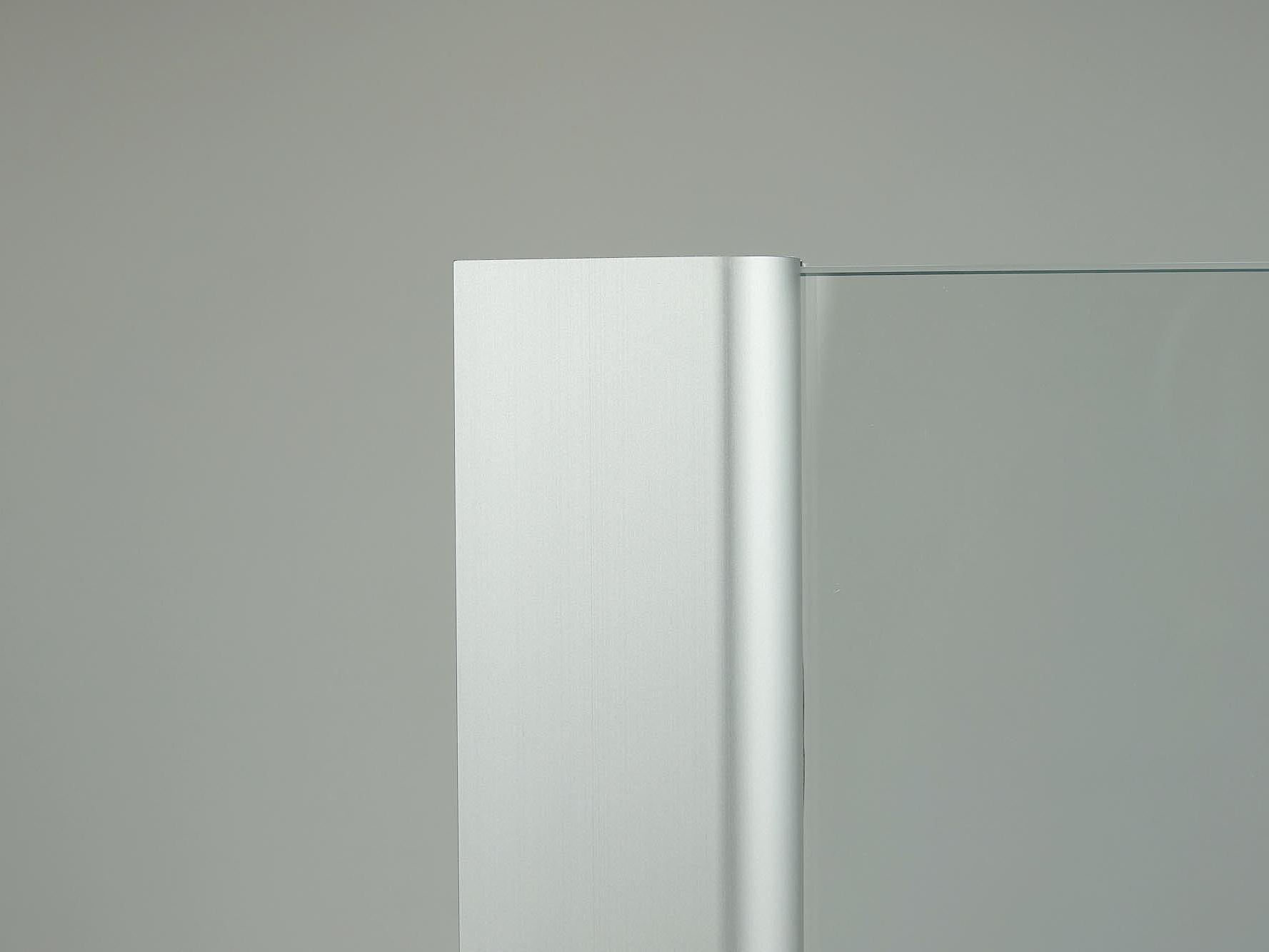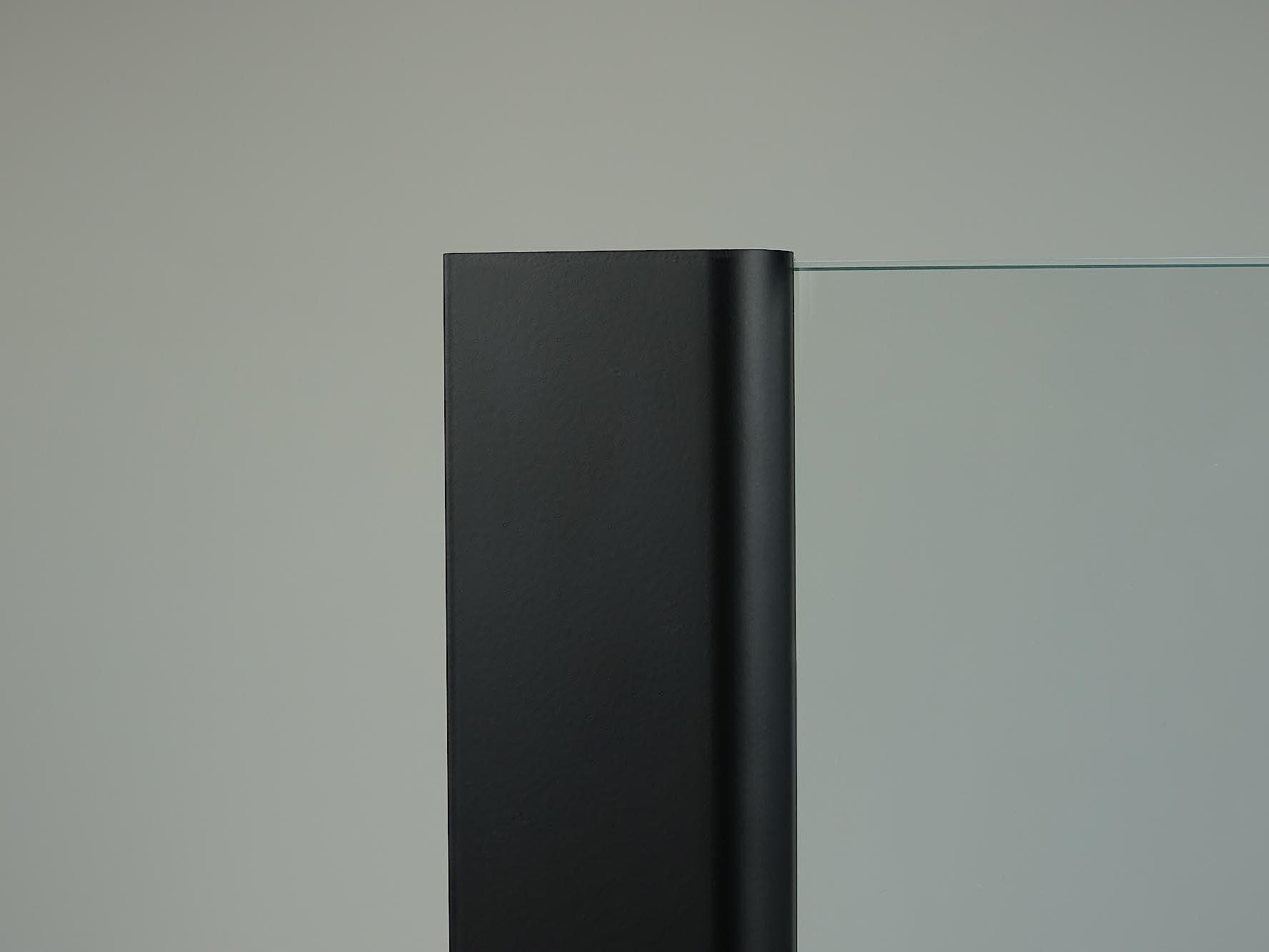 Glass options
Available with KermiCLEAN easy-clean coating as an option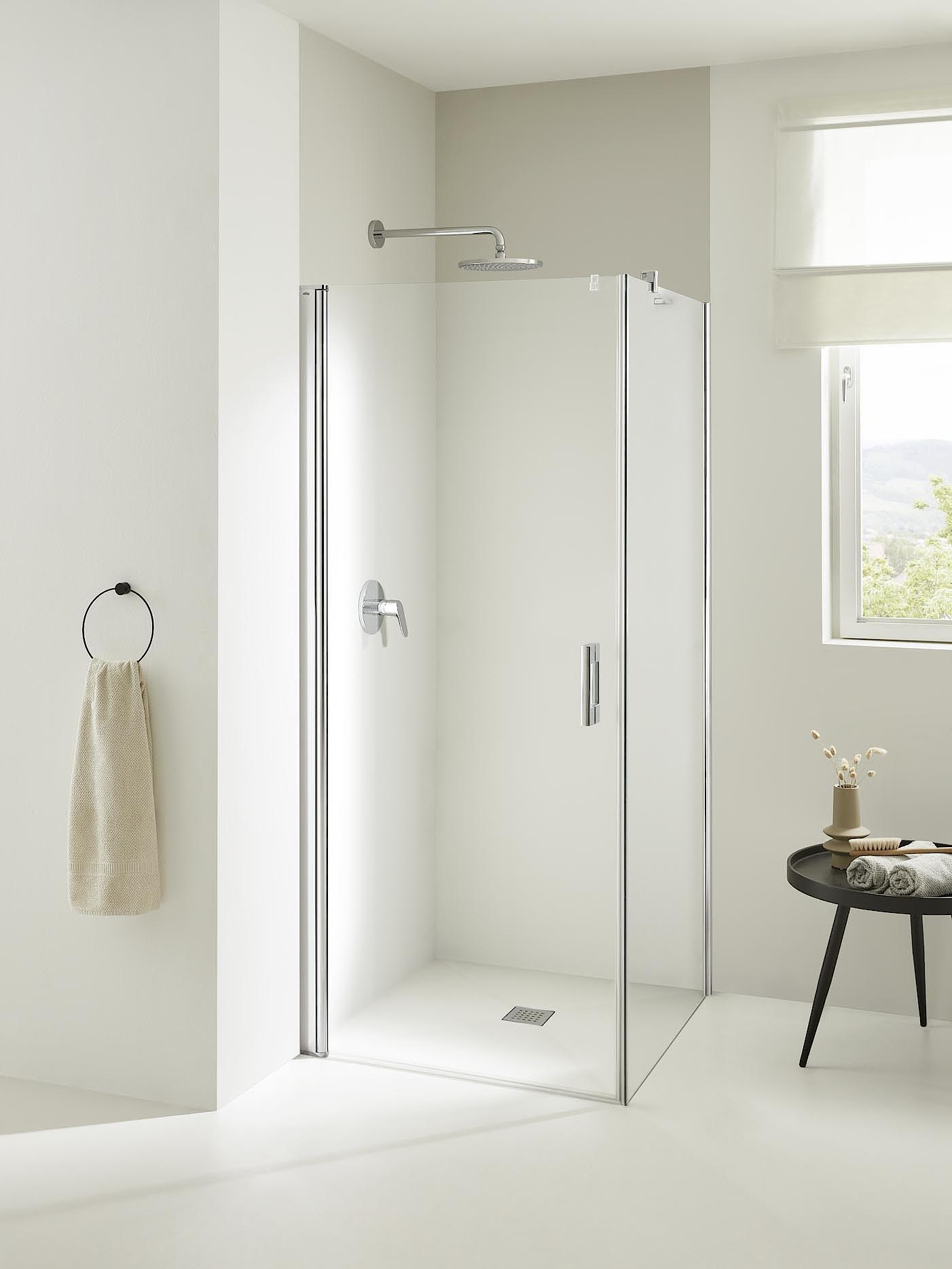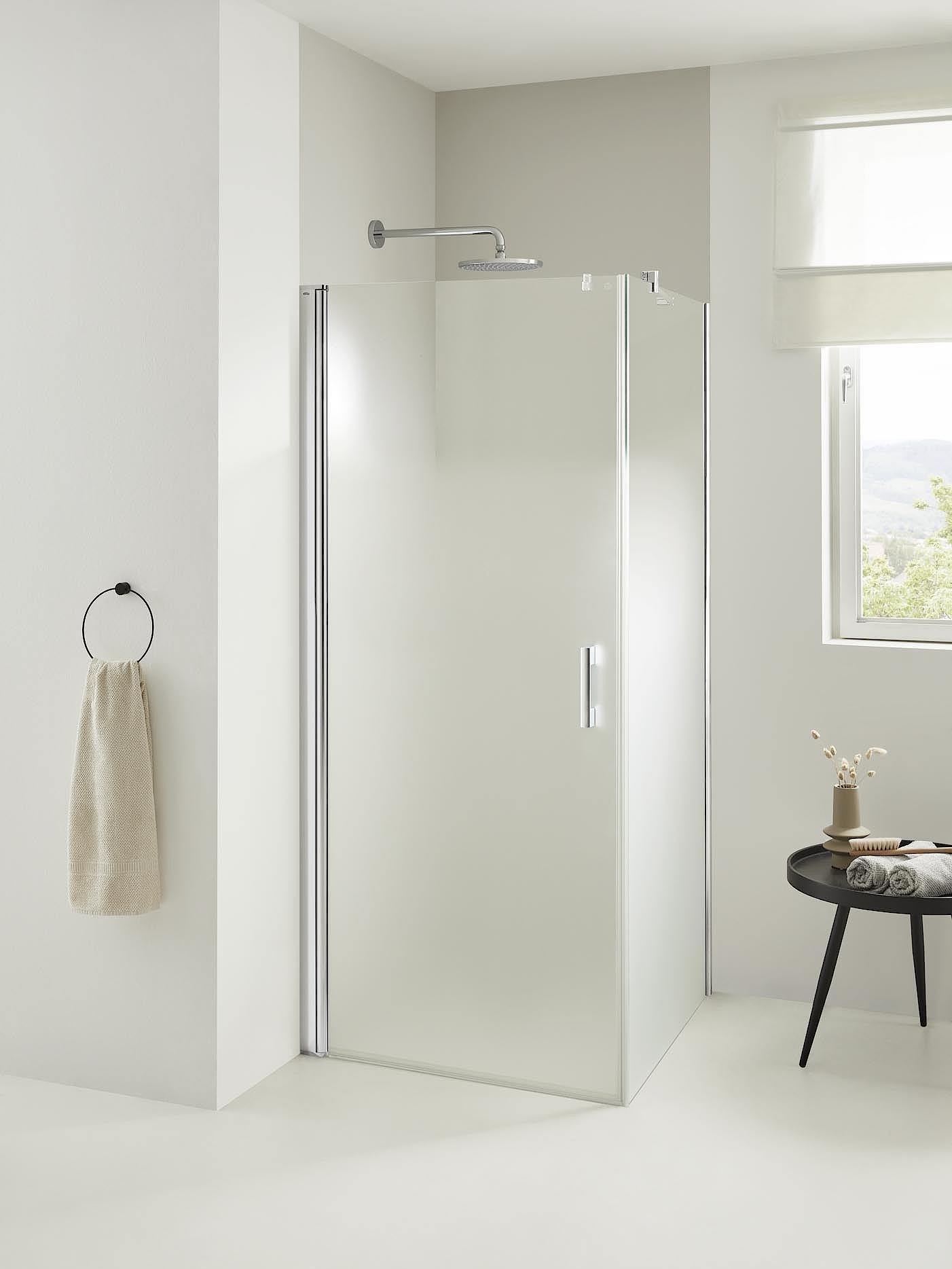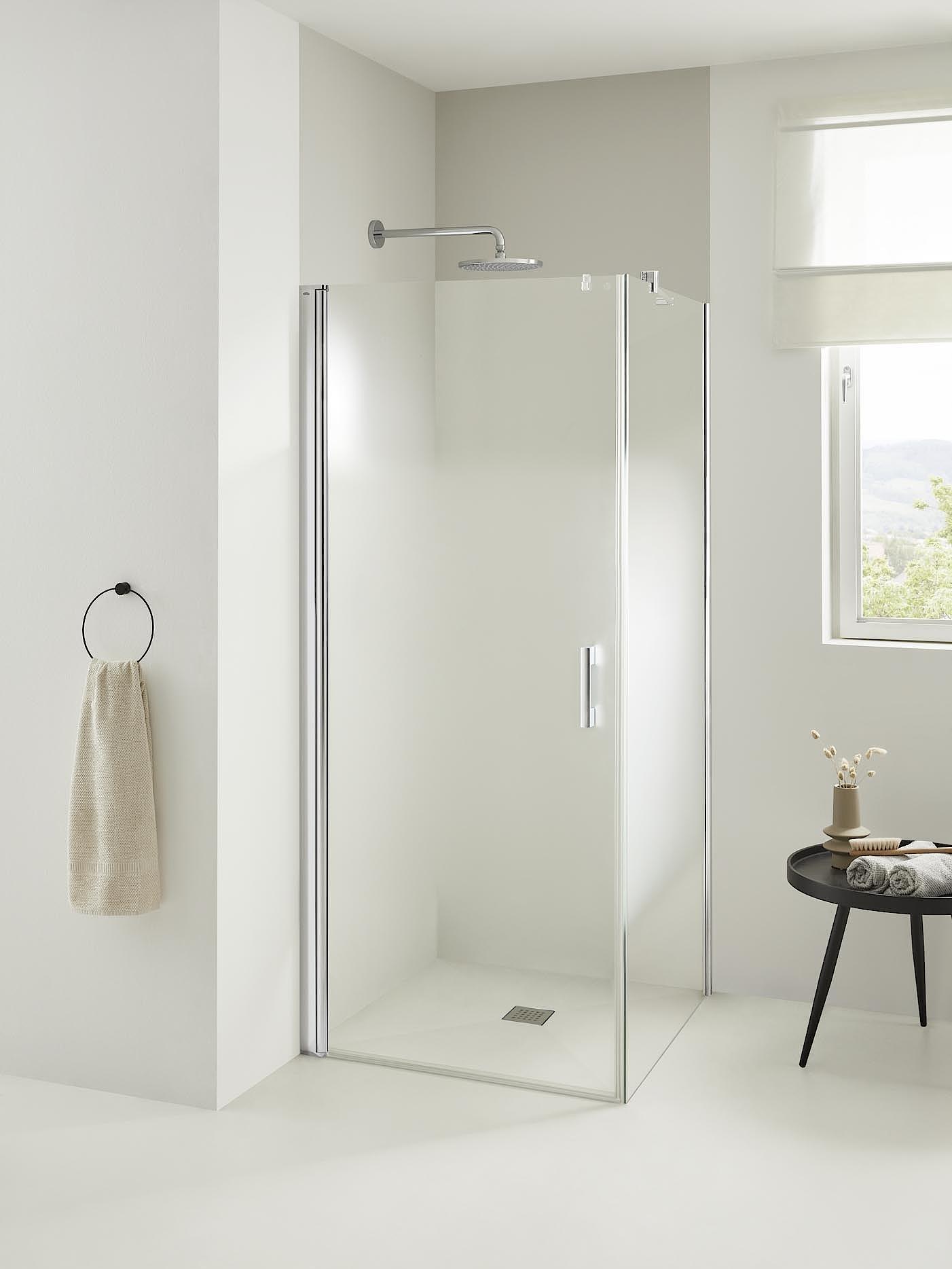 Installation videos
Kermi shower design offers 24/7 support with installation. How does this work? With a wide range of different installation videos.
LIGA hinged folding door U-shaped shower enclosure
The LIGA hinged folding door is also available as a U-shaped shower enclosure. Thanks to the two hinged folding panels, which can be swung 90° by means of the hinges, the entire shower enclosure can be folded together. This is a great alternative for small bathrooms, as the space can be used efficiently.
LIGA hinged folding door corner
The LIGA shower enclosure product range is incredibly versatile. The two-part hinged door with folding option ensures comfortable and easy access. The hinged folding doors can be folded inwards to save space or outwards against the wall – whichever suits you.
LIGA two-part hinged door
The LIGA shower enclosure product range is considered to be Kermi's all-rounder. The LIGA two-part hinged door with reliable rising hinge mechanism in the profile hinge can be opened both outwards and inwards. It also offers a choice of arrangements for the fixed panels.
LIGA hinged door
The LIGA hinged door is a portable weight thanks to its five millimeter, highly transparent single panel safety glass. Its hinges, which are pre-assembled in the factory, ensure quick and easy installation. As a series model with slim wall profile or made to measure with wall hinge, the LIGA hinged door is suitable for almost any room layout.
LIGA off-floor sliding doors
The practical LIGA sliding doors are ideal for small bathroom layouts, as no swing area is required for the doors. The doors move easily without making a sound thanks to high-quality castors mounted on ball bearings. Available in a number of different series sizes with a series height of 1850 mm or 2000 mm and easily adaptable thanks to an adjustment range of 25 mm for each wall profile.
LIGA sliding doors with floor profile
The two and three-part LIGA sliding doors with their modern, linear profile design demonstrate their size with a series height of 2 m and a water-repellent 42 mm floor profile. The door panels can be swung very easily to the inside.
We provide you with BIM-enabled data for download in over 30 CAD formats (e.g. Autodesk Revit, Autocad, Allplan, ArchiCAD, Trimble, etc.), including the relevant product attributes .
Experience now in a exhibition on site
With our special exhibition search, you can experience your desired shower enclosure up close and personal at your leisure at a local specialist dealer. Simply enter the address in whose vicinity you would like to visit the exhibitions.