Kermi ABC
Technical terms made easy.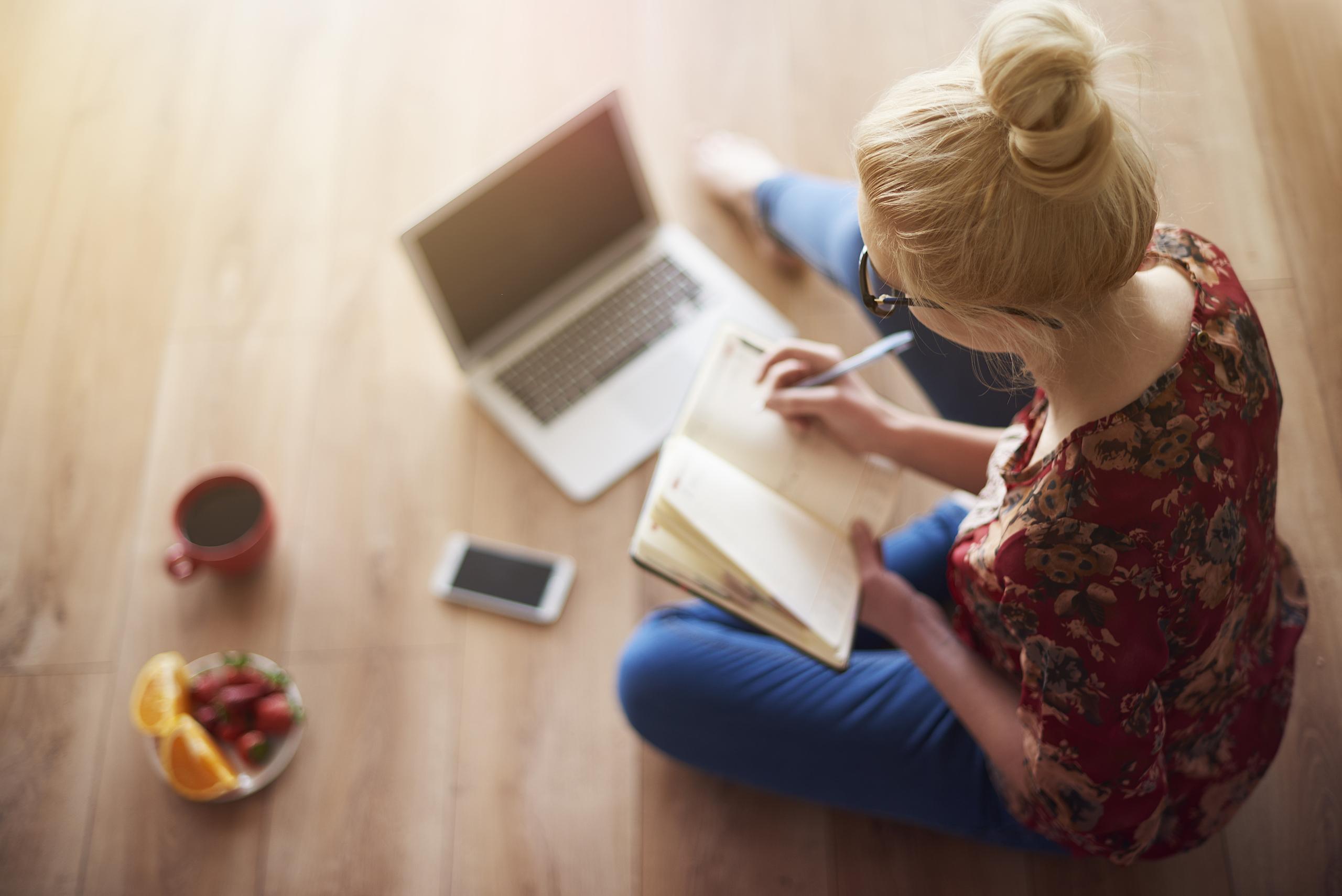 Our shower design terms listed alphabetically and explained.
A
abP
The National technical approval (abP) is proof of suitability for use of unregulated building products and types of construction in accordance with the state building codes and is marked on a construction product with the "Ü" mark of compliance.
Accessibility in accordance with DIN 18040-2
In Germany, the DIN standard 18040-2 defines which criteria need to be met for a bathroom to officially be considered accessible. Realizing an accessible wet floor system means that it needs to be installed at the same level as the adjacent bathroom floor and must not be lowered more than 2 cm. The floor coverings must be anti-slip according to GUV-I 8527 rating group B. Another main criterion is a room divider which provides enough room to maneuver and offers space for a walking aid, wheelchair, and a carer. For example, a person with a walking frame needs space to maneuver of 1.20 m x 1.20 m, and a person in a wheelchair 1.50 m x 1.50 m. When correctly installed and if the correct board is selected, the Kermi wet floor system meets all of these criteria.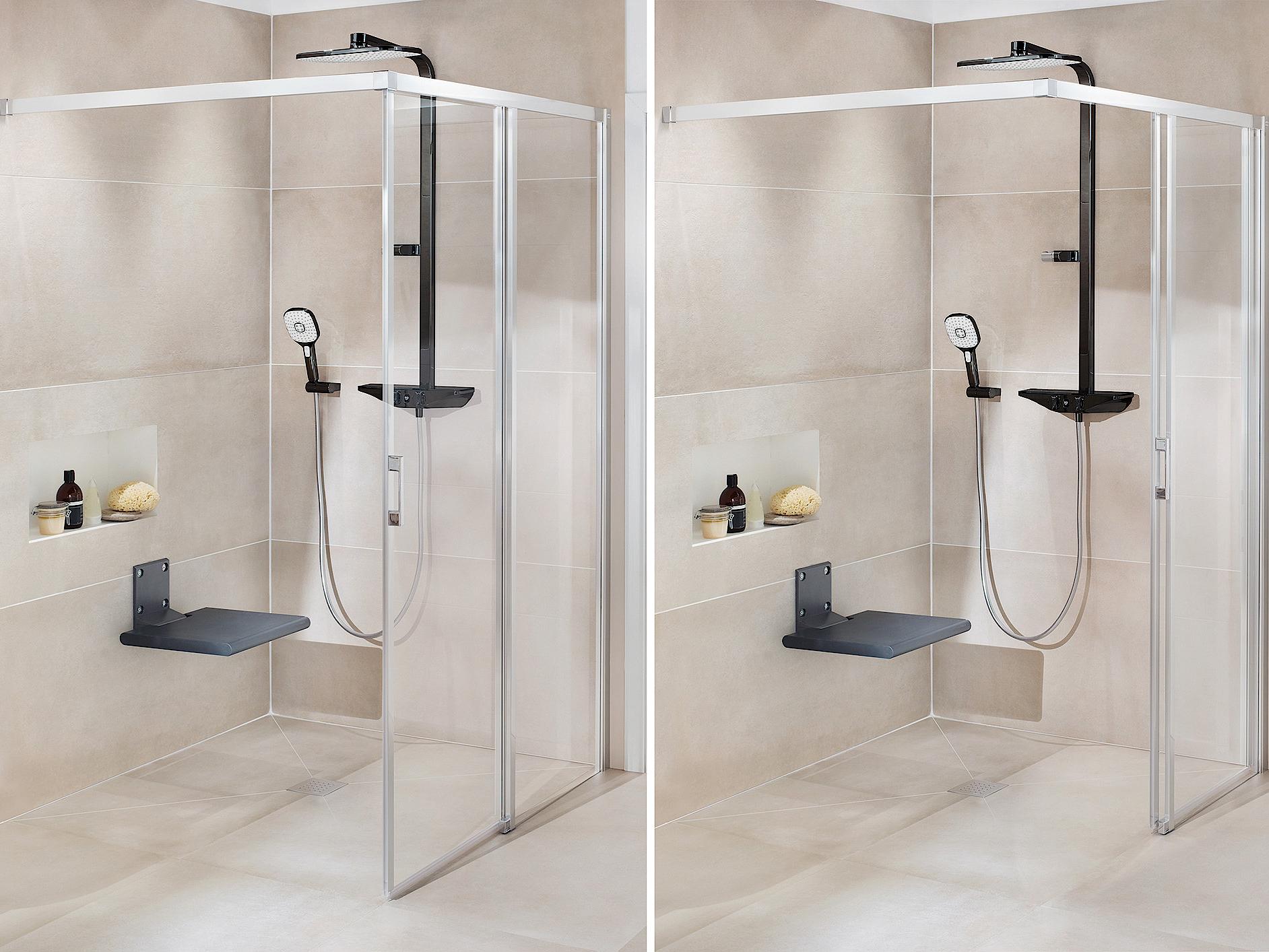 Accessible wet floor system
Both in the private as well as public sphere, a floor level, tiled wet floor system has been the first choice for a long time now. Realizing an accessible wet floor system in accordance with DIN 18040 means that it needs to be installed at the same level as the adjacent bathroom floor and must not be lowered more than 2 cm. The floor coverings must be anti-slip according to GUV-I 8527 rating group B. Wheelchair users need room to maneuver in the shower area which is 150 cm x 150 cm and needs to be kept free of all objects. For accessible living, a minimum area of 120 cm x 120 cm is sufficient. The Kermi wet floor system meets all these requirements if installed correctly and if the appropriate board is selected.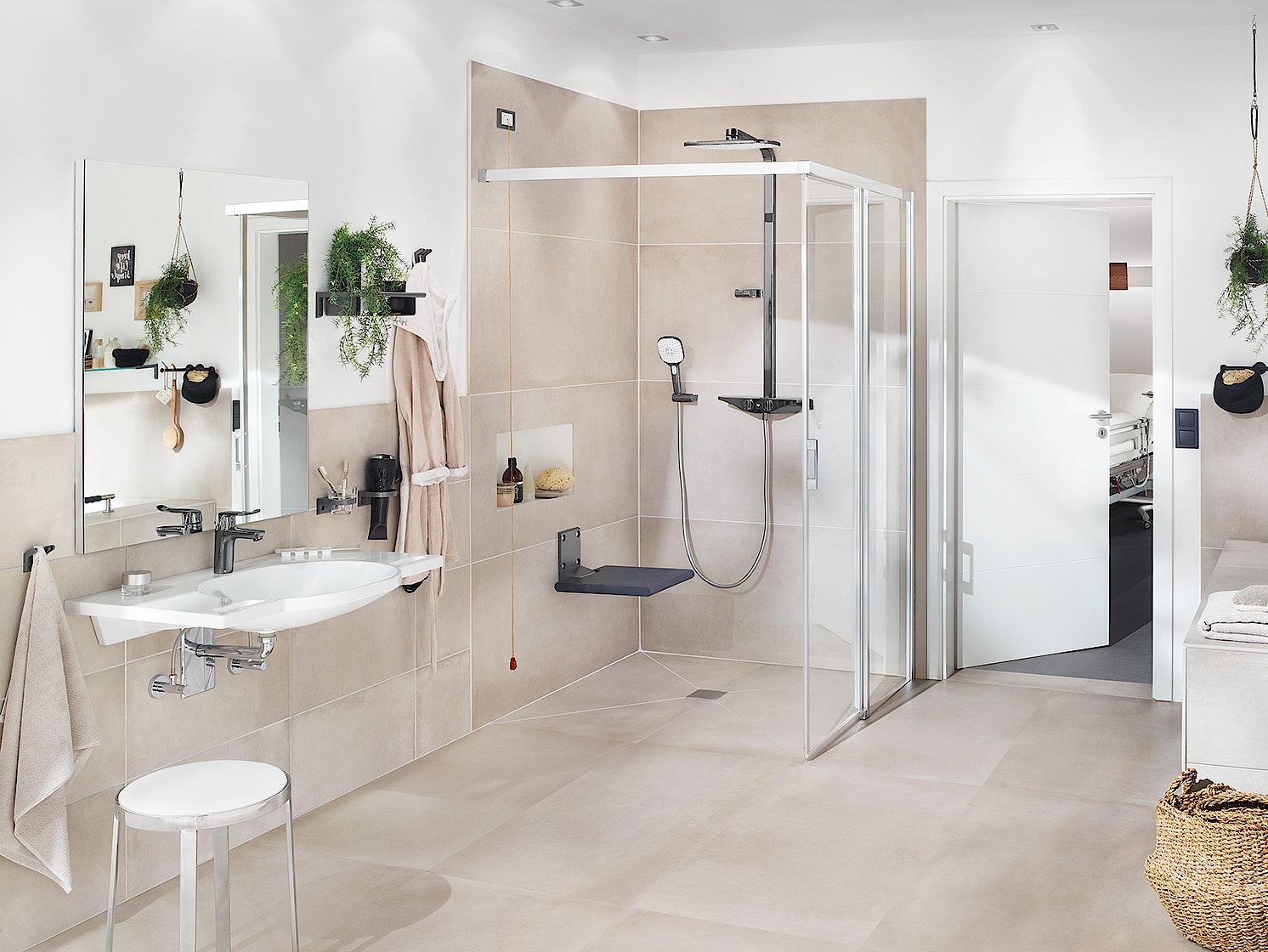 After-sales guarantee
Kermi shower enclosures are especially durable. Nevertheless, if a new spare part is required, Kermi offers an after-sales guarantee for all spare parts once a model has been discontinued. There is a 10-year after-sales guarantee for all purchases made before December 31, 2007, and a 20-year after-sales guarantee for all purchases made from January 1, 2008.
Go to the spare parts shop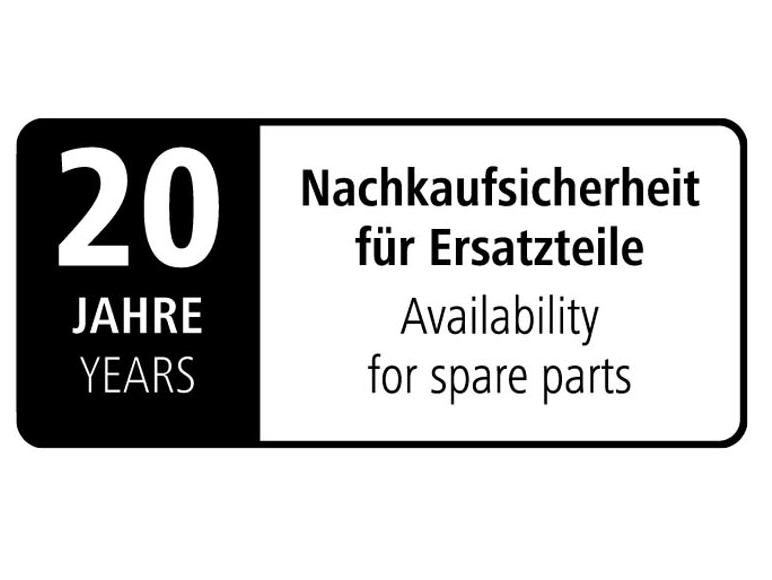 Anodized aluminum profiles
Anodizing is the name given to a method of treating aluminum, where an electrochemical process is used to create a layer of oxide on the product. The oxide layer forms a protective barrier on the aluminum. What is special about this is that anodizing does not mean an additional layer is applied to the aluminum. Anodizing creates a layer which is built up of the aluminum already there. The main reason for anodizing is to protect the aluminum. Thanks to this process, the corrosion resistance is increased and the material remains attractive for longer. Anodizing creates a hard, wear-resistant layer which effectively protects the aluminum underneath.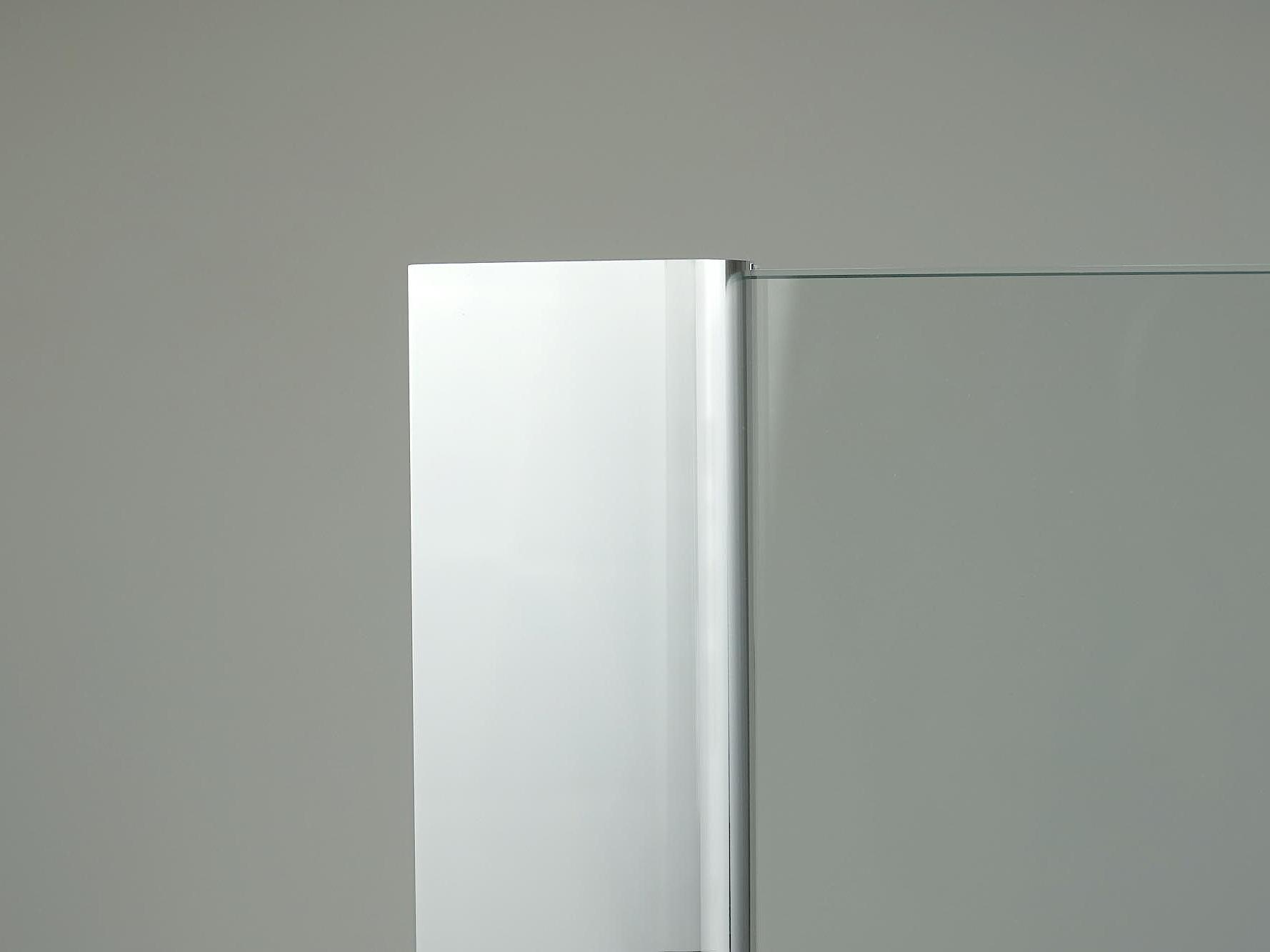 B
Building situation
When selecting the most suitable Kermi shower enclosure, it is important to carefully analyze the building situation on site. The available space and the structural circumstances dictate what designs are possible. Special features, such as a sloping ceiling, cladding, trims, or edges limit the range of products. Kermi has a unique range of models and versions, providing the right solution for every building situation.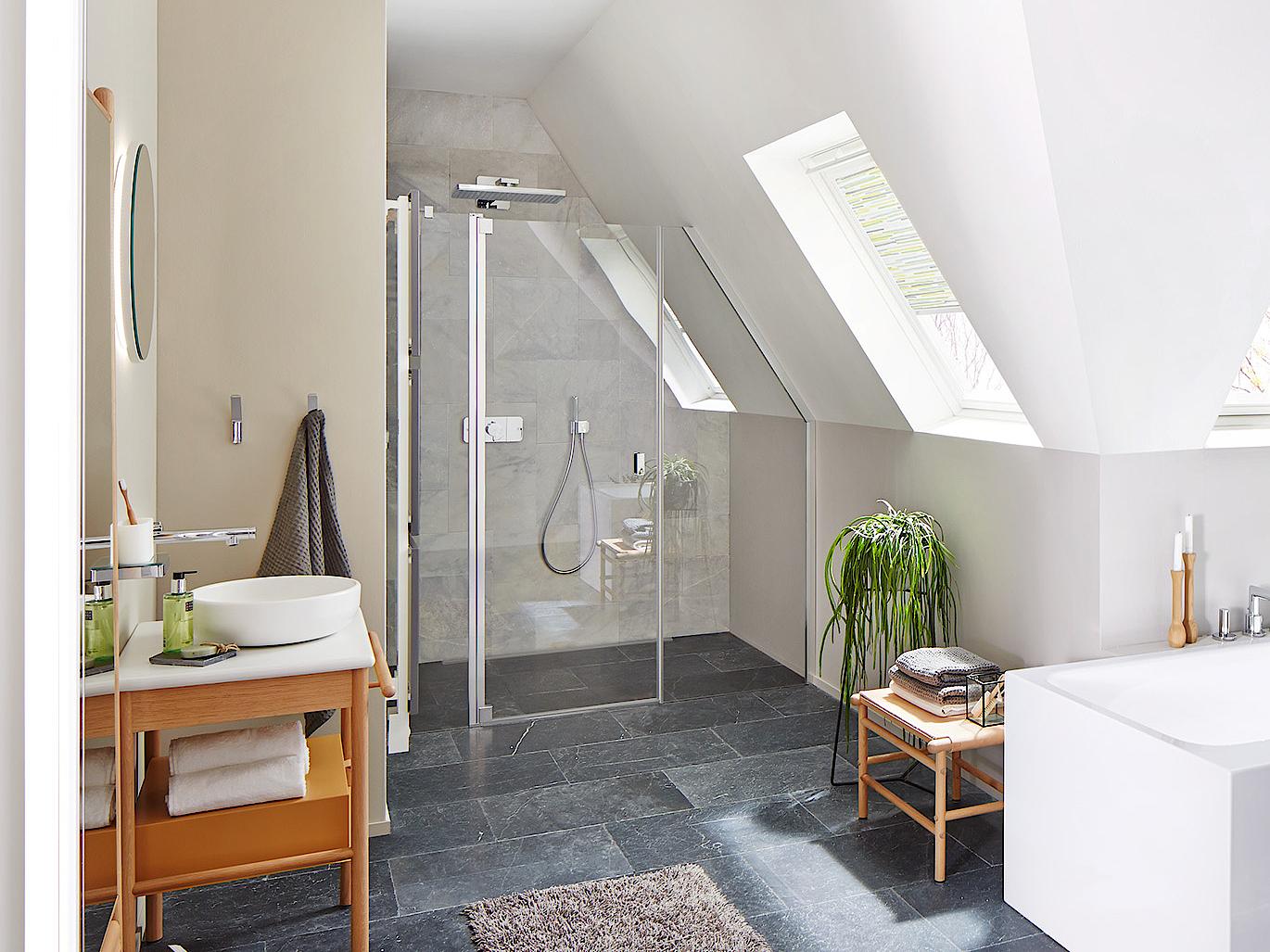 C
CE marking
Kermi shower enclosures stand for tested quality. With the CE marking, Kermi affirms that the shower enclosures comply with the legal provisions of the EU and ensures comprehensive, reliable product quality in accordance with EN 14428. The CE marking is always applied by the company itself and is based on a declaration of performance. The CE marking needs to be be applied to all products and all packaging labels in accordance with European guidelines. With the CE marking, Kermi provides its customers with the certainty that the Kermi shower enclosures are all-round high-quality and durable products.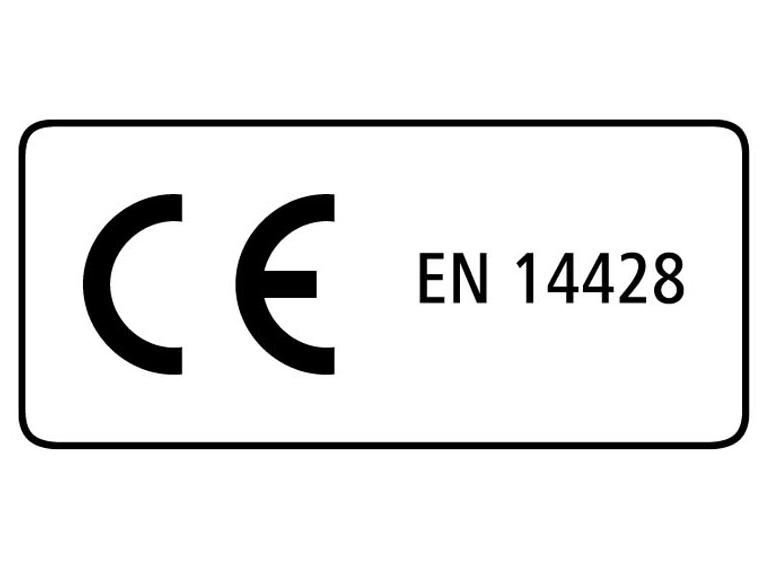 Cleaning
Correct cleaning and maintenance will ensure that you enjoy many years of service from your Kermi shower enclosure. This is why every Kermi shower enclosure comes with detailed cleaning and maintenance instructions.
Not sure which cleaning products are suitable for your Kermi shower enclosure?
We recommend the PremiumCLEAN cleaning agent from Kermi, which has been specially developed to gently clean our high-quality shower enclosures.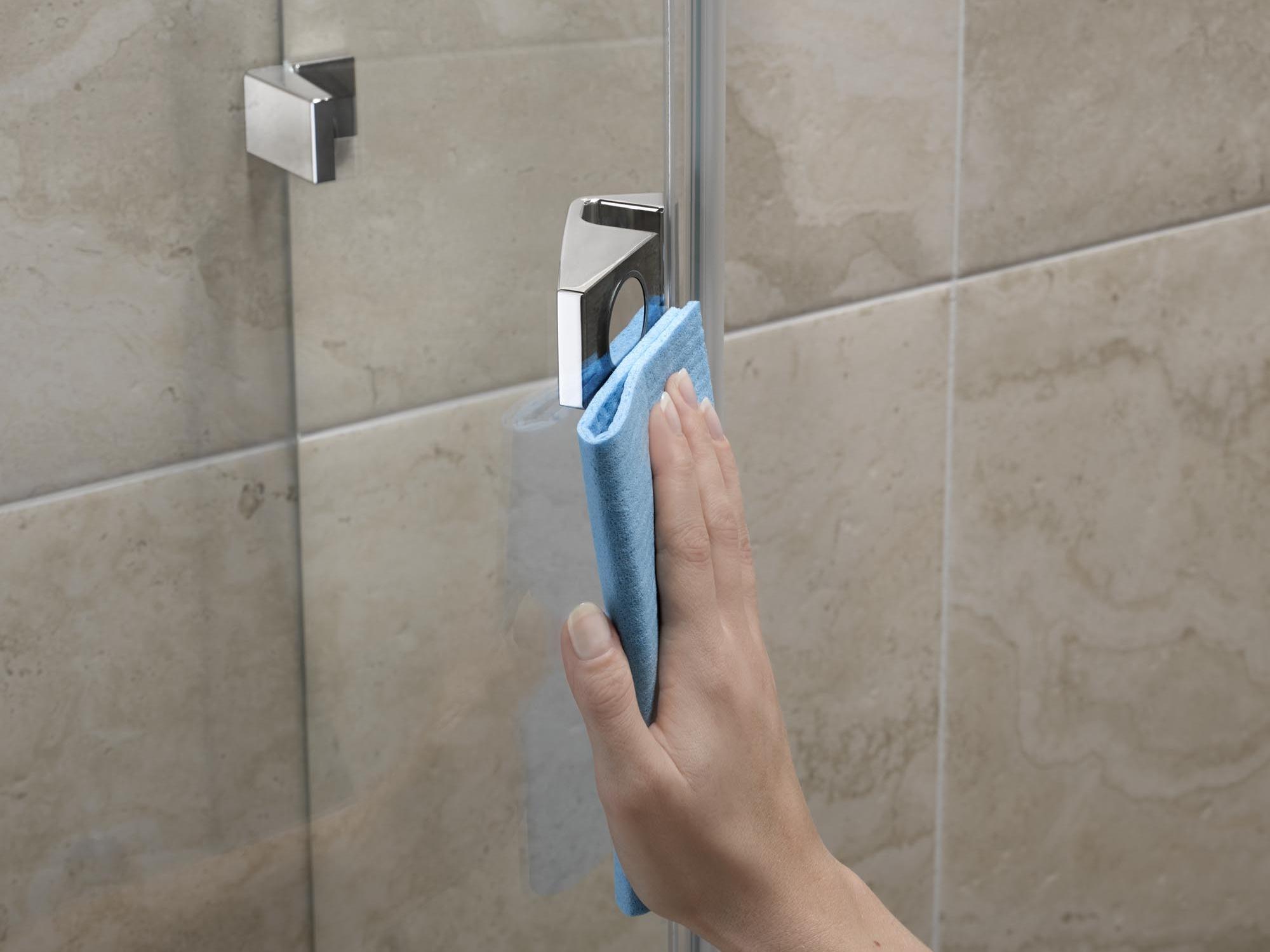 Cleaning the sealing strip
The horizontal sealing strip of the Kermi shower enclosures ensures that the water can rebound better when showering. It is easy to remove the sealing strip and clean it in your dishwasher. It is also easy to clean with a small brush, maybe even a toothbrush. However, if you nevertheless need a new one, you can of course buy a replacement from our spare parts shop at any time.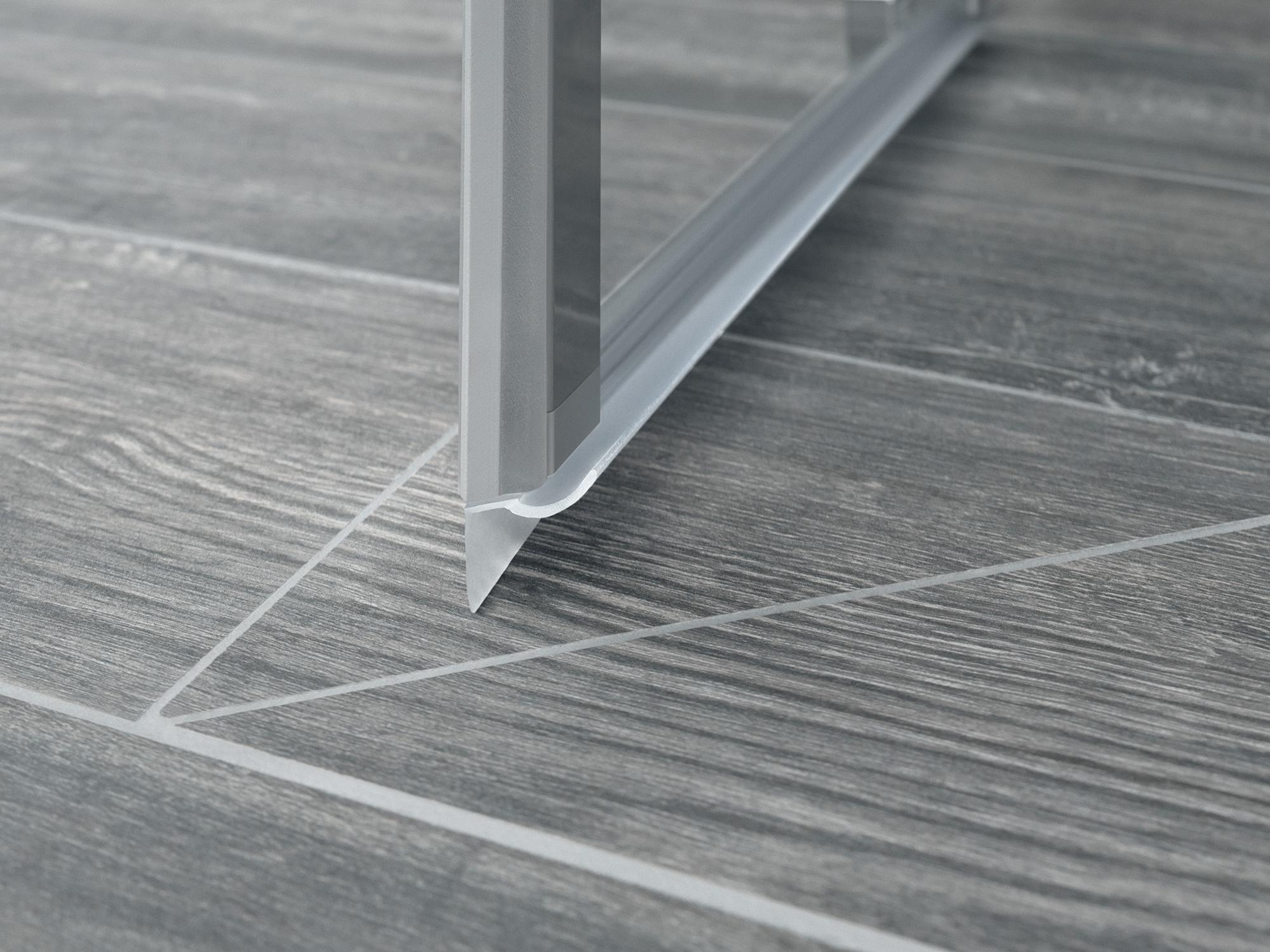 Colors
Depending on the series, Kermi shower enclosures are available with the surfaces High-Gloss Silver, Matt Silver, and White. For an individual shower enclosure, additional colors are available from the special service KermiEXTRA .

Kermi also features the modern Dark Edition in its range. It includes seven product ranges where the standard items are made in a sophisticated Black Soft look.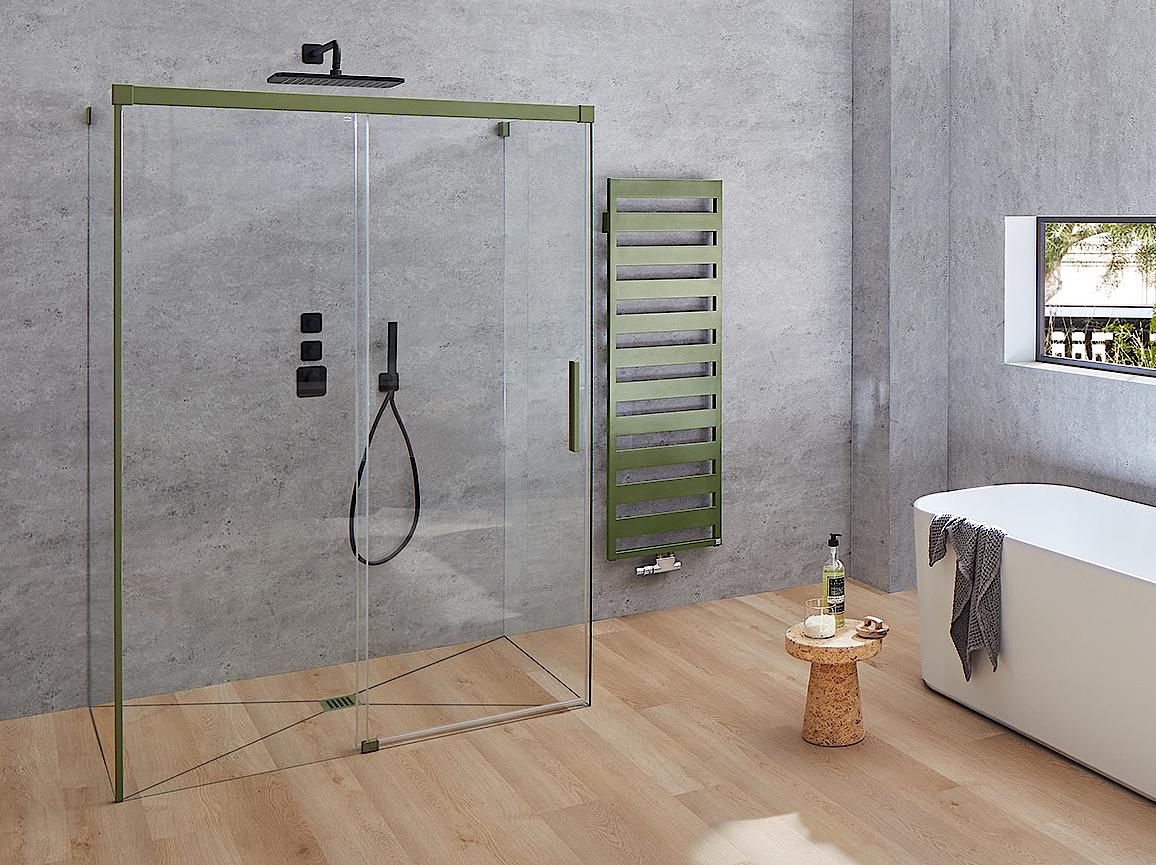 Cutting to size
Up to a certain length, the Kermi shower boards can be cut to size with all standard tools, such as a hand-held circular saw. This means that the boards can be individually adjusted to suit the shower situation. Cutting the board to size reduces its thickness at the cutting edge, which means that the resulting difference must be compensated for on site when tiling with tile adhesive. The minimum dimensions that boards can be cut to without losing the warranty can be found in the "Prices and Technology" document.
D
Dimension of tray (WE)
Outer edge of tray/tiled base to wall.
Drainage rate
The amount of waste water in the shower enclosure can vary widely depending on the faucet used, such as a hand-held showerhead, a fixed showerhead, rainfall or waterfall showerhead. It is important that the drain is able to drain away the water volume coming out of the faucet. 
Depending on their installation height, geometry, and diameter, Kermi drains have different drainage rates.
LINE E70 24 l/min
LINE DN50 vertical 66 l/min
LINE DN50 horizontal 48 l/min
LINE DN40 horizontal 30 l/min
POINT E65 30 l/min
POINT E90 48 l/min
POINT DN50 vertical 60 l/min
POINT DN50 horizontal 48 l/min
POINT DN40 horizontal 32.4 l/min
Drying time for silicone
Immediately after installing the Kermi shower enclosure, it needs to be sealed with silicone. Kermi recommends a drying time of 24 hours after sealing before the shower enclosure can be used. It is important that the silicone hardens and dries out completely. The surface drying time is only approx. 15–20 minutes. The mass has then already started to dry and is very difficult to work with. 
Silicone is very sensitive to water while it is drying out. During this time, moisture reduces the adhesive quality of the silicone and makes the seam leak. All work on the shower enclosure, as well as cleaning and any improvements, are to be avoided during the drying time. Apart from working as a seal, the silicone also takes on a static function and adds stability to the shower enclosure.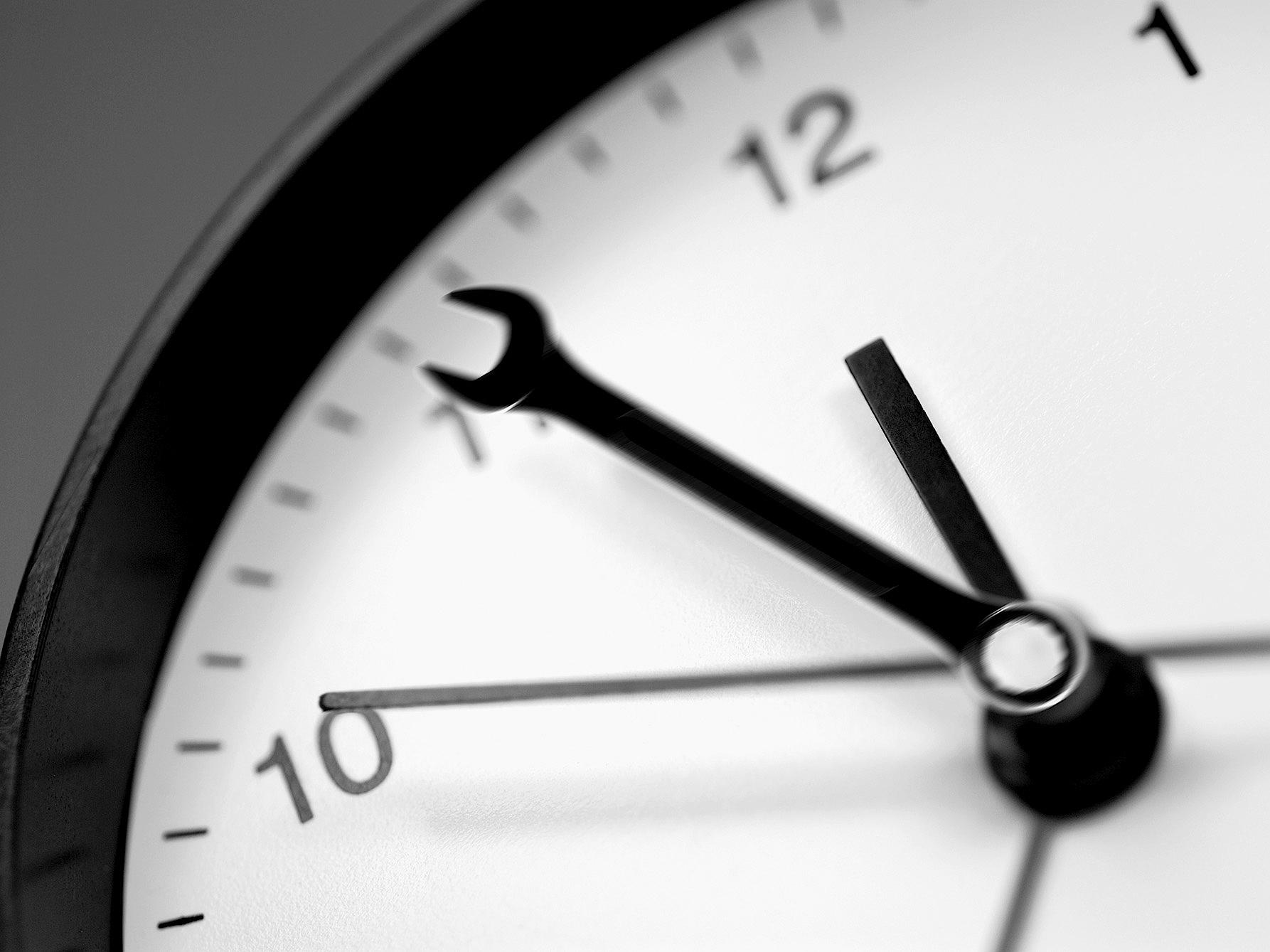 E
ESG-H
ESG-H is the abbreviation for single panel safety glass (ESG) which has been subjected to a heat soak test. ESG-H is available on request.
F
Floor design
In barefoot areas and particularly in wet areas, such as the shower enclosure, it is important to select anti-slip tiles. Anti-slip tiles with rating 10 and upwards are recommended. An installation height of between 5 and 25 mm is possible for the tile covering with the LINE shower board, and up to 40 mm with the POINT shower board. During tiling, a tiling aid needs to be used to ensure to minimize the dimension (gap between tile edge and channel cover). When installing the POINT shower board, make sure that no silicone gets between the drainage frame and the tiles to ensure that the secondary drainage works properly.
Floor mounting
The Kermi shower base system with a channel or a single point drain is available in various installation heights and dimensions. Depending on the installation situation and specific requirements, Kermi offers the option of installing standard shower board systems or the extra flat complete shower board (min. installation height 65 mm). The installation height does not depend on the board, but on the drain. Low installation heights mean that all Kermi System drains are suitable for both new-builds and renovations. Different versions for vertical (min. installation height 40 mm) and horizontal designs (min. installation height 97 mm) are available to choose from.
G
Glass options
Kermi shower enclosures are available with different glass types depending on the series and model. A distinction is made here between real glass shower enclosures consisting of single panel safety glass in accordance with EN 12150 or Kerolan acrylic glass. Sandblaster decor and Mirror glass are available via KermiEXTRA.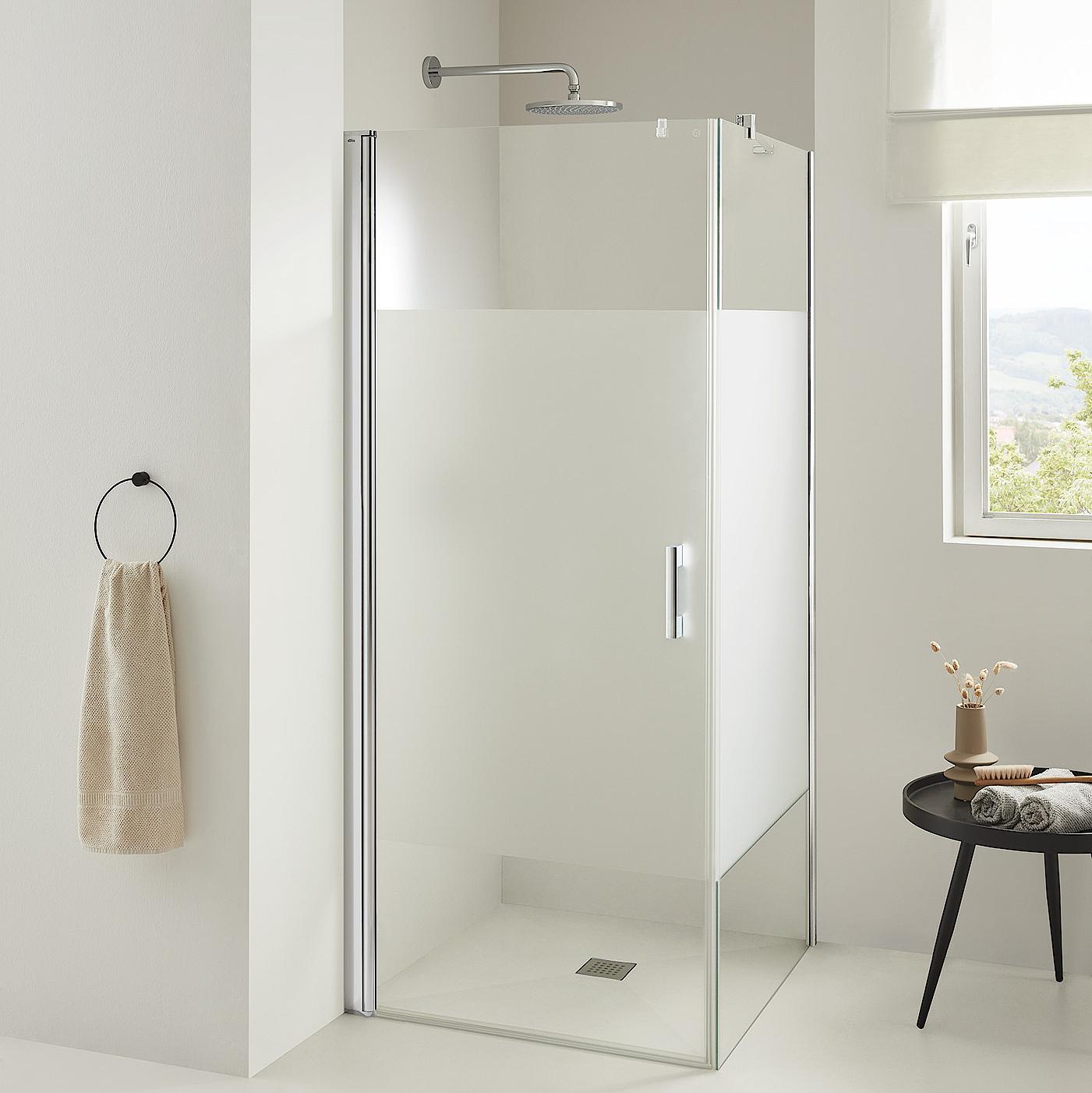 H
Handles
Every Kermi shower enclosure product range has its own distinctive handle. KermiEXTRA offers you the option of choosing a different type of handle from the Kermi range of handles instead of the standard handles.
Height of shower enclosure
Kermi shower enclosures can be installed both on the Kermi wet floor system and on all standard shower trays. Kermi has various standard heights in its product range. A height of 2000 mm is recommended for installation on the Kermi wet floor system. Special heights up to a maximum height of 2200 mm are possible.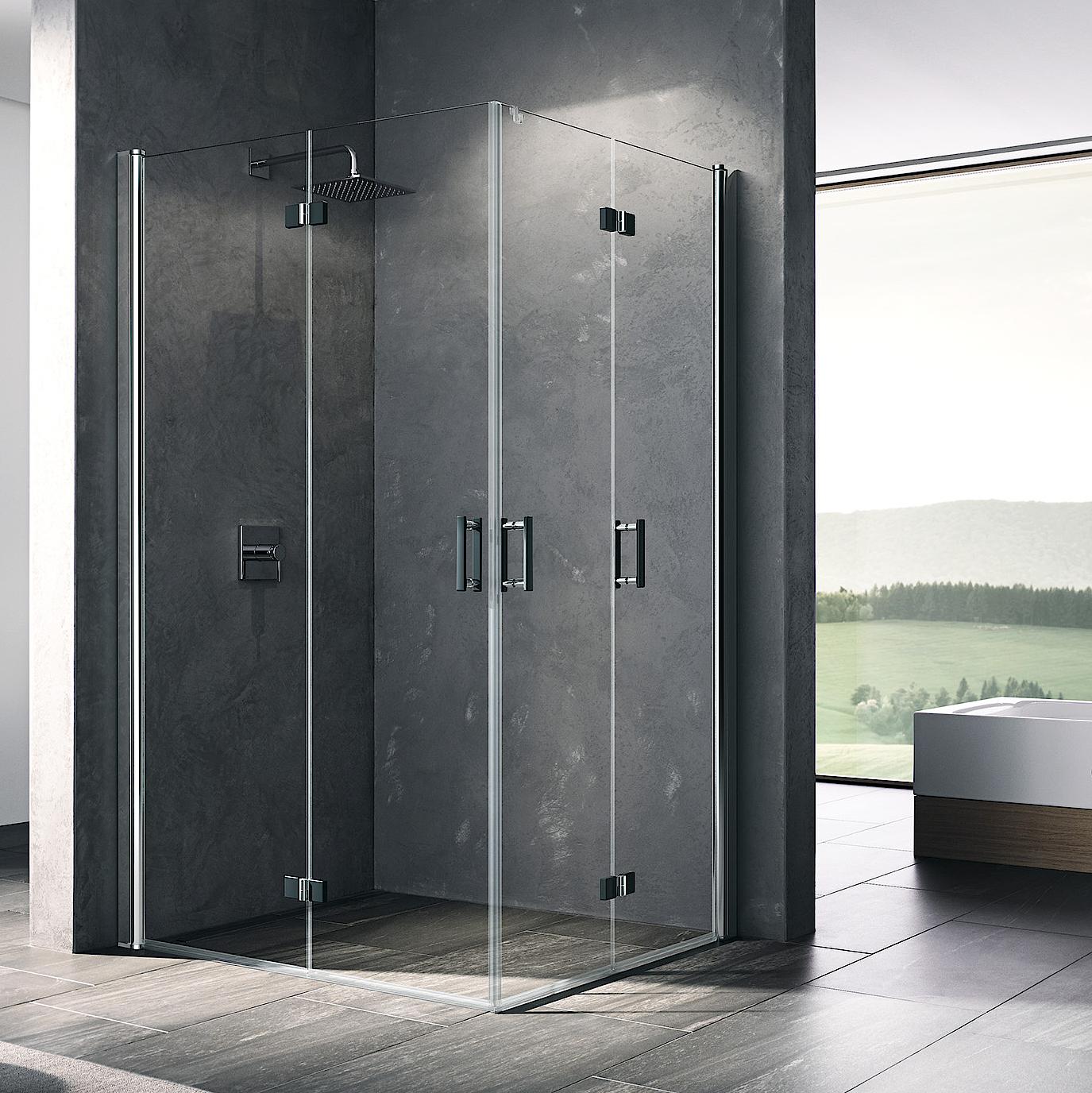 I
ID code
A sticker with the ID code is applied to the Kermi shower enclosures for clear identification. This sticker remains on the shower enclosure when it is installed.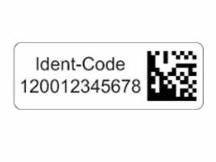 Installation situation
Recess, corner, or U-shaped shower enclosure
The recess
For the recess solution with its walls on three sides, all that's missing is the right door for ultimate showering freedom.
The corner
 The design possibilities here are virtually endless. The classic four-sided design with front or diagonal entry, or even with seamless attachment to a bathtub. The quadrant shower enclosure brings your bathroom plan to life. It also saves space. Then there's the pentagon solution: an unconventional option that saves a great deal of space from the outside.
The U-shaped shower enclosure
 A generous solution for a spacious bathroom.
M
Maintenance joint
Expansion joint made from elastic joint filler.
Models
Kermi shower enclosures have an enormously broad range of designs in a wide variety of dimensions for almost any installation situation, regardless of whether they are installed in a recess, corner, or U-shaped shower enclosure. The choice of model depends on the bathroom layout, space situation, structural conditions, and personal taste. Kermi has the right solution for any problem, regardless of whether, for example, you're looking for a hinged folding door solution, a quadrant shower enclosure as a space-saving corner solution, or a generous WALK-IN solution for luxury bathrooms. 
Product range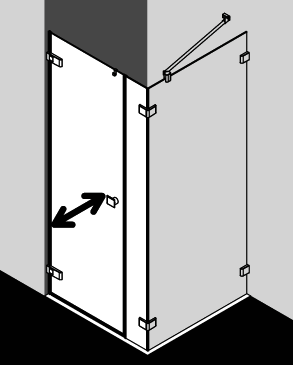 O
Outer edge of glass (GAK)
Outer edge of glass to wall.
Oversized WALK-IN shower enclosure
Generously proportioned walk-in shower enclosures in bathrooms are trending at the moment. However, when selecting them, you need to check whether they can actually be transported into the bathroom. A narrow stairwell on the way to the bathroom limits the size. You need to make sure that it is possible to transport the shower enclosure in its packaging up or down the stairs.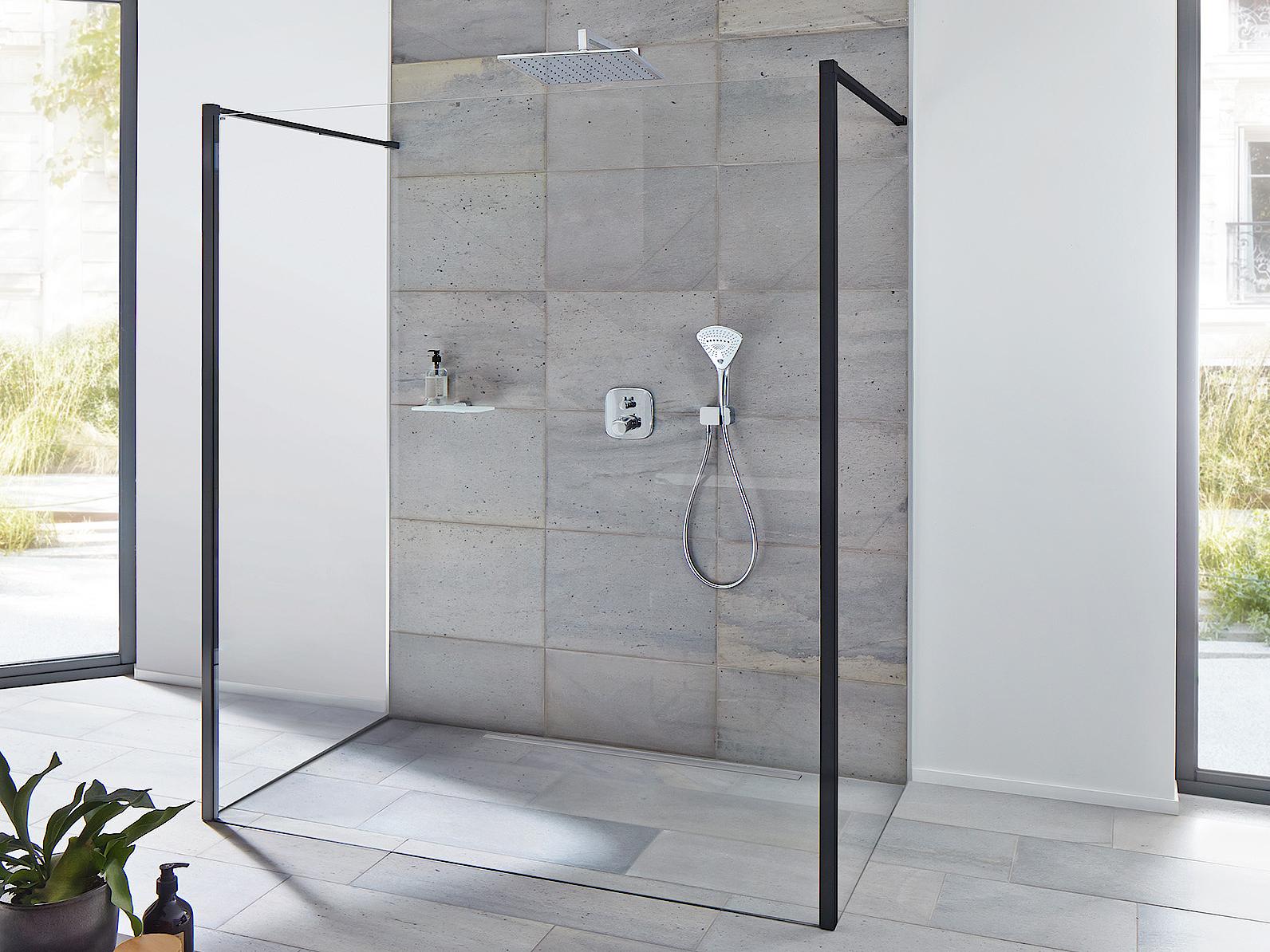 P
Pinholes
Small gaps in the reflective layer may result due to the manufacturing process and are not a cause for any complaint.
Pull strip
The shower enclosure packaging is safe and easy to open thanks to the integrated pull strip on the box. No tools are required for this and there is also no risk of damaging the product when opening the package. 
R
Retrospectively fitting a door
With Kermi WALK-IN shower enclosures, there is the option of retrospectively fitting a door to close them. Depending on the building situation, a two-part hinged door with either a strip seal or a magnetic seal can be used. If a ceiling support is already available, then the WALK-IN dividing wall can be closed with a two-part hinged door with a special, separate sealing profile.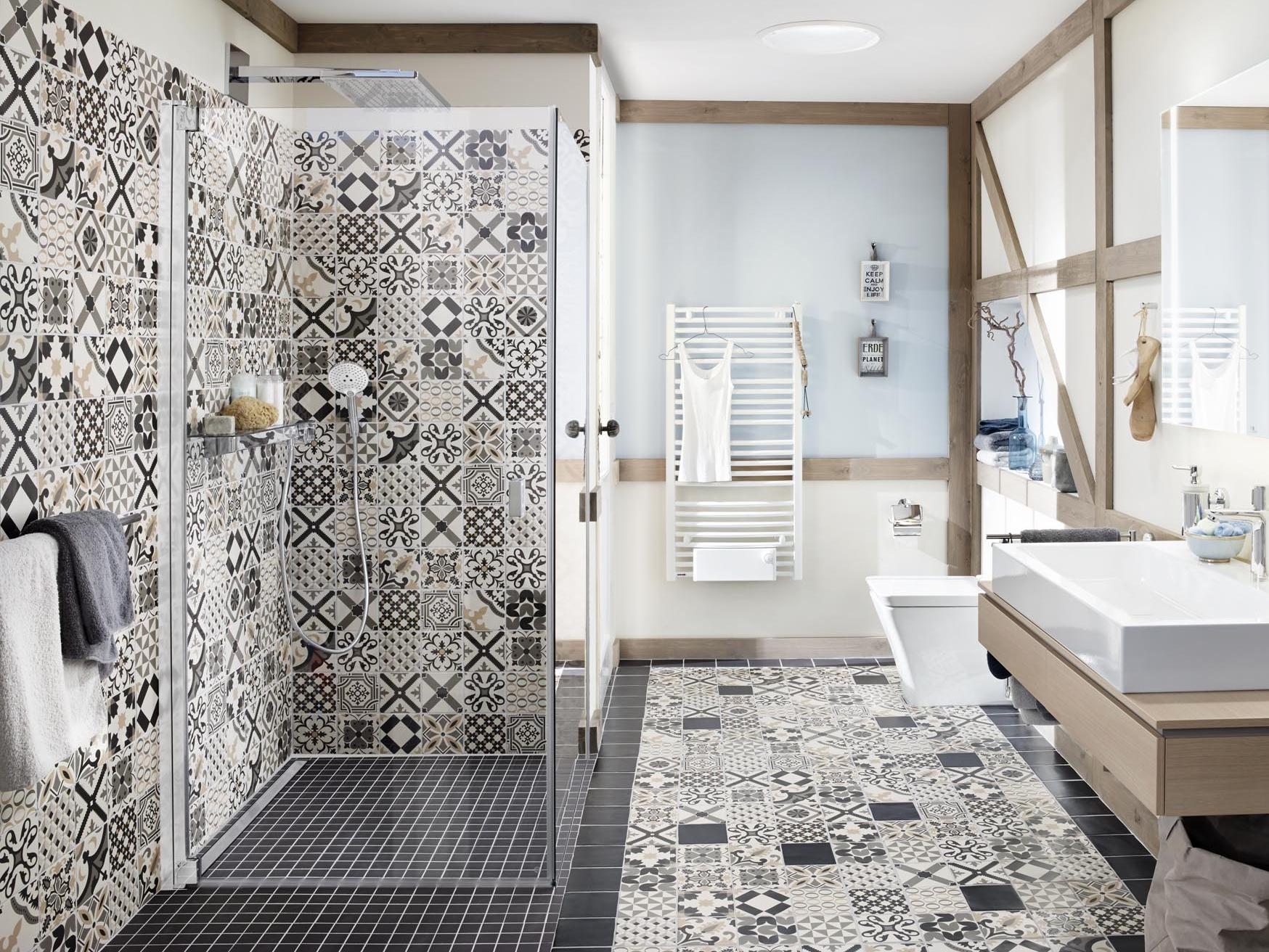 S
Seat (in the shower)
A seat in the shower enclosure makes showering easier. You can sit and take a shower or simply have a brief rest while showering. You can choose between a mobile seat, a fixed seat, or a built-in bench. All options can easily be combined with Kermi shower enclosures. Individual made-to-measure solutions, such as a cut-out in a fixed panel can be realized at any time by the KermiEXTRA special service.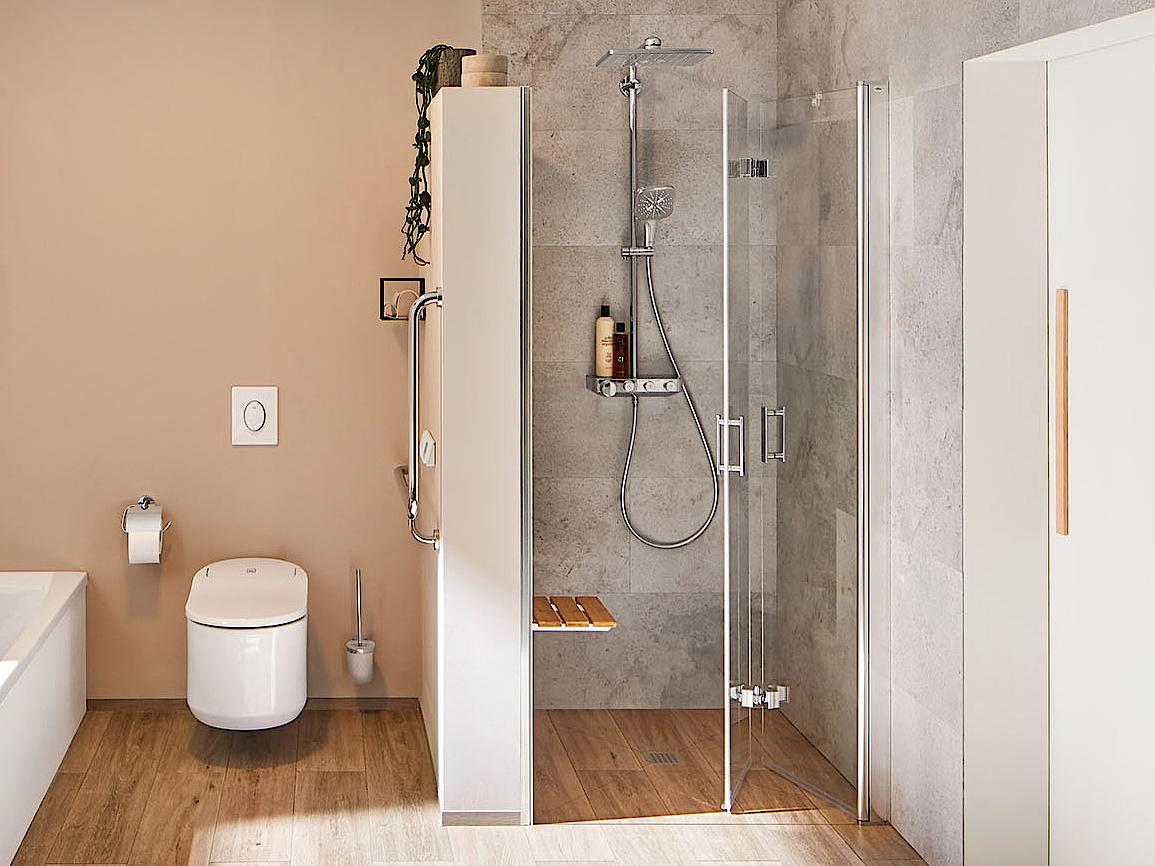 Single panel safety glass (ESG)
Kermi uses high-quality single panel safety glass in accordance with EN 12150 for all shower enclosures. This is extremely resistant to impact, shock and bending stresses and also withstands thermal loads. If, despite this, the extreme case should occur and the pane is damaged, then the glass will not splinter but will crumble into small, blunt pieces in a similar manner to a car windscreen. Despite all of this, during installation and when using the shower enclosure, great care should be taken to ensure that the edges of the glass are not damaged.
Single panel safety glass can be subject to spontaneous fracture caused by nickel sulfide inclusions. This risk can be reduced via a heat soak test. However, even with the latest tests (ESG-H) it is unfortunately still not possible today to exclude such sheets of glass entirely, which means that an unavoidable element of risk remains.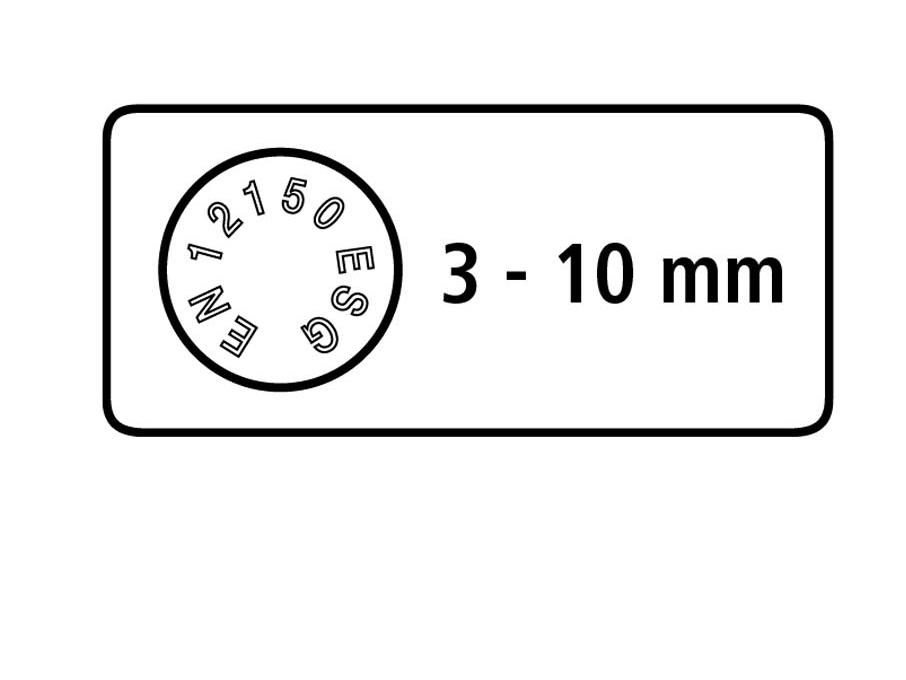 Slope
There always needs to be slope in the floor to make sure the water drains away properly. Floods and puddles on the tiled floor could be the result if the slope is insufficient or if there is no slope. 
In the relevant specialist literature, a minimum slope of 0.5–1.5 % is recommended. However, in order to reach the water level of 20 mm above the channel grating required in DIN EN 1253 and the resulting maximum drainage rate without the water overflowing into the adjacent bathroom and living space, the recommendation is to install the shower channel along the wall with a floor sloping 2 % towards the wall. 
Sound insulation
When showering, noise is caused by the water hitting the floor which is then transmitted as sound into neighboring rooms. This can have an effect on the quality of living. The building regulations according to DIN 4109/VDI 4100 on the subject of sound insulation are met when installing the Kermi wet floor system by using sound insulation mats. The mats are available 5 and 9 mm thick and are always installed across the full surface in the shower area onto the supporting surface. The mats can also be appropriately cut to size or laid end to end. A table from Kermi can be used to determine which mat is required for which shower position so that compliance with the respective sound insulation specification is ensured.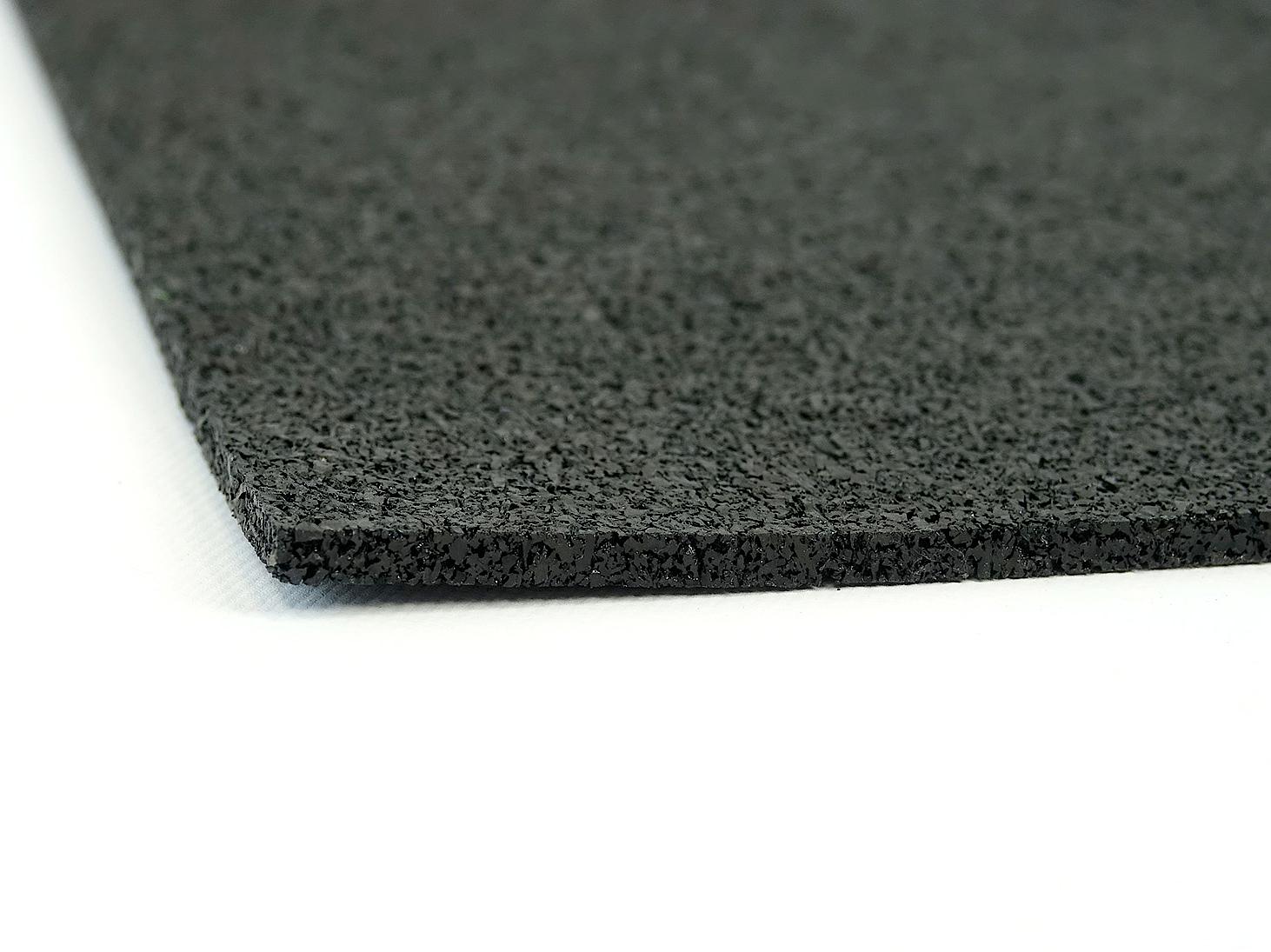 Space requirements (in the shower)
How much space is required to shower and what entrance to the shower is considered to be comfortable is an individual choice and depends on your personal physiognomy, physical requirements, or personal preferences. The layout of the bathroom also plays an important role because it defines which design can be installed in the first place. For this reason, a detailed consultation should be held in advance with the wholesaler to determine which is the ideal shower enclosure. With a huge range of various designs and sizes, Kermi offers the right shower solution for everyone.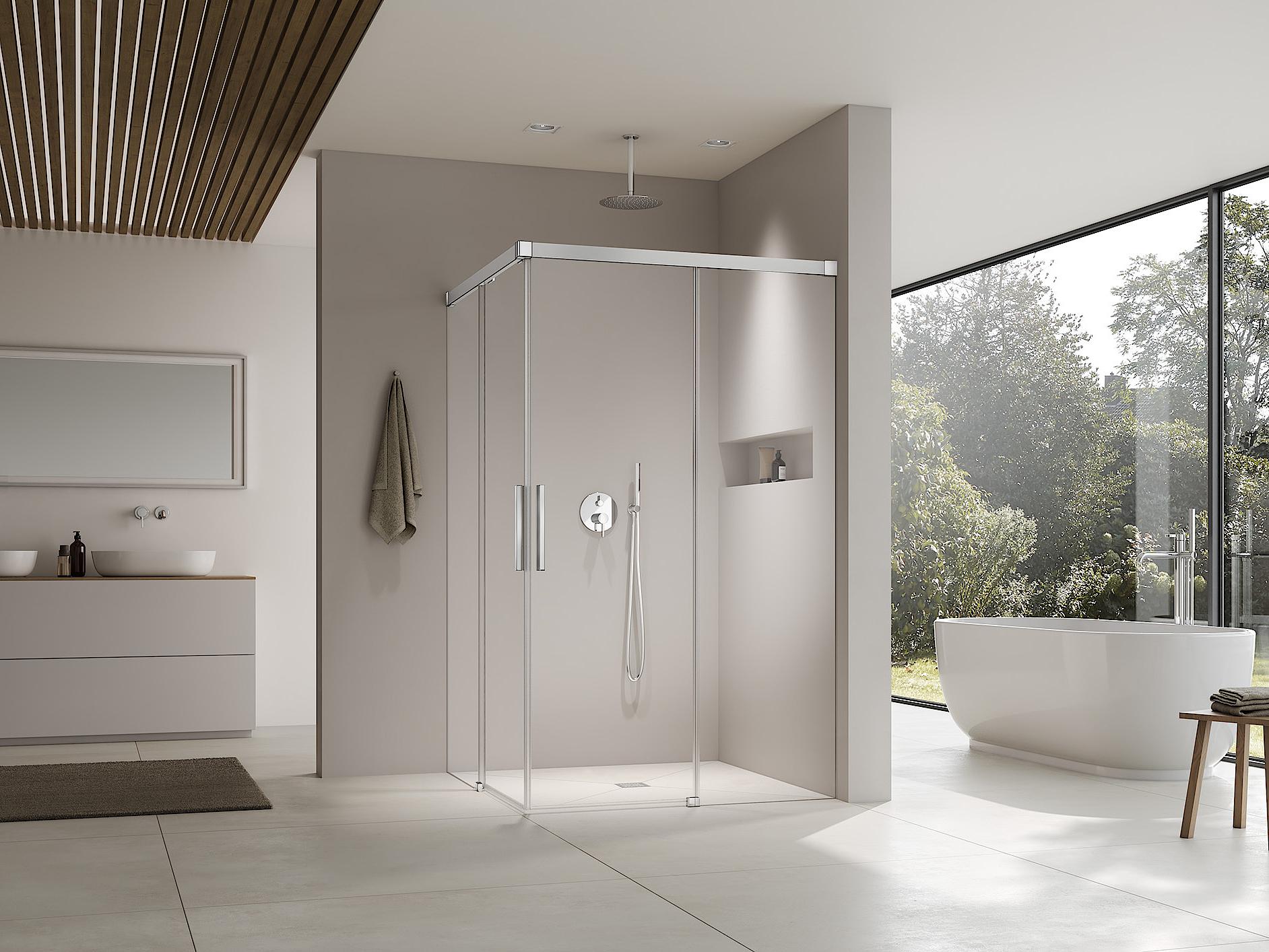 Spare parts
Kermi has an online shop, where you can order the most popular spare parts for our range of shower enclosures. Kermi thereby makes it quick and easy for you to obtain spare parts, such as a new sealing strip or magnetic seal, particularly for customers who not longer have access to a specialist partner.
Go to the spare parts shop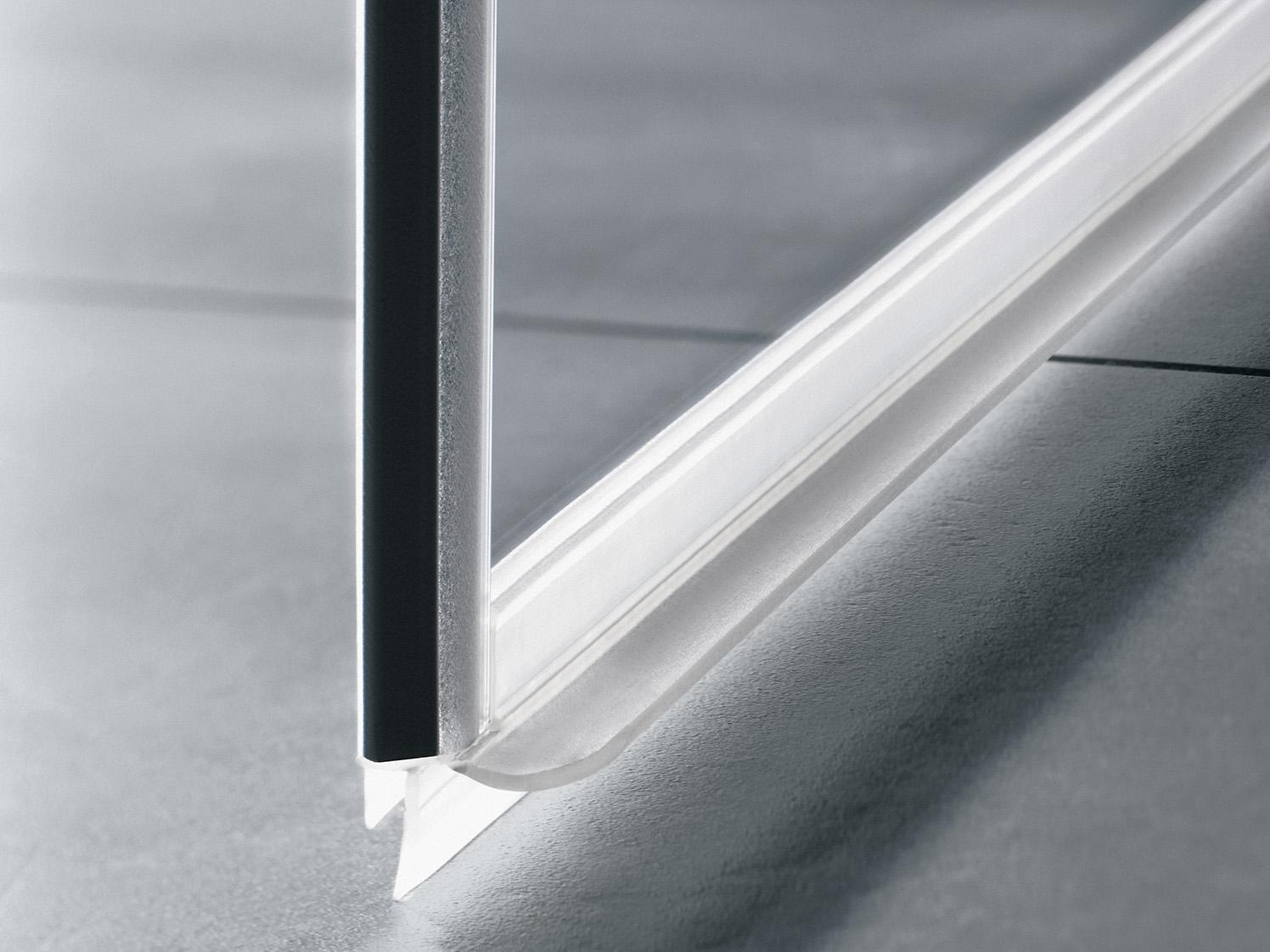 Splash water protection
Everyone can decide for themselves how well sealed their Kermi shower enclosure should be. The higher the barrier, the less splash water escapes into the room. If a floor sill is installed, it increases the splash water protection; a floor profile works like a dam.
If you decide you want a barrier-free wet floor system, your shower will provide unrestricted accessibility, will be easy to clean, and will look very elegant. The lack of a barrier or threshold, however, also means that water can easily escape from the shower. A special horizontal sealing strip with water-repellent effect, which is included in the delivery, will ensure satisfactory splash water protection in a shower enclosure raised off the floor. As a rule, all Kermi shower enclosures meet the requirements of splash water protection testing in accordance with DIN EN 14428.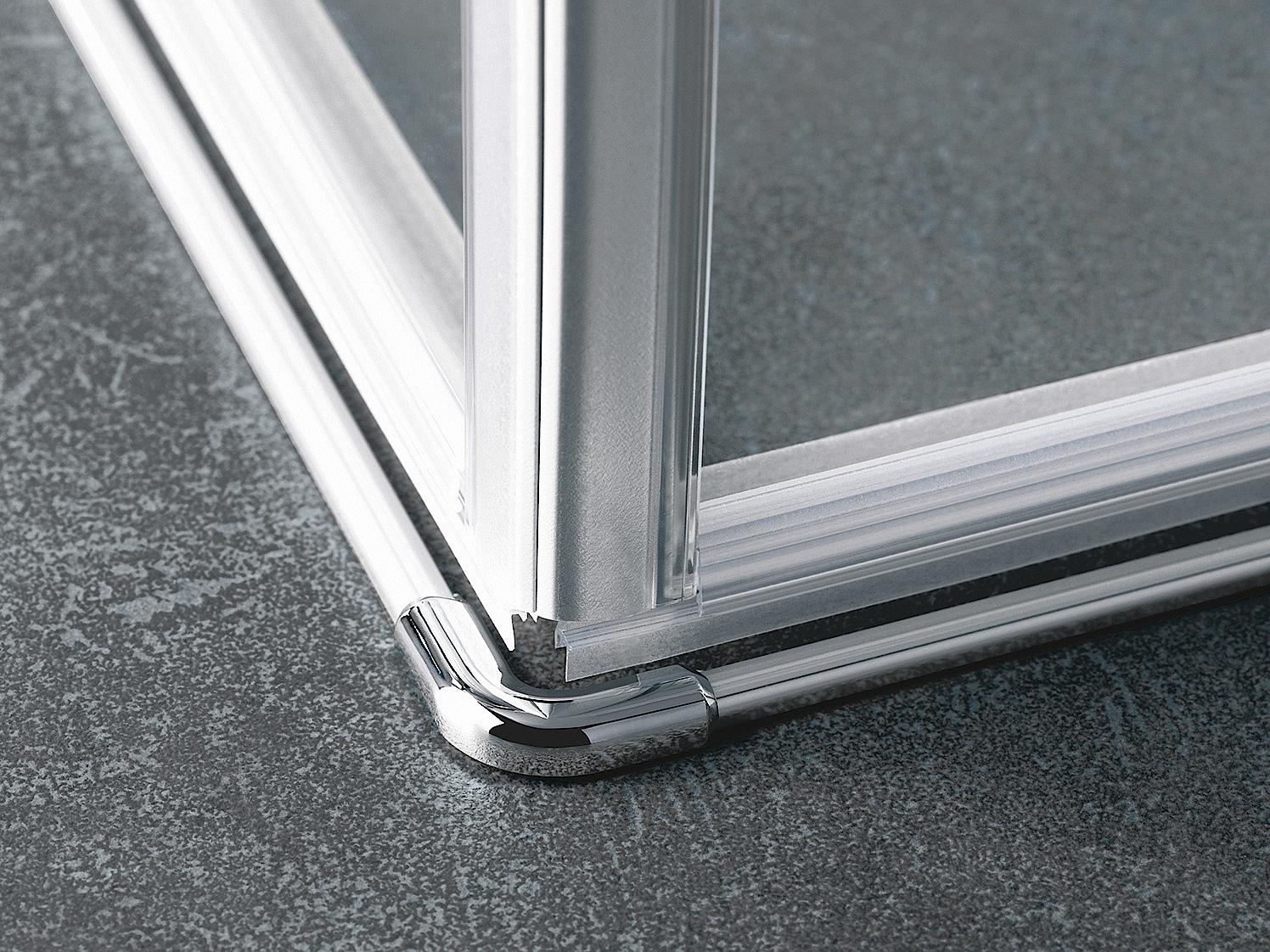 Stabilizer options
Kermi offers a range of stabilizer options which make sure the shower enclosure is held firmly in place. Whether T-shaped stabilizer, a 90° stabilizer, or a 45° stabilizer is used depends on the respective model range and design. Ideally, the stabilizer should already be taken into consideration when planning the height of the tiles. Because if the stabilizer needs to be attached above the tiles, this can cause problems during installation.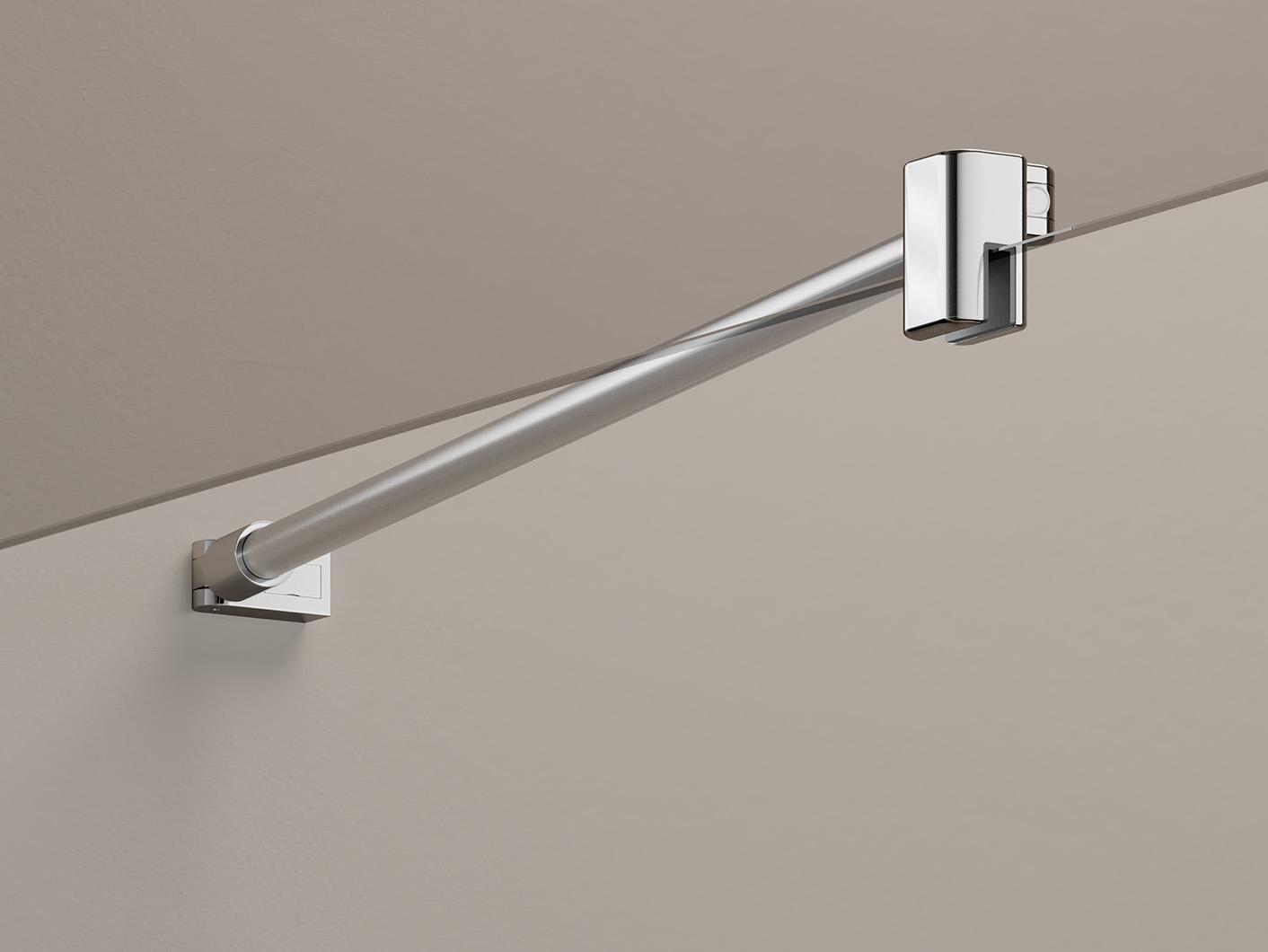 T
Tiling the shower area
There are several things to note when tiling the shower area. The wall tiles should be higher than the shower enclosure itself so that the stabilizer can be attached without any problem. The wall tiles should cover the wall wider than the shower enclosure so that the tiles cover the wall beyond the shower enclosure. This will allow the glass fittings of the shower enclosure to be fitted without any problems.
When installing Kermi shower enclosures, it is important that the tiles and the silicone work is completed and that the silicone has already dried (waiting period of 24 hours). Coarse dirt, such as tile adhesive, should be removed prior to installation.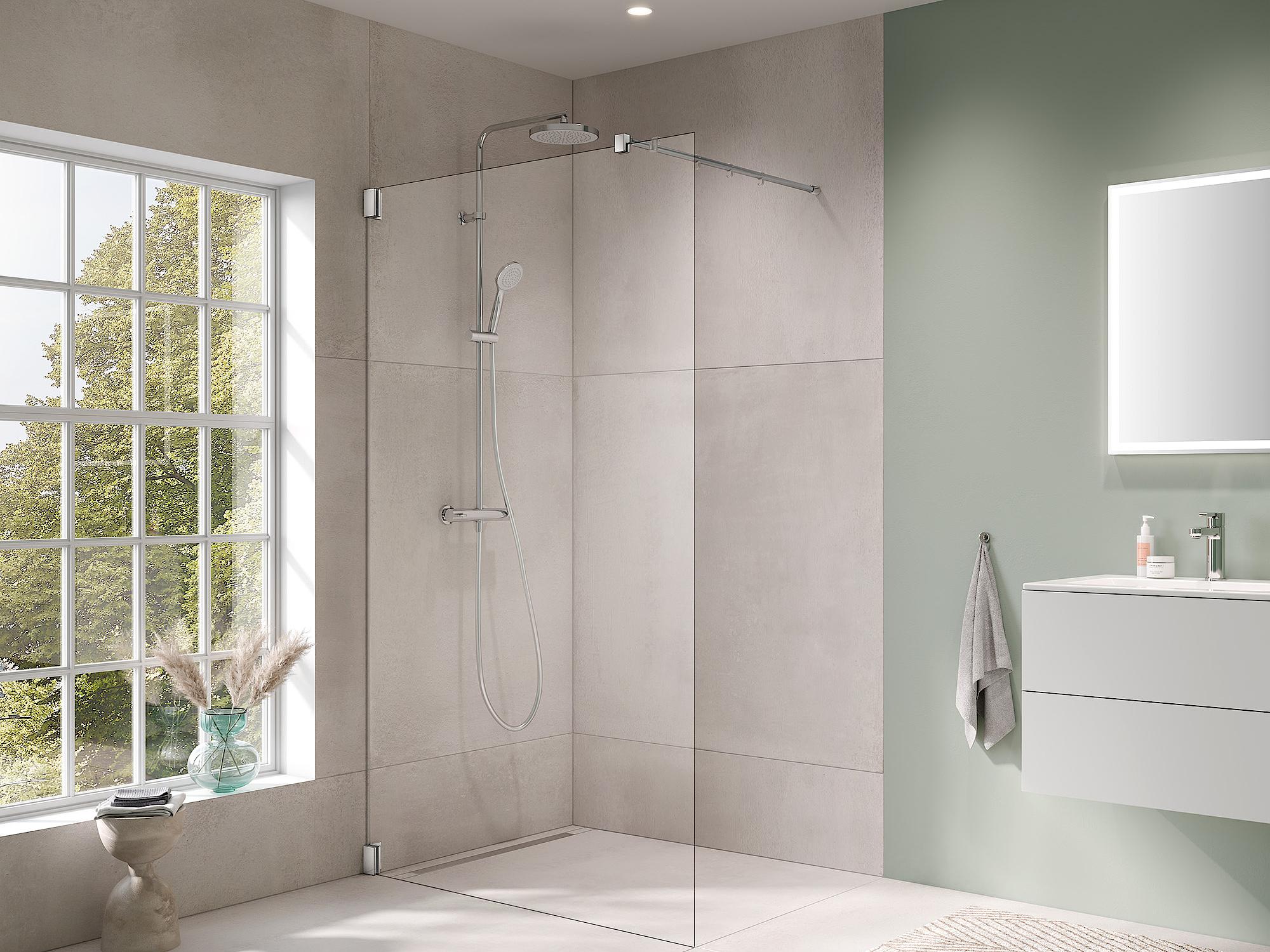 TÜV seal
Kermi shower enclosures have been TÜV-tested for stability, splash water tightness, and ease of cleaning. This is a voluntary test carried out by an independent institution. A Kermi shower enclosure has to undergo stringent testing. The glass must withstand pendulum tests with heavy sand bags without breaking and falling out of the frame. During the endurance tests, doors are opened and closed repeatedly to ensure they are resilient. A splash water test ensures that the Kermi shower enclosure is sufficiently sealed.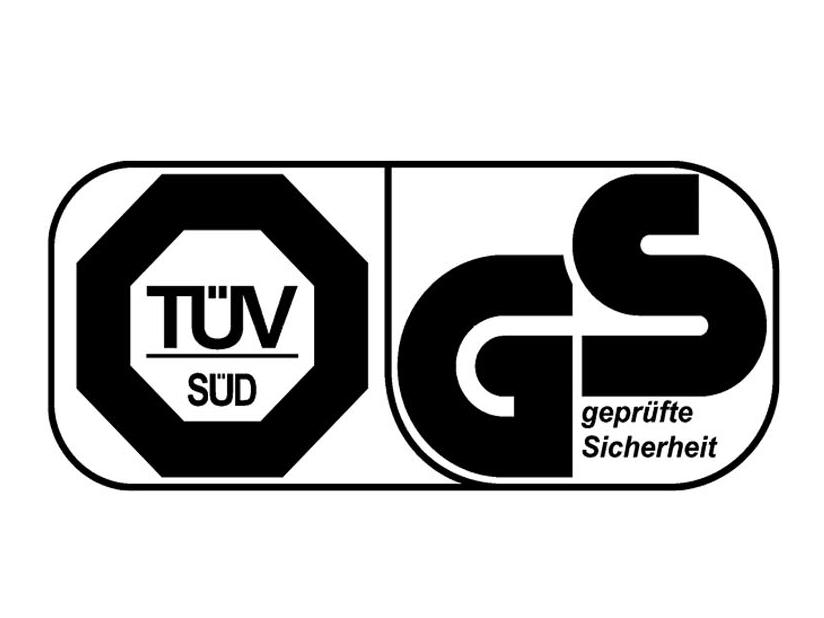 W
Wall rail
All WALK-IN shower solutions from Kermi with 8 mm glass thickness can be installed in an existing U-shape profile. The internal dimensions of the U-shape profile must have a width of 12–16 mm and a depth of at least 6 mm. Installation must be carried out according to Kermi installation instructions; the order is made only according to the dimension sheet.
Water seal height
If an odor trap is filled with a water seal, it prevents any gases escaping from the drains. DIN 1986-100 specifies a standard-compliant water seal height of 50 mm for all odor traps (DIN 1986-100). If the water seal height is less than this, then it needs to be tested and approved by building authorities (abP). Due to its design, the Kermi shower base system promises that there will always be an adequate water seal present.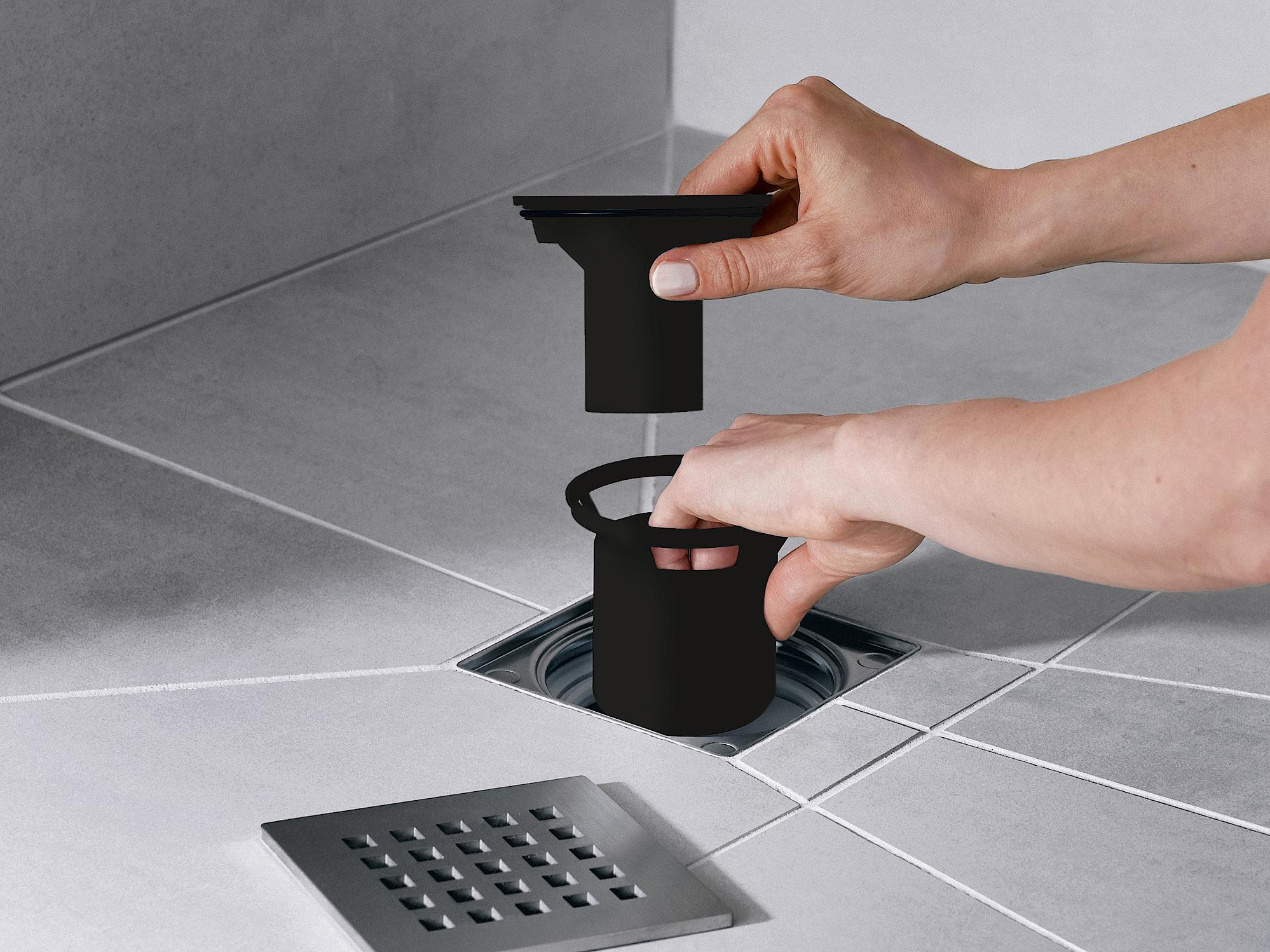 Watertightness
Kermi shower enclosures meet the requirements of splash water protection testing in accordance with DIN EN 14428.
Wheelchair accessibility
The Kermi wet floor system is wheelchair accessible with a tile size from at least 50 x 50 mm. Corresponding tests were performed with a tile size from 50 x 50 mm. During the rollover test, it was found that the wheelchair load does not cause any damage. The result of the rollover test for wheelchair accessibility equates to a usage period of 10 years and a load of 200 kg.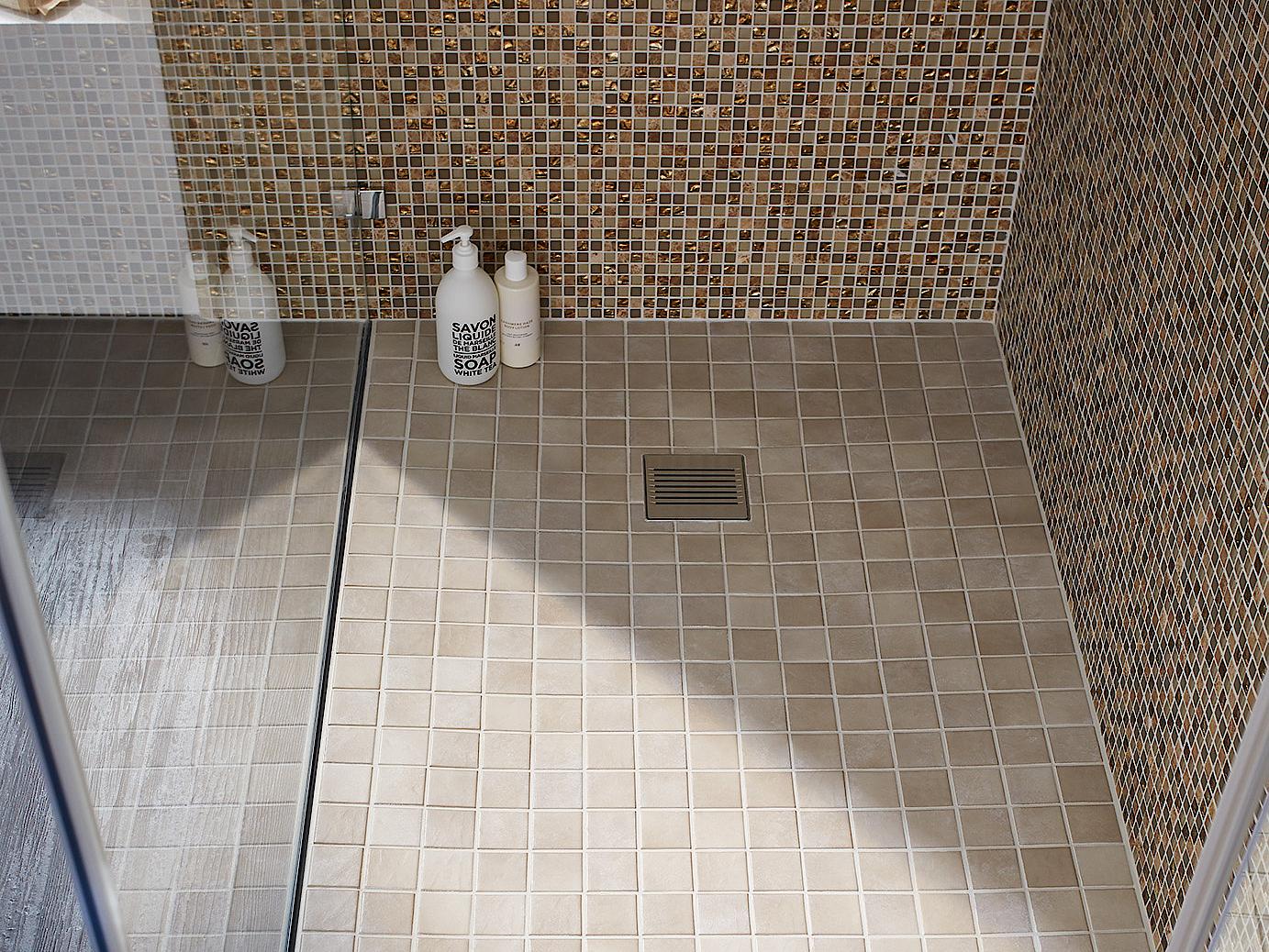 Width adjustment (BV)
Outer edge of shower enclosure (wall profile or floor sill) to wall.
X
XPS
Extruded polystyrene (XPS) foam is a closed-cell, rigid insulation material made of polystyrene. The polystyrene granules are foamed to make boards using a propellant (carbon dioxide). The extrusion forms a large number of small, closed cells which provide high mechanical load-bearing capacity and providing excellent resistance to moisture. The weight-bearing capacity is 0.25 newtons/mm², i.e. 25 t/m².