Special solutions
We will find a way to achieve your very own dream shower.
Every shower enclosure is unique.
With KermiEXTRA.
Why should you only express your individuality through your clothes and hair style? With the KermiEXTRA special product range, even your shower enclosure, your Walk-In, or your bathtub screen can have your personal touch. Colorful surfaces, sandblasted decorative glass, integrated mirror surfaces, and all conceivable combinations of profiles, hinges, and handles are possible, as are special installation solutions that are well-suited to your spatial requirements. Only your imagination can define the limits. We will find a way to achieve your very own dream shower.
Special solutions
If the extensive standard product range is not sufficient to suit the requirements of your bathroom – no problem. That's where the KermiEXTRA special product range comes in. Maybe you have a large enclosure with sophisticated surface design in mind for your luxurious bathroom. Or is there a tricky hurdle to overcome, such as a special cut-out or inclines in your bathroom. We offer special technical solutions which cover almost any bathroom situation.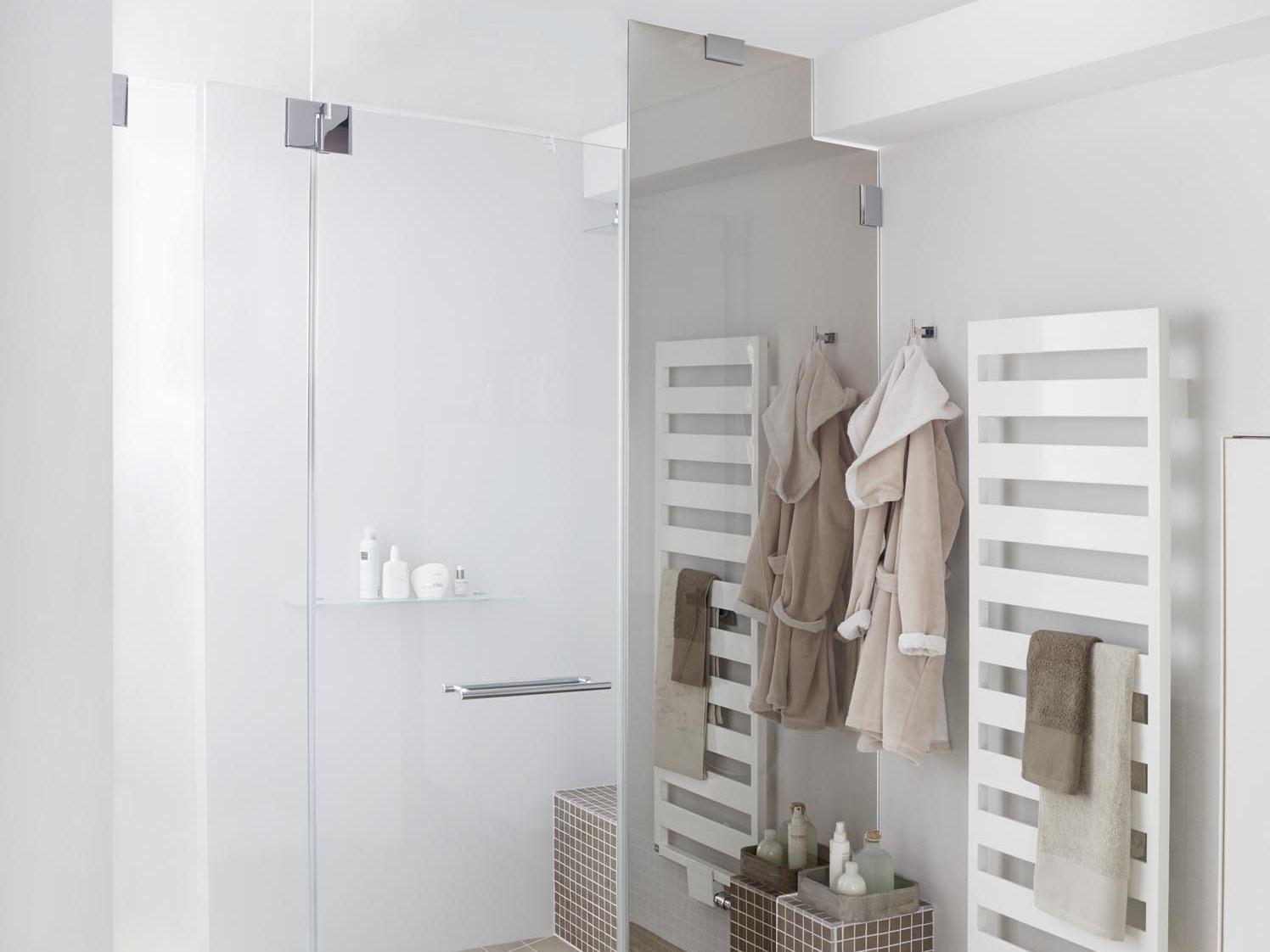 Angled cut/cut-out
Through customized angled cuts for sloping ceilings or cut-outs around the base, the Kermi shower enclosure seamlessly fits into your bathroom situation.
Retrospective installation of a door
With Kermi WALK-IN shower enclosures, there is the option of retrospectively fitting a door to close them. The WALK-IN experience is retained, but you can shower in a closed, warm shower enclosure.
WALK-IN sealed versions
WALK-IN shower enclosures with two-part hinged doors with 6 and 8 mm thick glass and a no-profile glass edge are sealed using a so-called strip seal.
Installation raised off the floor
Virtually all shower enclosures in the Kermi range make the shower area completely accessible as standard when installed at floor level.
Installation behind cladding
Cladding and sliding door – no problem thanks to a continuous top and, if necessary, bottom guide rail and a fixed panel with, or partially without glass.
Installation on stud wall
LIGA quadrant shower enclosure (two-part hinged doors with fixed panels) with only one fixed panel, mounted on stud wall or IBIZA 2000 two-part corner entry (two-part hinged doors with fixed panels) – half part without fixed panel installed on stud wall.
Connecting ceiling/wall support | pipe
Connecting a door to the round pipe of a ceiling support – with a special connection profile.
Connection to ceiling/wall support | profile
Connecting a door to the square profile of the ceiling or wall supports.
Change from 45° stabilization to 90° stabilization
Some bathroom situations require the installation of a 90° stabilization instead of the 45° stabilization supplied as standard.