What makes a shower enclosure barrier-free?
In Germany, the DIN standard 18040-2 defines which criteria need to be met for a bathroom to officially be considered accessible. Kermi explains what to look for when planning a barrier-free shower enclosure in accordance with the legal requirements.
One of the main criteria for a barrier-free bathroom design in accordance with DIN standard 18040-2 is a room layout that allows sufficient freedom of movement and provides space for a walker, wheelchair, and a caregiver. For example, a person with a walker needs a movement space of 120 cm x 120 cm, a person with a wheelchair 150 cm x 150 cm. Installing a barrier-free wet floor system in accordance with DIN 18040 requires that it be at the same level as the adjacent bathroom floor and that it not be lowered by more than 2 cm. The Kermi wet floor system meets these requirements if installed correctly and if the appropriate board is selected. 
In addition, the floor covering must be slip-resistant, which can be easily achieved by tiling the Kermi wet floor system separately. Kermi shower enclosures can be installed barrier-free and therefore offer threshold-free access to the shower enclosure. An important criterion according to DIN standard 18040-2 is ease of use without the need for force. Kermi shower enclosures are developed according to the universal design principle, are very easy to use and provide maximum comfort for all ages and life circumstances.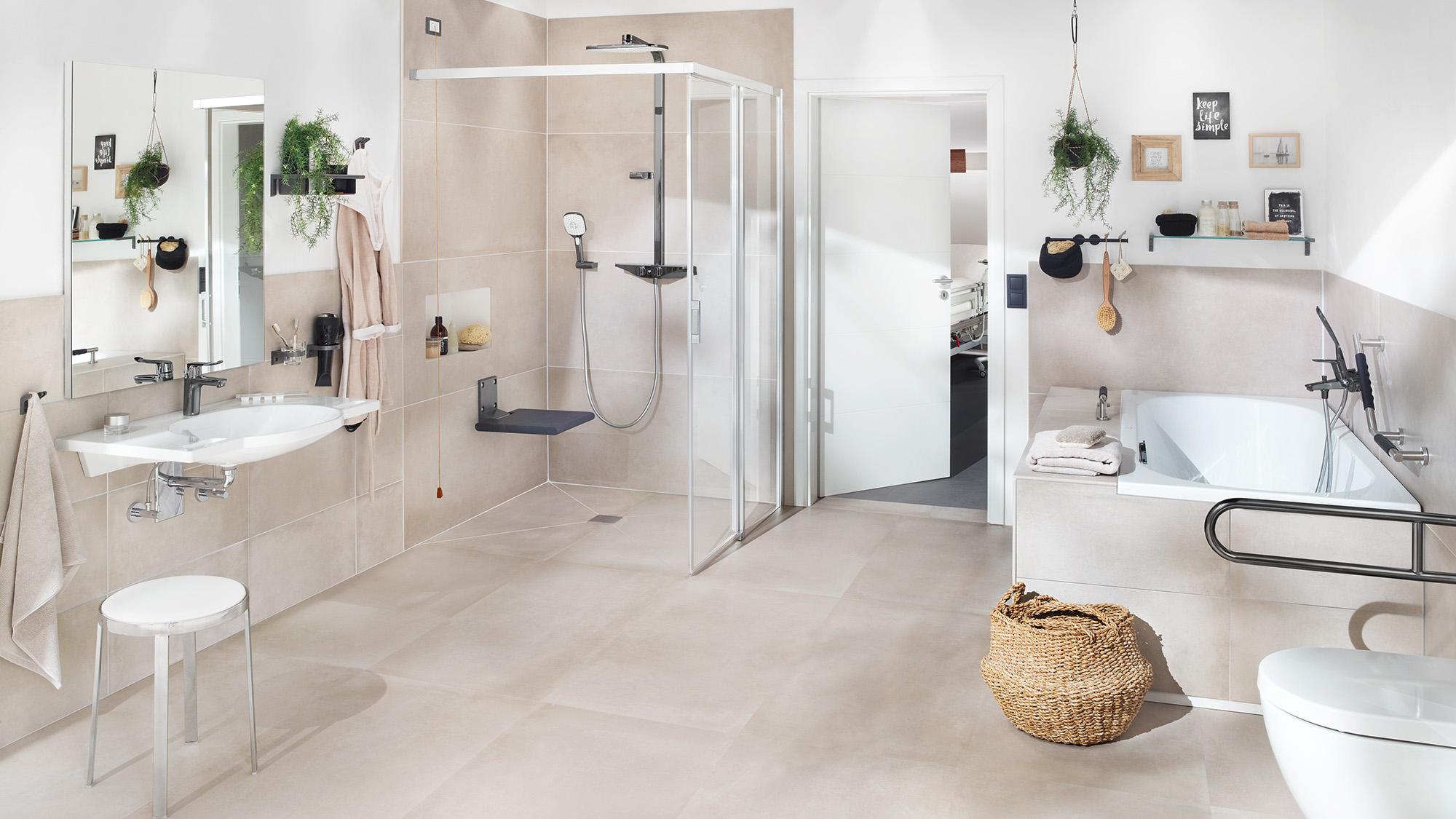 In the following bathroom, the LIGA series sliding doors were chosen. Both as WALK-IN Wall sliding, a partly framed Walk-In version with one fixed and one sliding segment, and as a closed version, LIGA is ideally suited for barrier-free bathroom design. Thanks to a special horizontal sealing strip with water-repellent effect on the sliding segment, it meets all the requirements of the splash water test according to DIN EN 14428 (CE) and PPP 53005 (TÜV-GS). When not in use, the door panel can be easily pushed back, freeing up even more space.
For use with a walker, the internal dimensions of the closed shower enclosure must be 1.20 x 1.20 m. In this case, a Kermi wet floor system measuring 1.20 x 1.20 m was installed. The required internal dimension was achieved by installing it outside the tile joint.